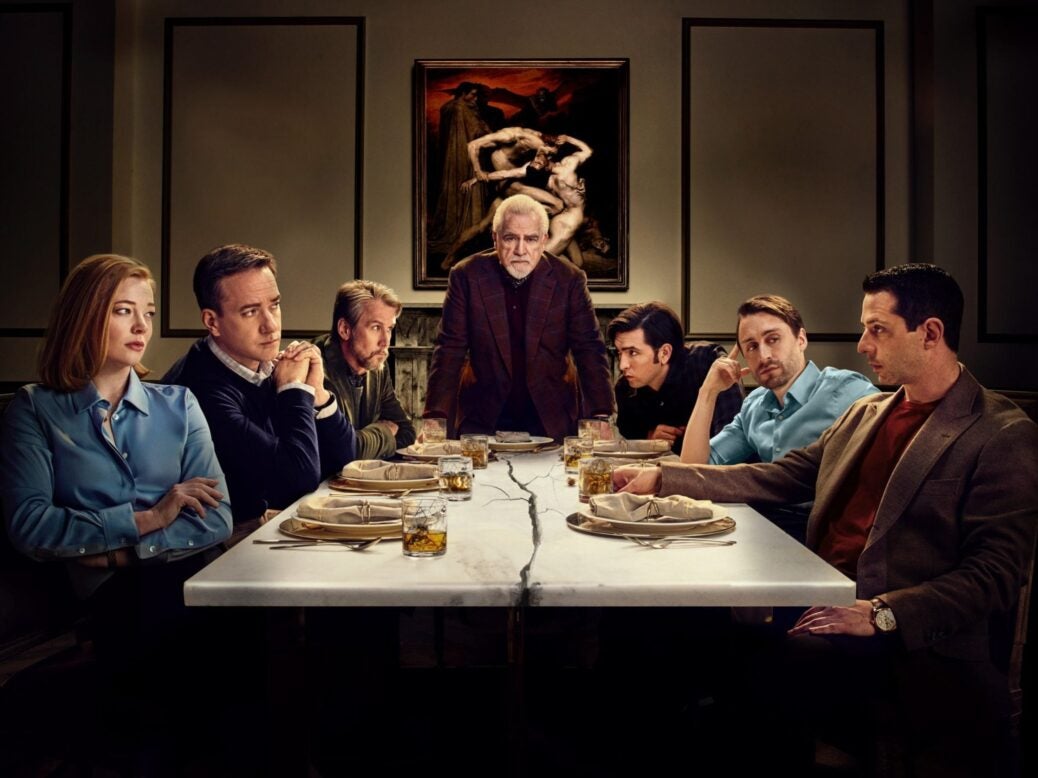 Spear's caught up with actors Brian Cox and Nicole Ansari Cox over Zoom to talk working together, Succession and the lives of the very wealthy
When Nicole Ansari-Cox travelled to Dorset two summers ago for a day of filming, she became enamoured of her surroundings. 'There was just this feeling of goodness, of doing something special, something big, like an epic kind of story,' the German actress said on a Zoom call recently.
Sitting on her sofa in upstate New York, she wore a black hoodie and her hair was scrunched up in a bun.
The film was Lawrence: After Arabia, a micro-budget production about TE Lawrence's later years, in which she plays the writer's mother, Sarah. Director Mark Griffin (who also funded production) cast Ansari-Cox after keeping her in mind for almost three decades since seeing her in a German cop show.
When he needed a 'voice of gravitas', Ansari-Cox knew exactly who to turn to: her husband Brian.
'That's usually what happens. I get roped in by the missus,' Cox, 75, chuckled while glancing at his wife next to him on the couch.
Cox brings his gravitas to the film as the voice of Lawrence's father, a role he recorded in Camden, a short stroll from the couple's flat in Primrose Hill. He described to Spear's the mysticism of Lawrence with the enthusiasm of a true fan. He also recalled a time from his student days at LAMDA when Matthew Guinness (son of Alec) told him the writer would always stand up with his heels against the wall, to look taller for photos.
'There was this kind of vanity about him,' Cox mused. The film isn't the first time the husband and wife have worked together. In 2020 the pair starred together in whodunnit The Agoraphobics Detective Society, with proceeds going to film and TV freelancers affected by the pandemic.
Also last year, Cox directed his wife in the play Sinners: The English Professor at the Playhouse Theatre.
Neither saw a significant dip in their workload during the pandemic. Ansari-Cox completed production on Land of Dreams, where she features alongside Matt Dillon. She is also set to direct a play with an all-female cast.
Cox has a handful of TV shows and films on his slate, including the long-awaited third season of Succession, the wildly popular HBO series about the Roy family, the dysfunctional owners of a global media conglomerate.
Cox won a Golden Globe last year for his portrayal of the family patriarch Logan Roy, a character that has drawn comparisons to Rupert Murdoch, another ageing media mogul who faces the challenge of handing over the reins of a global media business to his children.
Succession inhabits the world of the über-rich who travel from country house to high-rise, superyacht to private island. It also gets to the theme of its title, namely how family principals hand down their wealth to their children without, to use a Larkinism, fucking them up.
The three children in Succession all highlight various elements of this predicament, from acting out in childish fits of rage on private jets to partaking in drug binges at exclusive parties.
'What to me is the key thing in Succession is that these children have this incredible sense of entitlement, which even the father doesn't have,' Cox said. 'He's worked hard for it all his life, but he's bemused by the fact that his kids immediately assume it and they haven't earned it.'
The super-rich have become distanced from the rest of society, noted Cox.
'There will always be distance, that's the nature of it. And we've kind of allowed that. There's nothing you can do to stop it because we are a free society. But at the same time, there has to be some kind of responsibility that goes with that in terms of how you behave within the structure of society. And that's what's lacking. That's what the show really shows.'
Cox mentioned Bill Gates, whose philanthropy has turned his life into an 'act of penance', for which he admires the Microsoft founder: 'I don't think that man is cynical at all; that man is trying to do an enormous amount.'
But for every Gates there is a Trump ('horrendous') or a Murdoch ('the children certainly are equally horrendous. I don't know about the old man; the old man is a mystery').
Cox was tight-lipped about what to expect from the third season of Succession – which was still filming due to a pandemic-affected schedule – but he was less taciturn about politics.
It was weeks before the Scottish elections, which Cox, a proud Scot and fervent SNP supporter, viewed with a sense of opportunity. 'Scotland's always been in a survival mode. And I think it's time we stop all that,' he said.
'I think it's time that we say, "Listen, cut the umbilical cord, let us go, let us stand on our own two feet." Because actually, quite frankly, I think we'd make a better job of it than what's being made of it at the moment.'
It was the sort of animated, fighting talk that could have been uttered by a certain Logan Roy.
Lawrence: After Arabia is out now
Succession season 3 premieres at the end of the month 
This piece first appeared in the Q3 edition of Spear's magazine
Image: HBO 
Read more