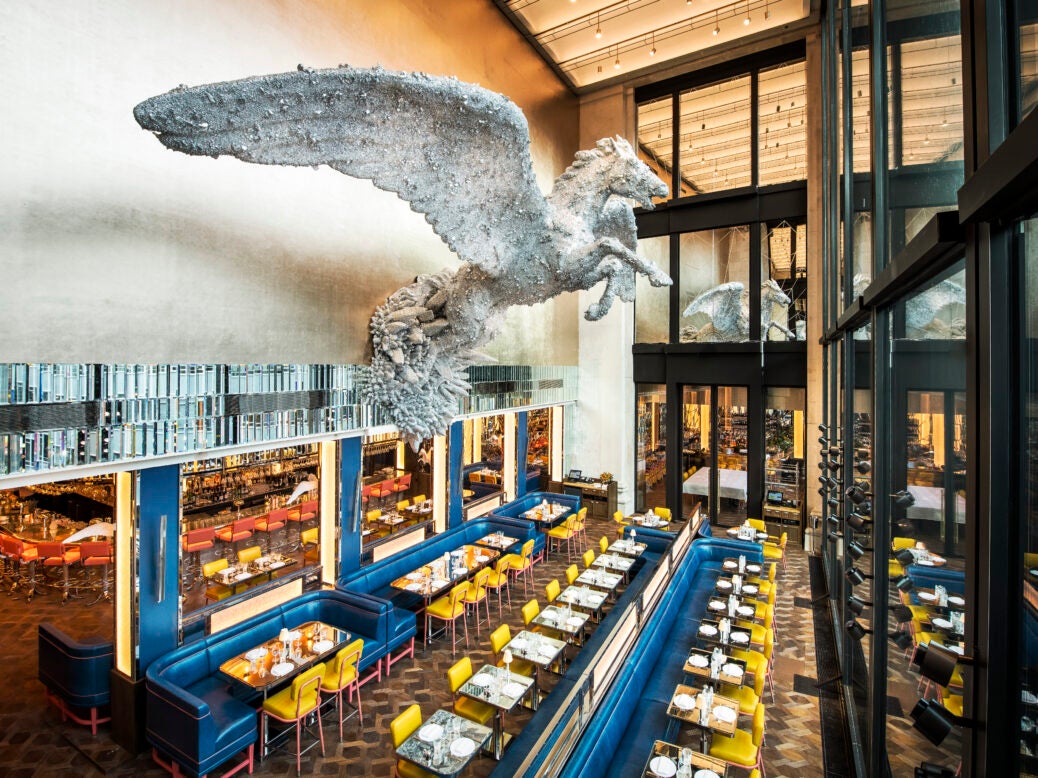 Selfridges' Martin Brudnizki-designed, Damien Hirst-adorned brasserie is an ideal spot for instagrammers and fine-diners alike
Selfridges in 2021 is a place where sneakerheads shop alongside fashionistas. It is home to a coalition of consumers that most of its competitors can only dream of in a time where high street struggles have been particularly pronounced for department stores.
It's a successful formula. Gross profits have risen steadily every year since 2011 according to Statista. It's a trajectory that even the pandemic couldn't stop: in 2020 revenue was up £43 million on the previous year.
The Brasserie of Light, its 'destination restaurant' (reached via Duke Street around the corner from the main store entrance) exemplifies Selfridge's savvy balancing act of popular appeal and exclusivity. Opened in 2018, its Martin Brudnizki-designed interiors harken to art deco in all its glory, playing with the theme of – you guessed it – light, with multiple mirrors and a 24-foot crystal encrusted Pegasus designed by Damien Hirst taking centre stage. Much like the main store, maximalism reigns supreme here.
We visit on a Monday, but inside the brasserie buzzes as if it were a Friday night. It might also have something to do with the Brasseries own 'light it up' campaign, announced to celebrate its reopening, which includes a new limited edition afternoon tea, lineup of DJs and cocktail menu. (Try the intriguingly named Passion of Eros is a unique treat, a fruity concoction of Passionfruit vodka, Cointreau, cranberry juice, passionfruit & lime that packs a punch.)
Much like the diversity of the crowd that Selfridges attracts, the menu here is decidedly eclectic. This is an offering that features both oak smoked salmon with rye alongside maki rolls, bang bang chicken next to lamb rump.
My guest and I opt for salmon and avocado maki rolls and seared scallops to start. The lightness of maki rolls, delicate and artful, provide a nice counterpoint to the earthy scallops, served in a comforting pea puree. Both are presented with elegance. Both are enjoyed quickly.
Next, I go for the Miso black cod. Rich, light, salty and tangy, it is executed here with aplomb. My guest's ribeye steak follows much of the same principle, a case study in top ingredients treated in such a precise way that it appears effortless.
One might think that our choices presented a conundrum for our waiter, whom we task with finding a red wine that would work for both of our meals. He selects a sumptuous Spy Valley pinot noir from New Zealand, a sustainable wine that possesses both the depth to intensify the steak and the lightness to complement the fish.
Dessert here is something of a speciality. Throughout our meal we spy theatrical looking baked Alaskas and chocolate 'bubbles' making their way across to various tables. 'Butterfly flutterby' seems like an amalgam of multiple desserts, with 'iced passion fruit parfait, pistachio meringue, vanilla cream and lemon balm'.
Somewhat more prosaically, we go for the cheeseboard (with Melusine goat's cheese, Fourme D'Ambert, Pitchfork mature cheddar and Quicke's Devonshire Red, Camembert Le Fin Normand) and the 'golden apple'. This is a thin tart smattered with candied pecans, salted caramel ice cream and toffee sauce was hit the perfect sweet spot – amplified syrupy goodness without being too rich as to make the walk home too taxing.
And after some herbal teas to see out the evening, that's that. Straddling the line between trendy and classic, the Brasserie of Light succeeds at both.
More from Spear's 
William Sitwell meets Claude Bosi: 'Some of my friends say I'm more British than them'
'The Mark Hix story is by no means over…'
Castle Terrace, Edinburgh review: A 'surprise' tasting menu to remember