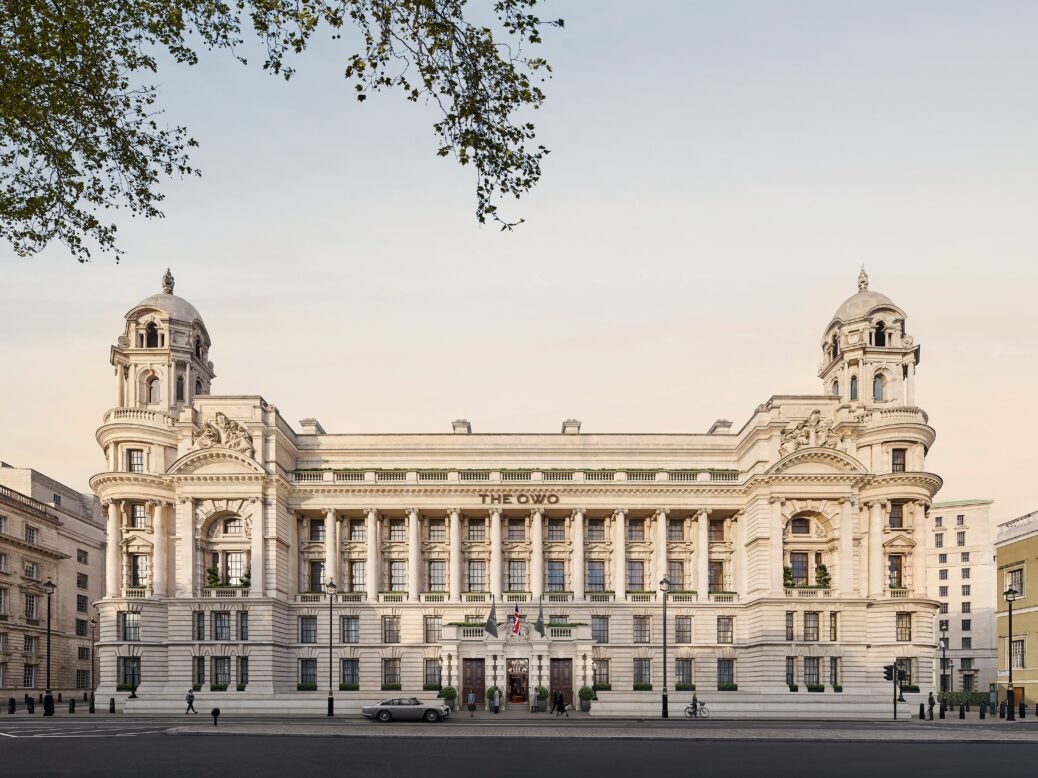 The 'branded residence' – an apartment serviced by an associated luxury hotel – is having a moment
The Old War Office, a handsome building on Whitehall, was completed in 1906 and served as an administrative centre for the British Army until 1967.
The Grade II-listed building then sat largely derelict, until GP Hinduja – Britain's second richest person and patriarch of the Anglo-Indian Hinduja family – decided to buy it.
In March 2016, the MoD officially handed the OWO (main image) to the Hindujas, who, in partnership with hotel group Raffles, are converting it into an ultra-luxe hotel and branded residences.
The project will see the developer digging three floors down and building two floors up to create 125 suites and 85 residences, a destination spa, and a collection of nine independent restaurants and bars. Construction is due to be completed in 2022. My hard-hat tour begins in a palatial foyer crowned with a glazed dome.
As we move through the 'Heritage Rooms' – hotel suites with ceilings reaching up to 8.6m – my guide explains that many of the building's original features will remain after the renovations that are taking place.
Some of the floor grates, for instance, are made from melted-down grenades. The Haldane Suite, named after the war secretary when the building opened, has hosted Kitchener, Churchill and Profumo.
If you look out of the window you can see both the changing of the guard at Horse Guards Parade and Horse Guards Clock, which has a black mark at two o'clock, denoting the time that Charles I was beheaded.
We climb flight after flight of stairs (ten lifts will be installed) to reach the penthouse terrace. From here you can look out on St James's Park, the shops of Jermyn Street, Theatreland and the London Eye.
Underground, there's a car park with giant spaces designed to accommodate one's Maserati, Bentley or Rolls-Royce. There's also a wellness area with pilates and yoga studios, a dynamic exercise room and a gym.
Down here you'll also find a 15-seat cinema, a games room, a private treatment suite and a 900 square metre pool, which, to my surprise, is already filled with water (to make sure there are no leaks). Branded residences aren't exactly new.
A trend that can be traced back to the Sherry Netherland Hotel in Manhattan in 1927 continued with the likes of the Baccarat Hotel and Residences, the Getty and 20 Pine, and has since spread to London in the shape of the Residences at Mandarin Oriental Mayfair, 20 Grosvenor Square (serviced by Four Seasons) and the Bvlgari Hotel.
In recent years the trend has gone global, with high-end examples in the shape of the Rosewood in Abu Dhabi (opened in 2013), Six Senses Kaplankaya in Turkey (2018) and Amanzoe in Greece (2012).
According to research from Savills, the growth of the branded residence sector shows no sign of letting up. In the past ten years, 370 schemes have popped up globally – an increase of 170 per cent on the previous decade – with 100 new branded residences opening in 2020.
Miami, Dubai and New York are hotspots for this type of development, but other parts of the world are swiftly catching up. Egypt, Vietnam, the UK, Morocco, Malaysia, Australia and Saudi Arabia are now faster-growing countries for branded residences.
It makes sense. For HNWs, who might only be in town for a few weeks or months a year, having access to the services of a top-class hotel brings convenience – and security.
Developers, meanwhile, enjoy the 'halo effect' of a trusted brand name, which can be an important selling point.
According to Savills, branded residences achieve an average price premium of 31 per cent compared to residences not attached to a luxury brand. What's more, in the wake of the coronavirus crisis, such homes maybe even more attractive.
Having amenities on site means that if you don't want to, you might never have to leave.
More from the Spear's property briefing 2021
Why the wealthy are escaping to the country house
London's big-money megabasement boom in numbers
The man baking ESG into Blackstone's $341 billion property portfolio
The Spear's prime property briefing: will the 'Boris Bounce' return?
What are 'sheds' and why are property investors are rushing to them?