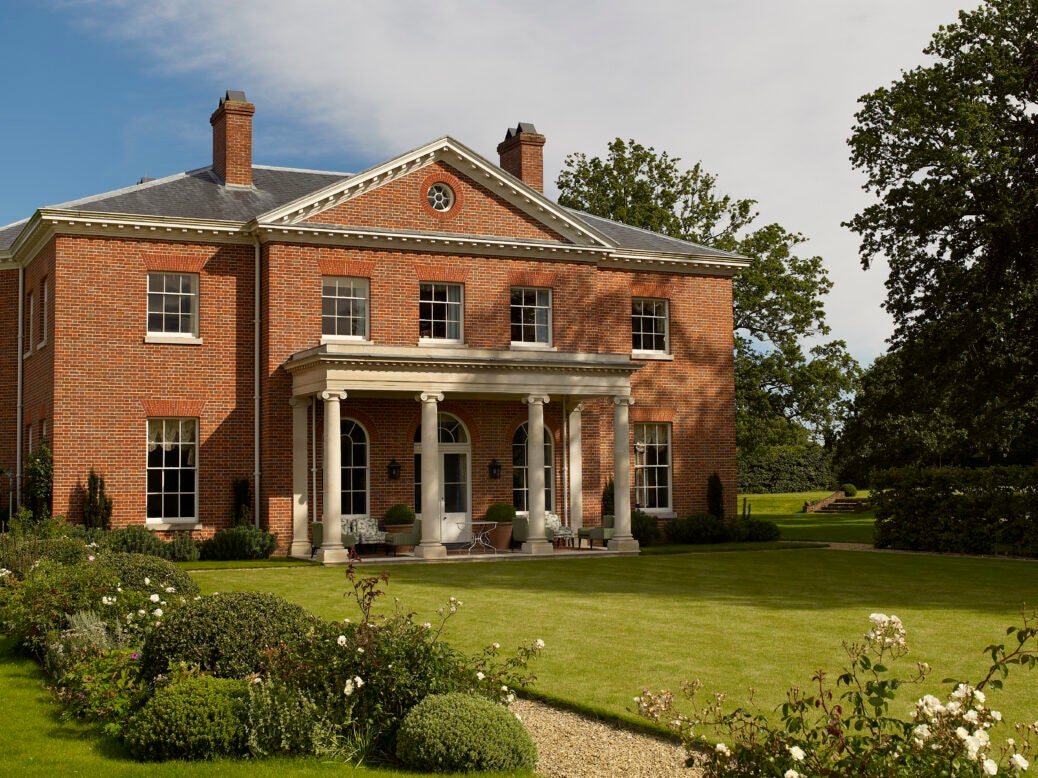 The great escape to the country house from our cities was already under way before Covid-19 struck 
It is reckoned that more than 1,000 country houses were demolished in Britain between 1900 and 2000. Whether it was the exigencies of tax efficiency, urban sprawl or the reduced circumstances of once-great families, the large country pile had simply become a luxury too far.
But not any more.
Britain's wealthy have quietly been undergoing a bucolic transformation in their property tastes. And then Covid-19 happened. George Saumarez Smith, a partner at ADAM Architecture in Winchester, reckons his firm – which specialises in traditional English country houses – has seen demand grow by 20 per cent over the past five years.
ADAM is working on around 20 such projects – split equally between historic house restorations and new builds – and has just finished a 50,000 square feet property in Wiltshire.
For context, Blenheim Palace is probably about 100,000 square feet. 'Most projects that I do are 8,000 up to 15,000 square feet,' says Saumarez Smith. 'That's six to ten bedrooms. There's definitely a sweet spot at around 10,000 square feet.'
Alongside a tennis court and enough land to confer a degree of privacy, 'the most frequent part of the brief is for a little self-contained flat' for a couple who can work as housekeeper and gardener.
Benefits of new-build include a zero VAT rating and the ability to incorporate technology and techniques that allow for drastically lower running costs. Saumarez Smith says clients are typically leaving London in search of a better quality of life for themselves and their children.
'Most of my projects are for people who are not particularly interested in showing off,' he adds. 'It's more about making a comfortable house for their family and having a degree of security and safety around them. If you have a bit of land it gives you that sense of privacy, which a lot of people are after. And increasingly people are interested in a degree of self-sufficiency.'
He believes Covid has catalysed a longer-term growth of interest in gardening and cooking, as well as also causing people to think harder about where they see themselves and their families for the long term. 'It's very much a multi-generational view on things,' he says.
Another architect on the frontline of the country house revival is James Fowler of Wiltshire-based Fowler Architecture & Planning. 'We've never been busier,' declares Fowler, whose firm works across the South of England.
He sees a 'sweet spot' in the private country house market at 6,000 square feet with at least two acres of land – 'ideally five or six acres' – in edge-of-village or remote locations. 'That's what everyone wants, whether its new build, extensions or refurbishment.'
The work has doubled in five years – and 2020 was better financially than 2019 'in terms of enquiries, successful projects, revenues – everything'.
What's going on? 'People want to move out of London,' says Fowler. 'You're selling in Wandsworth for £2.5 million and in Wiltshire you get a massive house with three acres and no more plastic grass.'
If you consider that there's a handful of companies doing what the likes of ADAM and Fowler Architecture do, we could be easily be looking at more than 100 new or refurbished substantial country house projects on the drawing board or underway around Britain.
Saumarez Smith calls it 'uncharted territory', but arguably we have been here before – albeit a long time ago.
Main image: Palladian Villa in Hampshire, credit Paul Barker
More from the Spear's property briefing 2021
London's big-money megabasement boom in numbers
The man baking ESG into Blackstone's $341 billion property portfolio
The Spear's prime property briefing: will the 'Boris Bounce' return?
How the 'branded residence' became a go-to for the global super-rich
What are 'sheds' and why are property investors are rushing to them?