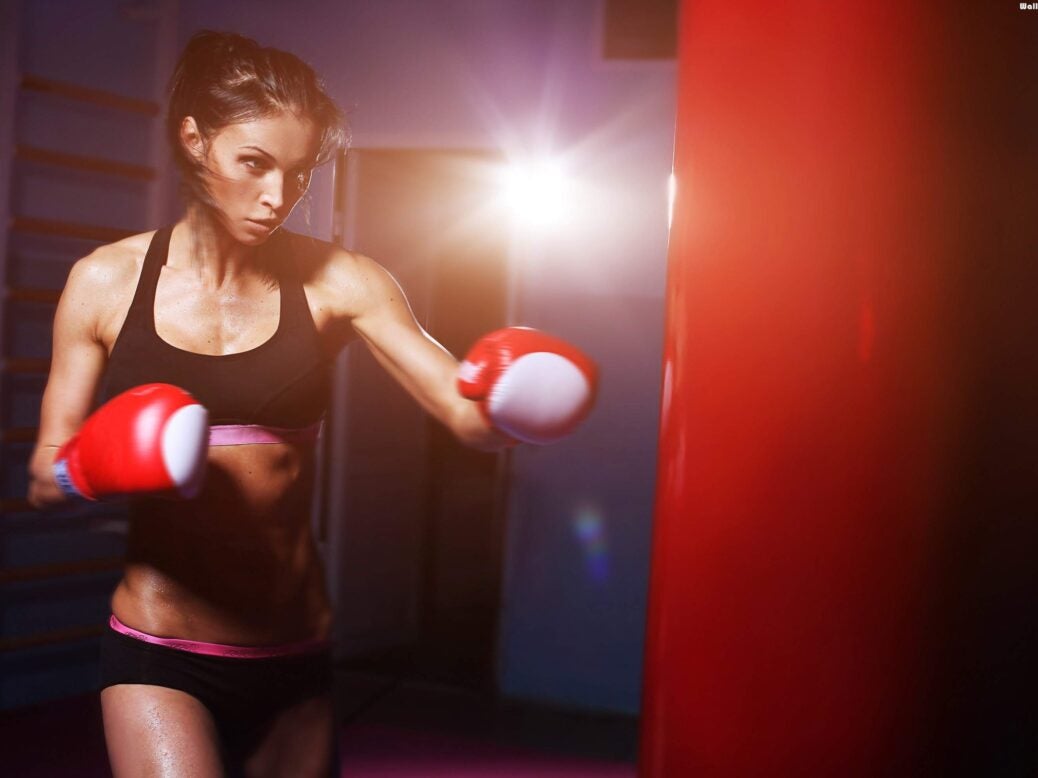 Waves of people are discovering the varied benefits of boxing training, writes Jo Foley
Anthony Joshua and Nicola Adams have an awful lot to answer for: they have made almost an entire nation fall in love with their sport. Suddenly boxing is cool, it's chic and is the hippest way to get fit.
Not everybody wants to get into a ring and fight, but a whole tranche of people are looking at boxers' sleek and toned physiques and wondering if a little of what they do might work for less determined folk. But then everyone loves a winner and wants a little of the stardust to rub off – just witness the Bradley Wiggins effect, with the entire country now seemingly on two wheels.
Until recently, boxing's following was mostly men. For years there have been black-tie charity events where a mixture of celebrities, City high-flyers and hopefuls take to the ring to raise money alongside bruised pride. And a good time is had by all.
Now elements of the sport are being incorporated into fitness regimes across the land, for boxers train not just to increase their punch power but also to achieve a serious level of fitness for body and mind. For boxing is as much about control as it is about toned muscles and strength. A total boxing workout involves skipping ropes, burpees, split squats and a selection of floor exercises that help develop serious concentration alongside muscle endurance. Weight loss is often a side benefit, as is a relaxed attitude.
Even Prince Harry has spoken of the stress release he enjoyed once he took up boxing, which makes it an almost ideal fitness element for stressed corporates, depressed seniors and even yummy mummies who have taken to it. That's why so many 'regular' gyms are offering boxing classes and training on their fitness menus – and also why boxing clubs are finding a resurgence in membership. For instance, the All Stars Boxing gym in west London, which was founded to take kids off the streets and has hosted fighters from Lennox Lewis to Mike Tyson and Evander Holyfield, has classes for women and children.
Ultra-smart boutique boxing gyms are opening, meanwhile, such as BXR in Marylebone, which is part-owned by Joshua and has coaches, ex-boxers, rehabilitation therapists, osteopaths and nutritionists on call.
This is not just for would-be champions but also for women like Kate Slesinger, a publishing director at Condé Nast who has now been a boxer aficionado for most of this year. Bored with her regular workouts and absorbing her 12-year-old son's enthusiasm for the sport, she decided to give it a whirl and it was, she explains, a 'kind of epiphany'.
'I liked the idea of taking proper lessons, and of its being a mental challenge as well as a great all-over body workout,' she says, 'so I signed up with BXR for weekly lessons with head coach Gary Logan and regular group classes with dedicated boxing types who don't forever bang on about BMI and losing body fat – a wonderful complement to my fast-paced life in publishing.'
Boxing for fitness is almost part of the DNA of the Bio-Hotel Stanglwirt in Austria. The Klitschko brothers went there for part of their training, and Joshua sparred there with Wladimir Klitschko, cementing their friendship.
Björn Schulz, head of fitness at the spa, advocates boxing classes not just for fitness but also for self-awareness, co-ordination and confidence. Women in particular gain confidence from knowing how to handle their bodies and recognise their own strength, and Schulz is an advocate of the boxing fitness programme no matter what your age (provided there are no structural injuries). He is currently working with a 70-year-old.
As well as having a gym and boxing ring at his disposal, Schulz also has the Alps and hot and cold swimming pools, which all play their part in his fitness regimes. Hence why the Klitschkos used the resort for 12 years, and where the young Joshua pitched up to spar – and spa.
Web bxrlondon.com
allstars-gym.co.uk | stanglwirt.com