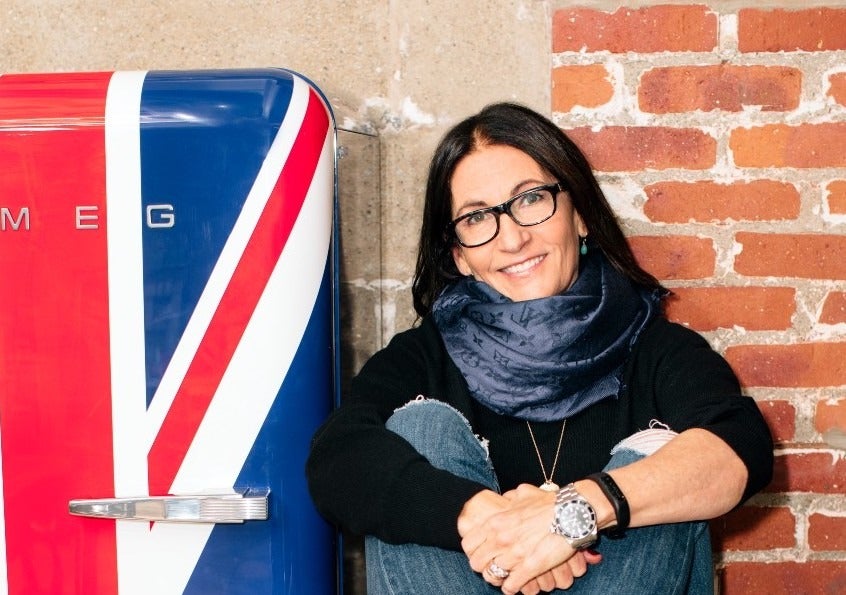 Bobbi Brown on her new venture Jones Road Beauty, and working with street artist Endless 
Bobbi Brown's New Jersey annex/studio is your quintessential beauty tycoon's New Jersey annex/studio: exposed brick, a Union Jack-emblazoned chesterfield sofa and a Labrador. Brown fits the part too: boldly accessorised, fashionably bespectacled and very American.
Our video call started with a lot of rustling, PRs jumping on and off and me saying 'Hello?' into the void for about 20 seconds. Chaos gradually abated. 'I love Zoom! Not really,' said the beauty entrepreneur who founded an eponymous make-up brand. 'Hey guys, how are ya? I'm moving over here because I hate side light.'
Also calling in, from Italy, was contemporary artist Endless, a favourite of Brown's. He was a perfect foil. Reserved and enigmatic, he wore a black T-shirt but not his trademark face-covering (even before Covid he would never appear in pictures without the bottom half of his face obscured).
'How should I refer to you?' I asked. 'Endless is fine,' said Endless.
Brown discovered Endless on a trip to London with her husband. 'It was a crazy work week, and I usually leave one day for messing around because I love London. I was walking around and on all the sides of the buildings were these Endless graphics and I said to my husband, "I love this stuff, I want to check it out!" The next day I went to the gallery and fell in love. When I got home I called and bought a piece, I think I own four of them now.'
Endless started as a street artist, hoping to get noticed after graduating from art school and realising that it had taught him nothing about converting his talent into business: 'Street art is free advertising. If you hit the right spots at the right time, you can get the exact viewers that you want,' he said. 'That's why I always used to put it in West London and Central London.'
One day, the then-managing director of Liberty London, Ed Burstell, happened to spot some of Endless's work in West London, and was impressed (coincidentally, Burstell and Brown are close friends and discovered their joint passion for Endless over tea at Brown's apartment).
Endless was invited to decorate the Liberty storefront and secured an exhibition soon after. 'It's all just spiralled from there. Now I'm doing shows all over the world.' His work retains a graffitied feel, depicting themes of celebrity culture and consumerism.
Brown's enthusiasm for it is infectious.
One of the pieces she owns is the bright pink 'Lizzy Vuitton' (acrylic and spray paint on canvas of the Queen wearing Louis Vuitton). 'The art just makes me feel good,' said Brown. 'It's the colour explosion and the juxtaposition of subjects – a combination of these bright neons with things that I love. It actually calls to this crazy brain.'
But Brown isn't just a fan; the art influences her work, too.
'Being a full-on visual person, I don't really care about words. As a creative, there's nothing like things that inspire you, whether it's colours, art, fashion. Beauty and art have always worked together.'
In this spirit, Brown is getting Endless onboard with her new venture: Jones Road Beauty. Brown started out as a freelance makeup artist with a speciality in natural looks. She sold her first 10 lipsticks out of her house before a major department store took a chance and launched the product.
'Bobbi Brown' soon became a household name and was acquired by Estée Lauder after five years. Brown remained an employee for 22 years before leaving to embark upon Jones Road Beauty, a 'clean make-up brand that teaches people how to just look like themselves but better – and it's all UK-inspired'.
'Are you a fan of the UK?' I asked, remembering the chesterfield.
Brown scoffed. 'Let me show you a couple things.' She took us on a tour, through a cavernous shooting studio to an office where employees were tapping away at their laptops.
She pointed at two Endless pieces on the wall and a Union Jack refrigerator. 'Honestly, don't ask what's wrong with me. I'm completely obsessed with your Queen, and this was way before The Crown.'
As we said our goodbyes, I was surprised to learn that this was the first time that Brown and Endless had spoken 'face-to-face'.
'It was a pleasure to meet you, Endless,' said Brown. 'The first thing I do every morning is look at my bright pink Queen in my bedroom. I will look at it in a more personal way now.'
Read more:
In defence of deckle edge books, a 'blameless quirk of publishing tradition'
Apollonia Poilâne wants to teach the world to bake
How the Hermès tie became a byword for status and good taste