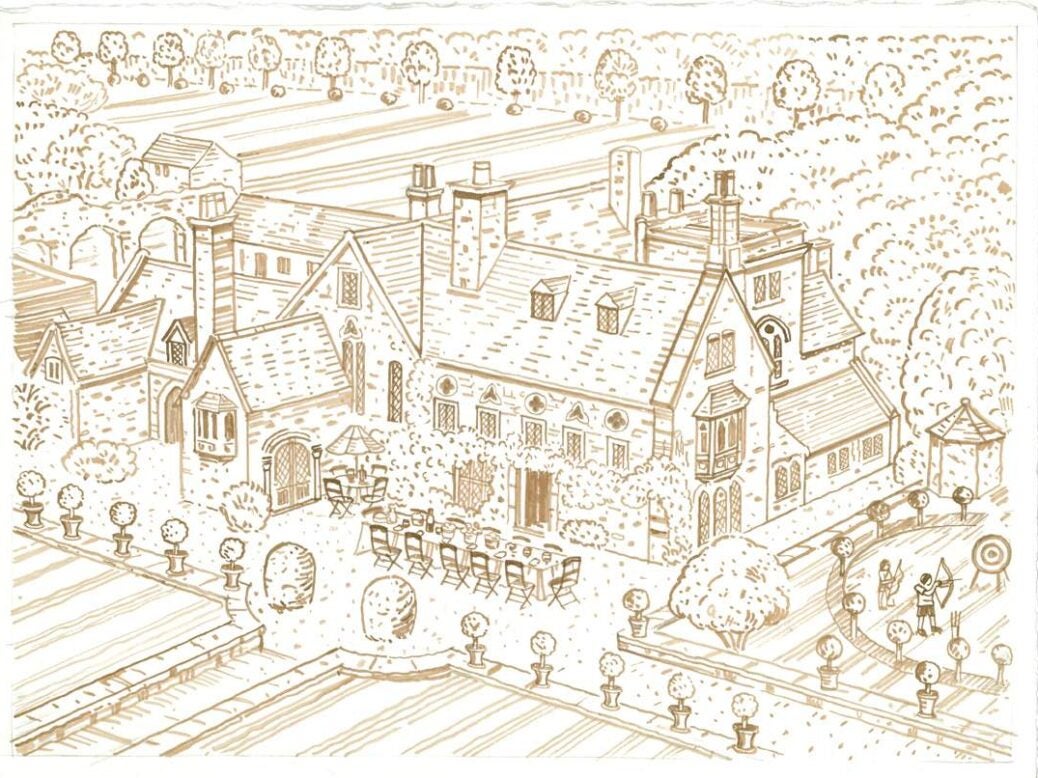 In the new issue of Spear's, I have written about how the Earl of March is set to make another success with his brilliant idea of charging HNW and corporate guests £10,000 a night to stay in his luxury ten-bedroom country house called Hound Lodge – the Goodwood estate's former 'luxury' kennels.  What I also suspect is that the success of the £10,000-a-night model of Hound Lodge will be the final nail in the coffin of that outdated 70s idea: the self-catering holiday. Self-catering is now as déclassé as camping holidays around France.
What has happened is that just as B&Bs have got increasingly like four-star hotels, so the new phenomenon of 'serviced' country house/coastal rentals has become increasingly like five-star boutique hotels. And just as today's luxury B&Bs bear little resemblance to the Fawlty Towers-style experience of the 1970s and 80s  – when water trickled out of a plastic shower head and 'coffee' was a sachet of Nescafe and some UHT milk – so today's HNWs guest expectations of country house rentals have changed, partly as a result of the private members club revolution which has caused a blurring of the lines between private and public social spaces. Hotels are simply too public for most UHNWs today.
With little or no snow in the Alps for about the third year, many HNWs have been discovering that you can have just as an enjoyable a time in front of a roaring fire at a country house in England than you can stuck in front of a fireplace in Gstaad looking out onto discoloured brown Swiss fields, sans snow. The truth is that HNWs (business travel excepted) don't much care for hotels – especially in England. For the wealthy today, the idea of 'self-catering' is as démodé as asking your house guests to make their own Bacardi and Coke using a Soda Stream. HNWs have adapted, or been spoilt by, the 'room-service' (i.e. butler) mentality.
They want all the 'service' advantages that come with a hotel but they don't actually want to stay in a hotel – they don't want to be anywhere near Other People. They want their own privacy and security and they want to enjoy a weekend or week living on a mini-Downton Abbey country stage set but they don't actually want to own a sprawling estate or – God forbid – have to run a partridge shoot or grouse moor.
Wealthy and international clients increasingly want to buy into the ideal of what I call the 'full-service' English holiday – whether it is on the champagne coast of North Norfolk, in the Lake District of Wordsworth, in the Wessex or Cornwall of Thomas Hardy or King Arthur, in Shakespeare's Stratford and Warwickshire, in the Cotswolds, or in the Shropshire of AE Housman, they want to retreat to a home that is decorated in the new style of what I call 'Mayfair country house chic'. That means nickel-plated bathroom taps from Lefroy Brooks and oak neo-Edwardian lavatory seats from Drummonds in London – no exceptions.
This ideal has little to do with the reality of English country house life – at least as I have ever known it. Thus at Hound Lodge each extraordinarily comfortable luxury mattress is hand-stuffed with wool from Goodwood's own flock; every en suite bathrooms gleams with chrome Perrin and Rowe floor-mounted taps that flow with water pressure so hot and fast it would put the Savoy to shame; in case you have forgotten your razor, there is an 'emergency jar' of bathroom supplies that includes a 'Cose Della Natura' wooden razor; my bedside table reading was Siegfried Sassoon's Memoirs a of Fox Hunting Man in an original edition.
There is, of course, a 'Butler Buzzer' in each room, something you'll almost never actually find in a real county house today. Service bells went out in the 60s. But such is the demand for 'room-service' that it works very well as part of the new country house fantasia that is so beloved of the international rich, whose idea of English country house living is probably based on a combination of Downton Abbey, Ralph Lauren ads, and a few lunches at Mark's Club.
And this faux fantasy is a potent and lucrative brand to sell.  Evelyn Waugh, author of Brideshead Revisited, always said that the English country house – and its ideal – was our country's greatest contribution to Western civilisation. It's the whole point of the 'serviced' Mayfair country house rental experience as offered by Hound Lodge to bankers from UBS, or a hedgie wanting to take a shooting party. It has the same appeal, on a more metropolitan level, that private members' club 5 Hertford Street has for billionaires in London; or as Annabel's had when it was first decorated by Mark Birley.
The finest English decorating style and taste is something that can't be bought off the shelf. It falls into that auction-house prize phrase 'money-can't-buy'. Even when you hire the services of one of Spear's Index interior designers only few understand the particular magic of pulling off the classic English  'At Home' look.  Such English country house decorators include Robert Kime (as used by HRH Prince of Wales and the Cambridges in both London and Amner Hall in Norfolk), Nicky Haslam, and Vivien Greenock. The latter is the former senior director of Colefax and Fowler who decorated for the likes of the Duke of Beaufort and the late Oscar della Renta whose house in Connecticut (featured in Vogue) had a heavy Mayfair Country House style.
Marketing 'full service' country or coastal properties to HNWs – who regard £5,000 a week as a bargain compared to a week in Mustique or the Maldives – is a good idea. Not least because families now want 'multigenerational' holidays (bring the grandparents) with some educational, cultural, and sporting appeal. I expect the buy-to-holiday-let market will soon have more appeal than the buy-to-let property market which has been targeted for punitive tax raids by George Osborne.
Indeed, a new HNW property fund, Villarum Estates, (backed by a family office and some property HNWs) is launching shortly to capitalise on this buy-to-holiday-let opportunity with a series of investor breakfasts held at – where else? – 5 Hertford Street.  The fund is raising £10 million for a 'war chest' acquisition spree, buying up country houses and coastal properties – targeting the £1 million to £1.5 million bracket – across England. Typically Grade 1 or at least listed, like Villarum's first property, a medieval 14th century priory described by the American novelist Henry James as the English house – 'charming and a modern Eden' – he would most like to have owned. He never managed to own it but he did borrow the romantic riverside setting for the opening garden tea-party of Portrait of a Lady at the fictional Gardencourt by the Thames.
Sick of packing up the nanny and extended family for £30,000-a-week abroad (probably with no snow or a holiday ruined by the typhoon season)? Why not spend £6000 staying in England? The model is to apply the Alpine chalet-holiday idea to the English country manor or coastal country house.  For international HNWs, especially for those with children at school in London, 'serviced' renting – rather than buying – is second nature. So is being surrounded by uniformed staff.
After your Friday night drive from London, would you rather be met by pretty uniformed staff who greet you with a smile, an open log fire, and a stiff drink after your journey  – or would you want to be told to lug all the suitcases and the Tesco bags into the kitchen before starting to cook dinner for ten? Instead of relying on farming, the main source of income for many country-house estates these days is not traditional agriculture but the main house, grounds and gardens along with rental cottages and larger estate houses that can generate much higher margins (£5,000 a week is the average rental before 'service' extras) than traditional estate income.
Throw in holiday-let house parties, weddings, corporate awaydays, shoot days (with black-tie dinner and accommodation) and suddenly you have a real business model. Nobody will ever want to leave our shores for Mustique again. Lord March has already revolutionised the idea of how to commercialise a family estate by launching festivals that now make Goodwood's estate income over £67 million a year – that is the revenue of a multi-national company.