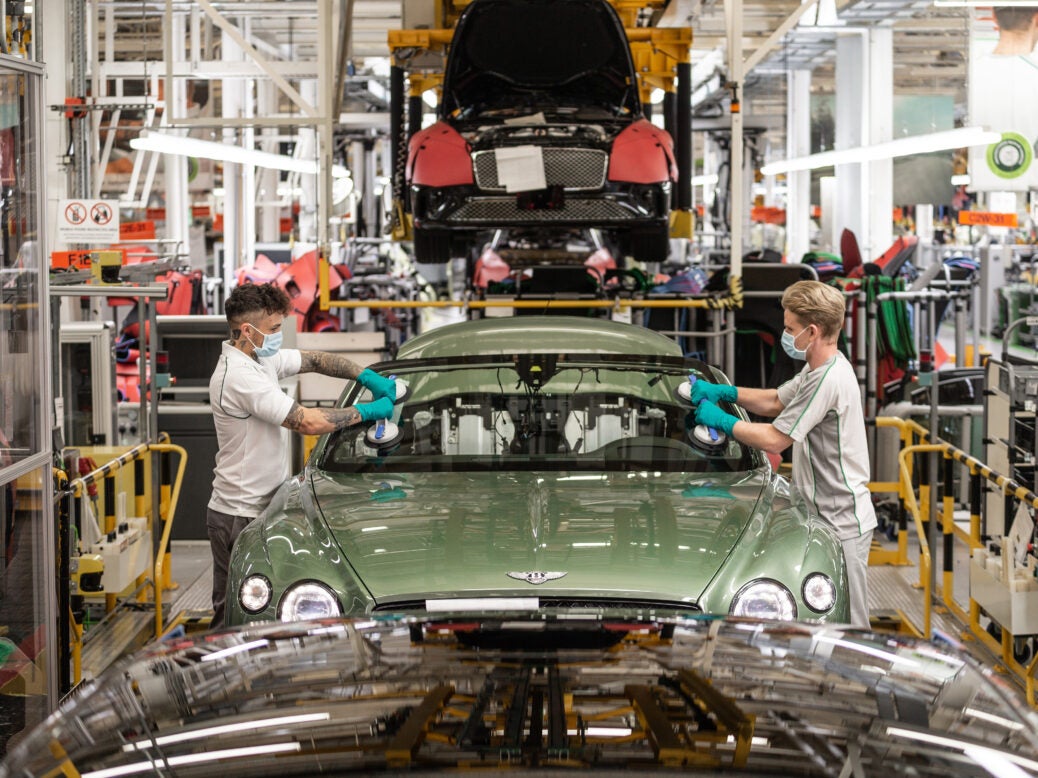 Known as a producer of gas-guzzling beasts, Bentley is an unlikely environmental pioneer – but the brand is proving to be one of the most switched-on when it comes to the green revolution
Last November, perched on something resembling a bar stool, the chairman and chief executive officer of Bentley, Adrian Hallmark, made an announcement: by 2026 his company would be rid of combustion engines. Once and for all.
His bold promise was made during a socially distanced online press conference hosted by the motoring journalist Vicki Butler-Henderson. The event took place in what looked like a film set but was actually the Bentley factory in Crewe in Cheshire – where the marque's biggest and most polluting saloon, the 6.75-litre Mulsanne, used to be made.
Unveiling the firm's 'Beyond 100' strategy (Bentley celebrated its centenary in 2019), Hallmark said the luxury marque would manufacture only plug-in hybrid cars or fully electric battery electric vehicles (BEVs) after 2026, and even the hybrids would stop in 2030. Just like that.
At the time of Hallmark's announcement, the UK government had committed merely to banning the sale of new petrol and diesel powered cars from 2040 – albeit amid expectations that it would bring the date forward to 2030, which Boris Johnson duly did later in November.
Even then, the government's 'green industrial revolution' permits the sale of certain plug-in hybrids until 2035. But they won't be making them in Crewe – the home of Bentley since 1946 – where they've been turning out whopping great, world-renowned 12-cylinder-engine cars for decades.
'It's bold,' Hallmark concedes over the phone when we speak the following month. 'The analogy I use… it's like Rolex declaring they're no longer going to be making mechanical watches.
But,' he adds solemnly, 'by 2030 we intend to have no combustion engines, only electric powertrains.'
Already Bentley has a plug-in hybrid V6 version of the luxury SUV Bentayga, which launched in 2019 and offers an electric-only range of up to 24.2 miles. Now the marque will make plug-in hybrid versions available across its Continental Grand Tourer and Flying Spur saloon ranges within two years. Then Crewe will step up a gear, launching its first all-electric 'BEV' model in 2025.
Details are closely guarded, but it will be 'Bentley's first fully carbon-neutral car' – and is likely to draw on the deep resources of the firm's parent company, the Volkswagen Group (within which Bentley will this year fall under the aegis of Audi).
Dr Matthias Rabe, Bentley's board member for engineering, said in the November presentation that this would be built 'on a totally new platform' and the forerunner of a family of electric-only models.
'It's scary,' admits Hallmark. 'We want to bring customers with us. It's a true strategic change and we want to be at the front of it, not the back.'
As well as legislation, however, customer opinion is already changing, he says. Fully 40 per cent of Bentley customers now want a luxury battery electric vehicle – up from perhaps 3–5 per cent five years ago, according to the company's own research. Batteries are getting better, too.
'Within 5–10 years the technology to allow bigger cars to be electrified and have a credible driving range and performance – that comes on to the radar screen,' he says.
'Today you can build great electric cars but there's a certain limit because of the power density: you can build a huge electric car but it won't go very far before it needs charging. And we have to build Bentleys before we build BEVs.'
Hallmark is confident the battery industry will deliver in time to let Bentley fulfil its 2025 ambition. But does he worry that relying so heavily on third-party suppliers leaves the company vulnerable?
'Yes and no,' he says after some hesitation. 'If you look at batteries around the world… not even Tesla make their own battery; they're with a joint venture partner. Now they do design their cells and we will do the same.'
He rattles off a string of makers – including LG, Panasonic, Samsung, CATL and Dyson. 'We need 120–150 kilowatt hours [of density by volume] to make big cars deliver parity of performance and range with a conventional combustion engine. We can see roadmaps, secure supply routes for our technologies by the mid-2020s to the early Thirties to support our transition. We would not be making this Beyond 100 statement and commitment to go fully electric if we didn't have enough research and development evidence that this is all possible.'
You'd hope so. The truth is that even before Covid-19 hit in March 2020, this was broadly the company's trajectory. But like everything else, the pandemic has accelerated matters. In Bentley's case it was aiming for an electric future by 2040.
In my second of three conversations with Hallmark for this article, just days before the first UK nationwide lockdown last March, he confirmed this.
'We can meet 2040,' he told me at the launch of the Bentley Mulliner Bacalar, a combustion-engined supercar restricted to a limited edition of just 12. 'We can probably meet 2035… 2032 would be a challenge.' Nonetheless, he said the company was moving as fast as it could.
***
What a difference six months make – especially six as unforgettable as those that followed. Now Bentley is moving even faster: first the new hybrids were coming 'in three to four years' and the Mulsanne was still being phased out; now it's officially 'gone'.
But Hallmark was already championing the firm's green credentials. Its factory had already been declared carbon-neutral by the Carbon Trust, thanks in part to 30,000 solar panels on the roof.
Other measures were already in place (such as reverse osmosis in the paint shop, to recycle nearly all the water used) to make the production of the cars more sustainable.
The fact is the company has been working on much of its factory improvements for nearly two decades, and not simply from the goodness of its heart – something Hallmark is entirely honest about.
'As a luxury company, our future existence depends on neutralising all negatives and accentuating all positives,' he told me in March. 'And that means decarbonising, making everything as transparent as possible.'
Achieve that and 'it gives luxury a unique advantage against anything out there. We are so small that the scale of what that takes – to neutralise our carbon footprint, to secure sustainable materials – we don't need a lot of them to create the cars that we make.'
Back in early 2020, the news was dominated by Extinction Rebellion and the Swedish schoolgirl, Greta Thunberg. Remember her? I asked Hallmark if he would like to show her around the factory.
'Would I welcome an honest, friendly critic to oversee the sustainability journey that we commit to? I would absolutely. We need scrutiny. Not because we don't trust ourselves but, like with our customers, it's good to have other opinions.'
The reason for my visit to the Pyms Lane factory that day was the launch of the Bacalar. The car – shown in very bright yellow that day – is a limited-edition grand tourer based on the brand's Continental range but reimagined by its Mulliner coachbuilding arm.
Billed as a return to luxury coachbuilding for the firm, the starting price for each of these 659bhp monsters was an equally monstrous £1.5 million. The Bacalar is, Bentley boasted, the 'ultimate expression of two-seat, open-air luxury'.
There is, however, no roof. And certainly no solar panels.
***
After interviewing Hallmark, I stopped to admire one of the 1930s, 4.5-litre Bentley 'Blower' Le Mans race cars on display. It was racing green, had a delicious number in a white circle on the side, and a leather strap holding down the bonnet.
A handful of these vintage racers survive – Bentley owns just one, the No 2 car. To the confirmed petrolhead, the Blowers, along with the 6.5-litre Speed Six, are ancient automotive icons that speak of the enduring Bentley brand, one based on the innovation and courage behind the wheel of the 'Bentley Boy' racers in the 1920s and 1930s.
That was back in the days when Brooklands and Goodwood were the premier destinations for the fast and often lethally injurious. The Blower is the very model that James Bond drives in Fleming's books, don't forget.
Hallmark arrives at my side and confides that he's raced the original Blower – a rare enough privilege – for an astonishing 5,000 miles in the Mille Miglia, the annual Italian rally for classic and vintage racers.
'I have no qualms about driving the tyres off it,' he says with a smile, and I still don't know if he's joking.
'I know it better than my family,' he adds.
He reveals that 17 years earlier, when he was director of sales and marketing at Bentley (after that he headed off to be CEO at Porsche UK, and then to Jaguar Land Rover, where he was global director of strategy), he suggested building a replica Blower series to sell to customers.
It didn't happen. But it has now.
Twelve clients have paid £2 million (including VAT) to own of one of these 'Continuation Series' cars, reverse engineered from the originals. Now, Hallmark says with relish, 'Everybody can have the Bentley Blower experience. You can drive it as if you stole it and not worry about it.'
A week later, Britain went into lockdown and I missed Bentley's next launch – of its second-generation Bentayga. Covid-19 had suddenly made such things seem less important.
Bentley was also confronting the loss of seven or eight weeks of production – which would be followed by a period of working at 50 per cent capacity once social distancing measures were in place.
Hallmark says the company introduced 250 modifications, including its own test and trace system, which diagnosed nearly 200 asymptomatic staff and prevented any outbreaks of the virus. 'It's worked,' he says. 'We managed to find a new level of normality in a totally bizarre situation.'
But the virus did dent the company's bottom line. Hallmark tells me Bentley was on track for a record year after a superb Q1, but that was wiped out between April and June. Profits bounced back in Q3, and when we talk Q4 remains to be determined.
'Overall I believe we will get to break-even by the end of the year,' the CEO says. 'I wouldn't have said that to you two weeks ago. It's that volatile.' And it might have been very different.
'We could have ended up with the biggest loss in the company history, quite easily,' he adds. But hard decisions were taken: 800 staff were let go from the 4,500-strong workforce to save costs short-term and to 'right-size' the business long-term.
And somewhere along the line, the Beyond 100 strategy that Hallmark unveiled in the former Mulsanne production area in November came into being.
Sparked by Covid and Boris Johnson's known desire to hasten carbon-free motoring from 2040, the company decided to accelerate its dash for green – both in the factory and the cars that roll off the line. In so doing it came up with a new mission, to become 'a global leader in sustainable mobility'.
I ask Hallmark to define this. First it's having a factory that is net carbon-positive, he begins. Then it's about the cars – electrification actually suits them, because Bentleys 'aren't noisy track cars', rather they're intended to transport passengers in serene comfort over continents at speed, something the 'huge torque, effortless power, [and] silence' of electric powertrains can deliver.
The brand will also go further in terms of 'the sustainability and provenance of materials', he says – 'maybe using blockchain as a way of capturing all of this, down to the name of the farmer that bred the cow that ended up in the car, or the wool and the sheep etc'.
He's not quite joking; he certainly believes highly specific proof of provenance could be an important differentiator for the brand.
In the future, Hallmark says, Bentley's cars will have 'autonomous capability' and will be able to 'take away the boring parts of driving – or give you more free time when driving long distances'.
'But, he adds, 'Driving will always be – as long as we can imagine – the core of the Bentley proposition. Because that's really why people buy our cars; they love the driving experience. So we're not just going to make soulless transport pods. We're making futuristic, efficient, transparent sustainability-wise, driving machines for the discerning.'
The man leading Bentley through this historic transformation exudes the confidence of someone who has sold an awful lot of expensive cars. Which, of course, he has. Certainly he knows better than most that attitudes to expensive material objects are changing, but he insists that when you put people in front of 'luxury' they are inspired by what they see, and the human ingenuity that went into making it.
Yet tastes are changing. In China and the US, customers are now looking to the Bentayga SUV where they might once have chosen the sizeable, stately Mulsanne saloon – which Hallmark axed last year.
Chinese consumers are becoming a little less flash, too, says Hallmark, moving on from 'that must-have-it, must-get-it, must-show-off' to what he describes as a 'much more inner-driven luxury consumption model'.
'I think that is the trend,' he says, leading me to believe he means this is true around the world, not just in China. 'I've seen that over 25 years and I see it gently continuing – and the next generation will be the same. I promise you.'
Luxury, he believes, must 'match the values of the time, which is why we believe decarbonising the product, the operations and supply chain and giving purpose to luxury to be the first…' – he changes tack – 'to be the most sustainable category out there. We think that has a strategic value, and that's our mission.'
And if Bentley's electric cars drive anything like as well as their petrol ones do, then their future should be secure.
Right now, the chairman and CEO tells me the firm has 50 per cent more orders on its books at the start of 2021 than it did at the start of 2020. And that was the best start to a year the company had in 17 years.
'We've got the potential to do something big in 2021,' Hallmark says. But that's just the start.'
Alec Marsh is editor-at-large of Spear's. His latest novel, Enemy of the Raj, is published by Headline Accent
More from Spear's
Jaguar's new F-Type reviewed: 'Everything a GT should be'
The 2021 Spear's Property Advisers Index