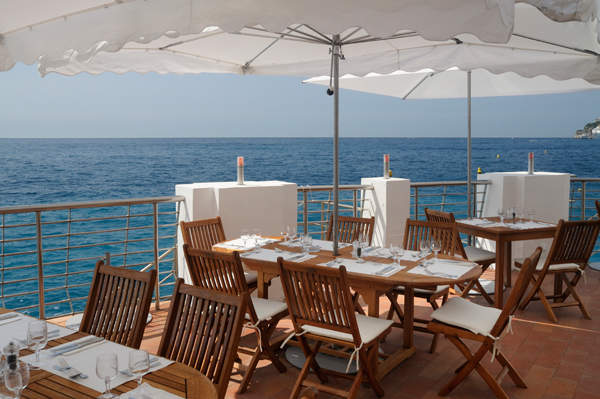 It was with the greatest of pleasure that I trudged up the driveway to the steps of Monte Carlo Beach. After a train journey from Cannes, a bus ride through Monaco's evening traffic and a struggle on foot up the final stretch of Avenue Princesse Grace, I couldn't wait for a shower and a glass of champagne. But the sight of two doormen straining their necks to take in the monstrosity of my 65-litre Osprey rucksack bobbing into view was a delight in itself.
This Relais & Chateaux property is one of the only boutique hotels in the area to offer privacy. Fellow hotels along the coastal stretch are huge, brash and rather ugly to look at, while the terracotta-coloured Monte Carlo Beach is concealed by a pine forest and sits at the end of the beach at the foot of a cliff. There's a good reason why Karl Lagerfeld lets out the white villa just above.
Oddly enough, though, this isn't Monaco. It's Roquebrune-Cap-Martin, a bizarre sliver of land considered French, although you only have to walk five minutes to be back in the principality.
But why would you want to be? Here, you're free from the growl of Ferraris and hoards of Chinese carrying Louis Vuitton and selfie-sticks. Inside the marble-floored rooms there is nothing but the sound of the sea rolling onto the rocks below, and a pine-scented breeze washes in and out at night.
The room's interiors and soft furnishings are chosen to convey the feeling of being in a ship's cabin, with a blue-and-white striped corner sofa and a large porthole window between the bathroom and bedroom allowing you to look out across the bay from under a raindrop power shower. In essence, when you're not on your yacht, you still feel like you are – all that's missing is the wooden decking and waves of nausea.
Monaco is largely pebble beach, but the property is unique in being home to an Olympic-sized swimming pool filled with heated seawater. On the occasional nippy morning, it's advisable to slip into the adjoining hammam at the La Prairie spa for a good steam and cleanse before breakfast on the decking or a game of tennis.
But being the sort of person who does four laps of doggy paddle to avoid feeling like a sloth, then slinks off to read on the beach, I think the highlight of Monte Carlo Beach is the Michelin-starred Elsa Restaurant. Working with fifteen local producers from within the Cote d'Azur and extending to Liguria, head chef Paolo Sari has built a fully organic menu.
I've never thought too much about organic produce, lazily picking up what looks most fresh at my local Waitrose, but I learnt a lesson or two at Elsa. A starter salad of seasonal vegetables drawn in from seven different gardens arrived looking like a mini flowerbed. Long curls of cucumber tightly rolled sat among spirals of raw carrot and beetroot and shards of asparagus, and were scattered with violets and basil and flavoured with pea purée.
A carpaccio of red shrimp, cold and smooth, came alive with five types of olive oil ranging from the thick and sweet to the smoky and bitter. Cepes ravioli with morel cream emitted a dark earthy scent unlike any pasta I've ever smelled and had a meaty heft unlike any I've ever tasted.
I know, it's just flour and water, but when it's done well it's worth singing about and what Paolo Sari and his team have created is sensational. Even if you're staying somewhere else, book a table for dinner on the decking and watch the boats bob in the bay at sunset. You'd be a fool not to.