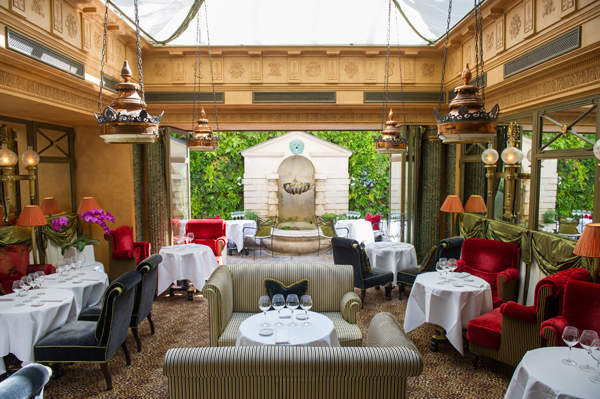 The best secrets are the ones that are kept. So it's with a heavy heart that I draw back the curtains and introduce you to L'Hotel. Slotted into a side street in Saint-Germain-des-Prés and marked by nothing but a stone ram's head above the door, L'Hotel is a place where you cross the threshold and develop an urge to wear silk and stay in bed eating éclairs.
At the end of the 19th century the townhouse was the final home of Oscar Wilde who both lived and died above what is now the bar area, before it was renovated and built into the six-storey glamour-puss it is today.
The hotel still pays homage to its most treasured guest and the reception area features a framed handwritten note by Wilde trying to organise a drink with a friend at a nearby bar, while suite number sixteen is lovingly referred to as the Oscar Wilde suite and on its walls hang framed receipts and Wilde's unpaid medical bills.
Hotels are often described as 'singing' of old-time glamour but L'Hotel hums in quiet confidence of its own elegance: wrought-iron chandeliers are fitted with mechanised bulbs that barely oscillate, giving the sensation of flickering candles; the glass-roofed dining room is furnished with striped sofas, red velvet armchairs and olive silks; even the lift is upholstered with damson-coloured velvet and plummy silks just asking to be stroked.
And what's more confident than naming a Parisian hotel 'L'Hotel' and its Michelin-starred restaurant 'Le Restaurant'? The first time I stayed here I had just dined at Alain Ducasse at Plaza Athénée and it was clear which chef was superior – by a huge margin. At the moment, L'Hotel's head pastry chef, Joana Thöny Montbabut, has put together her signature afternoon tea with fairy-light finger sandwiches, scones and Champagne, so it's the place to stop if you're shopping in the area and can't bear the crowds at Ladurée.
As for the bedrooms, they're built around a spiral staircase and range from 'small mignon' to the apartment on the top floor. Uniquely decorated, they too are ripe for the touch, fitted with toe-warming carpets, draped with velvets and lit by tasseled lamps that invite a turn-down and a long afternoon nap. Or you can lower yourself into the sunken marble baths with a fresh-peach bellini and soak in the Green & Spring rosehip and sunflower oils and bubbles, which come in full-sized bottles.
But I've saved the best for last. L'Hotel's trump card is the hammam pool, a candlelit mini pool built into what were probably old wine cellars – or even a dungeon – where you might expect to encounter the Phantom of the Opera sailing past in his gondola. Encased in a brickwork dome, the pool and an attached steam room are complimentary for guests and can be hired for private use by the hour. For a central Paris hideaway, they don't come better than L'Hotel.
You can buy Monisha's first book, Around India in 80 Trains, here