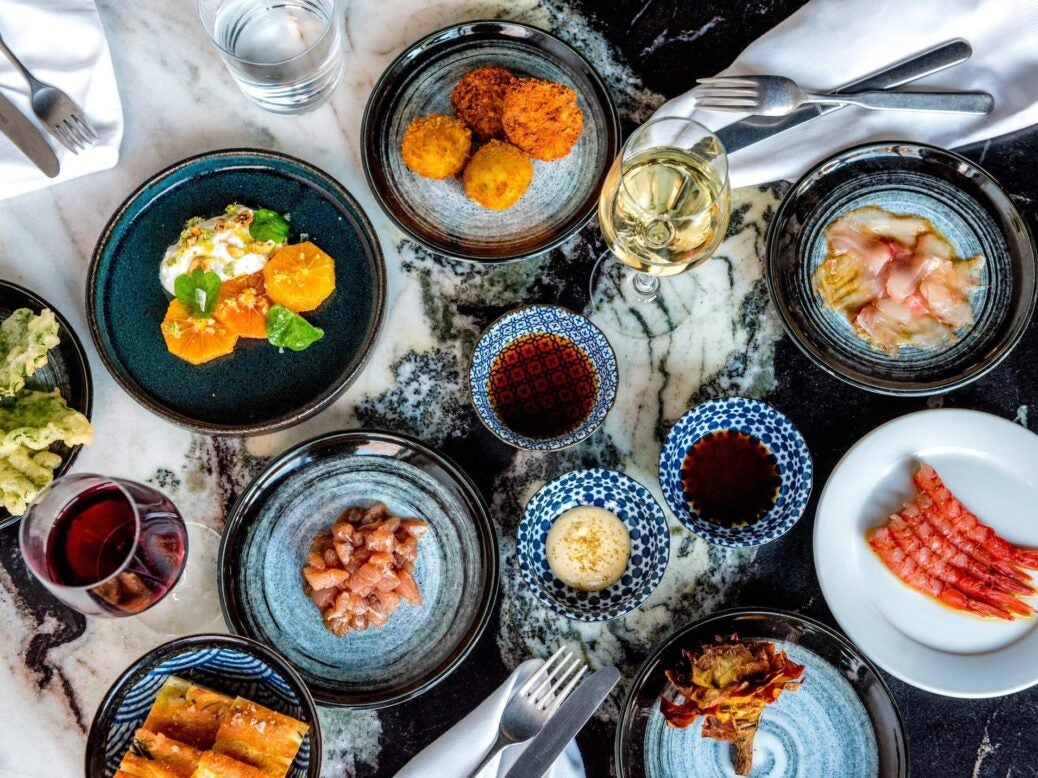 Dalston's newest culinary experimenter is full of surprises and leaves plenty to enjoy, writes Arun Kakar
Dalston in East London has changed a bit since being decried for 'urinating, vomiting and too much noise' by residents six years ago in the Evening Standard. Indeed, it's an area that in 2019 has graduated from 'up and coming' status. The good news is that progress hasn't come at the expense of its diverse collection of places to eat and drink – which help to maintain this gentrified area's rightful reputation as one of the capital's 'hippest' districts.
Which brings us to Angelina: just a short walk from Dalston Junction station – away from the bustling Kingsland Road, the area's coronary artery. Angelina's decor is sophisticated and minimal, like a gastronomic Wework, enhanced with subtle stylistic flourishes. Here, they serve up a Japanese and Italian fusion, underscored by subtle design signifiers throughout its interiors. It's an approach that turns out to be much like the ensuing dishes themselves, which are presented with a simplicity and unpretentiousness that belies their gastronomic complexity.
But first the menu – a refreshingly direct concept, something sadly rare in fusion cuisine, which has a tendency to present bewildering menus which often include their own chapters. At Angelina, you're presented with either the dish of the day or the five-course tasting menu (wine pairing optional) which changes some of its items on a weekly basis.
We head for the full suite. Our array of opening courses, which features green olive and rice-stuffed croquettes, winter greens tempura and an array of mackerel, sea bream and scallop served alongside a plate of focaccia and the sea urchin. Taglioni, crab, wasabi and ginger comes next, followed by ox heart, Marsala dry, nira, dashi, finferli and ginger. We finish things off with a Yumenishki pudding, blood orange, pistachio and chocolate. It's quite the thrilling experience.
Angelina doesn't so much fuse cuisine as interlock them. It finds common ground between respective dishes, and out of it creates resoundingly fresh taste – which sometimes challenges its diners but feels homely and nourishing.
This is not surprising, when considering the pedigree of its owner, Joshua Owens-Baigler. Trained at Hammersmith's Italian fine-dining mainstay the River Café, he also comes flanked with former chefs from Bocca di Lupo and Murano. Make no mistake, this place takes its food extremely seriously, but it's also spirited and lively – it knows how to have fun.
Owens-Baigler has said that the restaurant would encourage a 'social-media free zone', because the emphasis here is on an authentic experience. It's apparent in the way that our waiter talks about the sea urchins, for instance, reminding him of his hometown of southern Italy. The team is small, and our waiters articulate a thoughtfulness in their presentations – doing more than reciting an ingredients list, when they bring us each dish. The proof, almost every time, is in the pudding.
So what was the best dish of the night? Without hesitation, the ox heart stole the show – and walked away with the leading lady. What could be terse is here rendered soft and slightly chewy, and is arranged with an artist's care. It could compete for the best thing I've eaten this year: just the right balance of spicy heat, tanginess – and altogether wonderful.
The selection of wines is excellent, too. A highlight is the Antica Formula Carpano which we enjoy with our dessert. Sweet and a tad bitter, it connects perfectly with the creamier side of our Yumenishki. Yes, our focaccia doesn't quite meld together with the rest of the starters, our taglioni seems something of an outlier (but it's still good), but this is a place that brings a much-needed sense of fun to its plates. From its lively music through to its staff, all the way through to the plates themselves – you'd have to make a conscious effort not to have a good time here.
We're told that by a waiter that they wanted to keep affairs quiet since opening in February, but by the looks of our Thursday night, word of its quality seems to have cottoned on rather quickly. It's not surprising. When the menu keeps changing and the food is this good, it'll have regulars – let alone first-timers – soon enough. Angelina certainly deserves to be more than a 'best-kept secret' of the East.
Arun Kakar writes for Spear's
Read more: