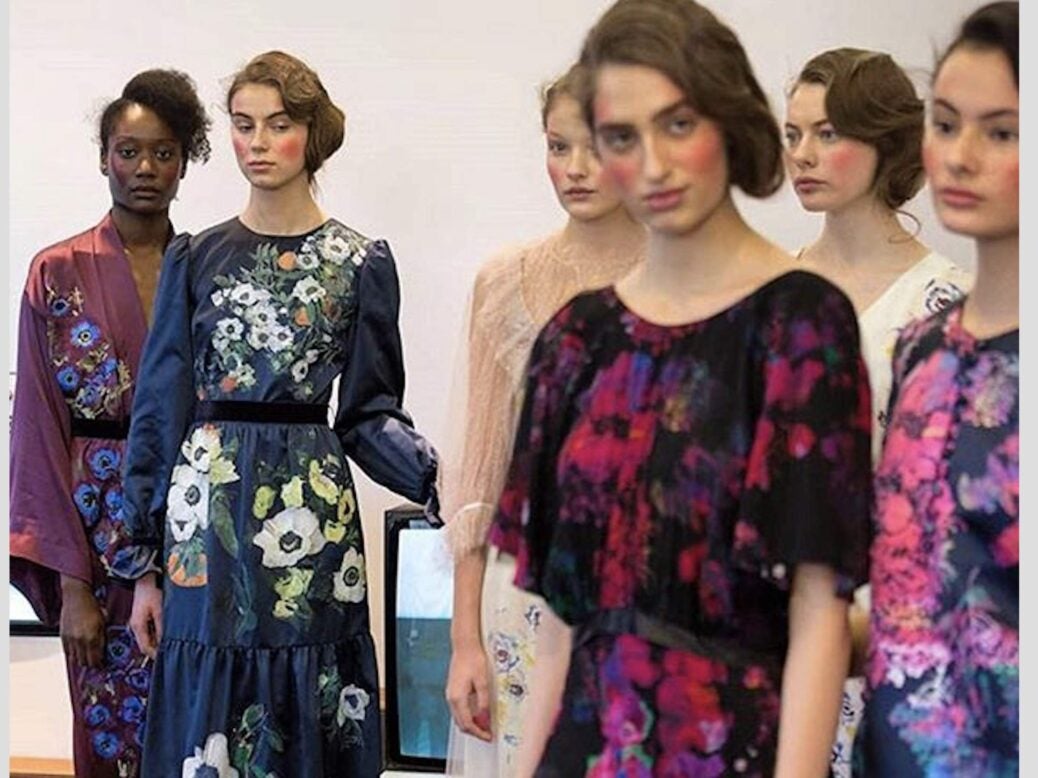 Behind the floral designs of Alice Archer lie a passion for art history and a dedication to skilled embroidery, writes Emelia Hamilton-Russell
With heavy, crinkly hair tumbling over one shoulder and eight-week-old baby daughter snoozing on the other, fashion designer Alice Archer looks a little like she's stepped straight out of the 16th-century painting pinned to her mood board.
She's wearing one of her own designs: a long, dark green foliage-covered dress with signature billowy sleeves. The pattern reveals fragments of Old Master paintings featuring alabaster-skinned faces. Only her shoes (candy pink, pointed flats) plant her in the modern day – and the fact that she shops at the online store Matchesfashion, because, she says, 'I just love getting their huge, marbled boxes in the post.'
We're in the basement of The Place on Connaught Street, which is owned by Simon Burstein, former CEO of Browns. Burstein was the one who gave Archer a platform – and a studio space at the top of the Browns building on South Molton Street – after spotting her hand-embroidery on a show at a craft fair in Clerkenwell called 'Best of Britannia' in 2013.
'He left his card,' she remembers. 'And then I went to meet him with my portfolio and he gave me a studio!' This was Archer's chance to make it as a name in her own right, after working under artists and designers such as Tracey Emin and Dries Van Noten.
'It was a really tiny space but the most amazing location. I had to carry my extremely heavy embroidery machine up five flights of stairs. Whenever I turned it on, the whole shop would shake.' It was this 2013 collaboration that led to her first collection, 'Alice Archer for Browns', and since then her brand has been creeping on to the high fashion radar.
In October 2017, the New York Times picked Archer as 'a name to know at London Fashion Week'. Then, after her 2018 spring/ summer presentation, which displayed rosy-cheeked models posing in a Sicilian lemon grove, Vogue said of Archer and fellow British designer Molly Goddard that 'both… are growing like flowers'. Flowers and nature form a huge part of Archer's aesthetic, and she knows their language intimately.
'I really love paintings and I love flowers, so the imagery in the collection is often flowers,' she tells me. Last year Pippa Middleton attended a wedding in Ireland wearing an Alice Archer structured silk dress embroidered with a single enormous rose. Archer's autumn/ winter 2019 collection features exuberant dahlias, beaded cow parsley and thickly textured apple blossoms.
At this winter's London Fashion Week, her collection – which had to be kept 'quite simple' as it clashed with Archer's due date – was launched at the new, female-only private members' club, the Albright. These designs are darker, more brooding than the insouciant pastels Archer has become known for: shiny red apples and berries are transposed on to the garments.
While some of the imagery is embroidered directly on to the fabric, some is printed over a white pattern – an effect that adds an element of symbolic, painterly layering.
'I do an oil painting, photograph it, and then print it on top of white textured embroidery,' she explains. 'From a distance it looks like a print, and then when you get close it feels and looks textured and feels very soft and feathery.' The latest collection shares a deep-hued palette of clarets and navy with the same popping points of light that jump out from an Old Master oil painting.
'The brand is quite historic,' she explains. 'I'm also inspired by ecclesiastical embroidery.' History may inspire her work, but her pieces have contemporary appeal.
'There's just something so charming about Alice as a person, and her brand sort of embodies that,' actress and model Camilla Rutherford tells me over the phone. 'I also love that there are these beautifully feminine designs coupled with the embroidery which adds a sort of… "substantialness" to the clothes. There's a sense of permanence and historicism that people are really craving.'
Archer tells me she spends hours in the Central St Martin's Library poring over art history books. One collection was informed by the 19th-century French painter Claude-Marie Dubufe.
'Beautiful paintings of women… beautiful skin,' she enthuses. 'I really like the way Manet paints too. I've been trying to look at and replicate the way he uses paint and brushstrokes in quite a free way.' It is perhaps her intellectualism, and the sense that you are wearing something originally conceived of as a work of art, that appeals – especially to the London literary set.
When I ask Archer who she imagines when she designs the clothes, she is quick with the answer: 'An ageless women who is strong and confident and has an interest in art and culture. There are art references throughout the collection. I want the clothes to be pieces that people treasure and eventually pass to their children.'
Born into a creative family (her aunt is Celia Paul, a painter and former lover and muse of Lucian Freud), Archer had no reservations about going to Goldsmiths to study fine art. 'I have parents who just wanted us to be happy and do what we liked,' she says. 'My mum is one of five sisters: one of them is a painter, so I grew up being painted by her and going to her shows; another is an actress. So it was definitely in my family.'
But for all her fairy-tale aesthetic, Archer has a practical side. At Goldsmiths she made sure to attend the embroidery workshops because, she says, 'I knew I couldn't graduate from art school without some means of earning a living.'
She quickly found work as an embroiderer, working for Emin and making shoes featuring her hand embroidery for clients like Whoopi Goldberg. Then she studied an MA at the Royal College of Art and specialised in embroidery ('two years of intense study and experimentation'), where she developed her techniques.
Archer left with a portfolio and went to work for van Noten in Antwerp. 'There's a lot of employment for embroiderers,' she says. 'It's partly because it's quite an unusual skill and partly because it's coming back into fashion. Even monogramming now – it's a big industry.'
Archer's techniques have changed since those early days of hand embroidering Whoopi Goldberg's shoes. She now uses technology to digitally program each stitch.
'The way I program on the computer is informed by the way I know how to hand-embroider,' she explains. 'I spend really a long time building the program, choosing the thickness or angle of each stroke.'
In terms of the design of the dresses themselves, she favours shapes that are 'quite classic, with a soft waistline'. She says she loves details like 'full, historic sleeves and luxurious fabrics like tulle and velvet', but the opulence of the fabric and embroidery is tempered by the very classic, modern shape of her garments.
Archer and Victoria Beckham – two designers with almost opposing styles (Beckham minimal, Archer maximal) – share a pattern cutter.
Cotton on
Continuing her tour, Archer pulls out a pale blue cotton checked prairie style shirt with embroidery across the chest and back.
'This is one of my favourite pieces because you can wear it in the day,' she tells me. 'There's the instant juxtaposition between the inexpensive cotton fabric and the precious embroidery.'
The 'bread and butter' of the business, Archer tells me, are the elaborate silk kimonos, mostly in jewel colours, which she makes every season. At £2,000 a pop, they sell reliably and across the demographics. The rap mogul P-Diddy was seen wearing a golden-yellow one bought by his girlfriend.
This seems to encapsulate the enigma that is Alice Archer – on the one hand demure, flower-strewn dresses worn by the likes of Pippa Middleton and seemingly designed with the sweetness of Lily James or a young Helena Bonham Carter in mind, and on the other you have Tracey Emin or P-Diddy, who are also enchanted by the history-meets-fashion, bookish charm of her embroidery.
So what's next for the 33-year-old? 'I'm making Constance a christening gown,' she says, jiggling her daughter, who after our 40-minute interview is starting to fuss.
'It'll be white but there's a "Constance" rose – it's bright pink like the shoes she's wearing now – so I'm going to embroider that.' Constance doesn't know it yet, but she is en route to being the best-dressed infant in London.'
Emelia Hamilton-Russell is a staff writer at Spear's 
This article first appeared in issue 68 of Spear's magazine, available on newsstands now. Click here to buy and subscribe.