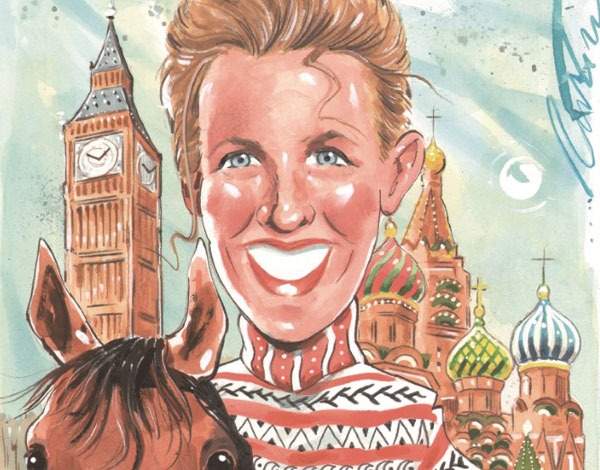 The equine adventurer on her love of literature, travel and Russian traditions and ditching her 'oligarch wardrobe'…
How much is an ounce of gold?
To me, an ounce of gold is just an ounce of gold.
What's your day job?
Right now I'm rebuilding my travel business, I'm working on a big project that I can't talk about yet, I'm having a huge sale of all my clothes with a portion of the proceeds going to charity, I'm lecturing at a university in Marseilles next week, and I'm looking after my three children.
Why did you decide to go into the travel industry?
As a teenager I read an extraordinary amount of 19th-century European literature, everything from Balzac to Walter Scott to Trollope, hundreds and hundreds of novels. I think it really stretched my imagination and made me want more than just an ordinary life. And then I met a friend who had this amazing idea to ride the Silk Road, and that was it.
And why did you get back into it lately?
It's not so much why did I go back, but why did I stop? I suppose I stopped because I had children, and I stopped because I was with someone who wouldn't let me travel.
How do you feel about the label 'oligarch'?
Most people don't know what it actually means. In Russia it's a group of massive businessmen ruling the country, and that's the truth. If you have a vacuum, which you did have after the breakdown of the Soviet Union, of course it's going to be filled. It's the same with any new society. In America you had Prohibition and now it's reasonably democratic. I think it'll be the same with Russia.
What car do you drive?
I don't drive, and I get so much hassle from my friends about it, but actually it's a great thing because we walk everywhere. I walk from Battersea to Chelsea every day with my children. Today I walked in my wellingtons.
How would you describe your style?
I'm partly Russian, so I love anything to do with Russian folk traditions. I went off track for a few years, but I've just sold my 'oligarch wardrobe' and feel I've got my old style back. Who first inspired you?It's extraordinary how early your taste is formed. My English maternal grandmother had seven children and she is a complete force of nature. She made all her own clothes, her own bread, everything.
What are you reading?
Four Sisters: The Lost Lives of the Romanov Grand Duchesses, by Helen Rappaport. I really like the way she writes: it's historically accurate but also novelistic.
What's your favourite London museum?
The Wallace Collection.
You've been rich and you've been not so rich. What have you learnt about money?
It is a truism, but it is the most true thing: money does not bring happiness. My ex-partner, who had vast amounts of money, used it to control me. I would be holidaying on beautiful yachts in St Tropez but then he wouldn't pay the electricity bill, just to make me feel stressed.
Your father is a noted monarchist. What are your views?
I'm a monarchist. I love the Queen, although I don't think the Russian monarchy could be brought back because the whole point is continuity.
Are you happier in the town or in the country?
Country generally, but when I'm feeling overwhelmed I fly to Moscow for four days. It's the most glamorous, vibrant, energetic, but culturally fascinating city.
More Midas: