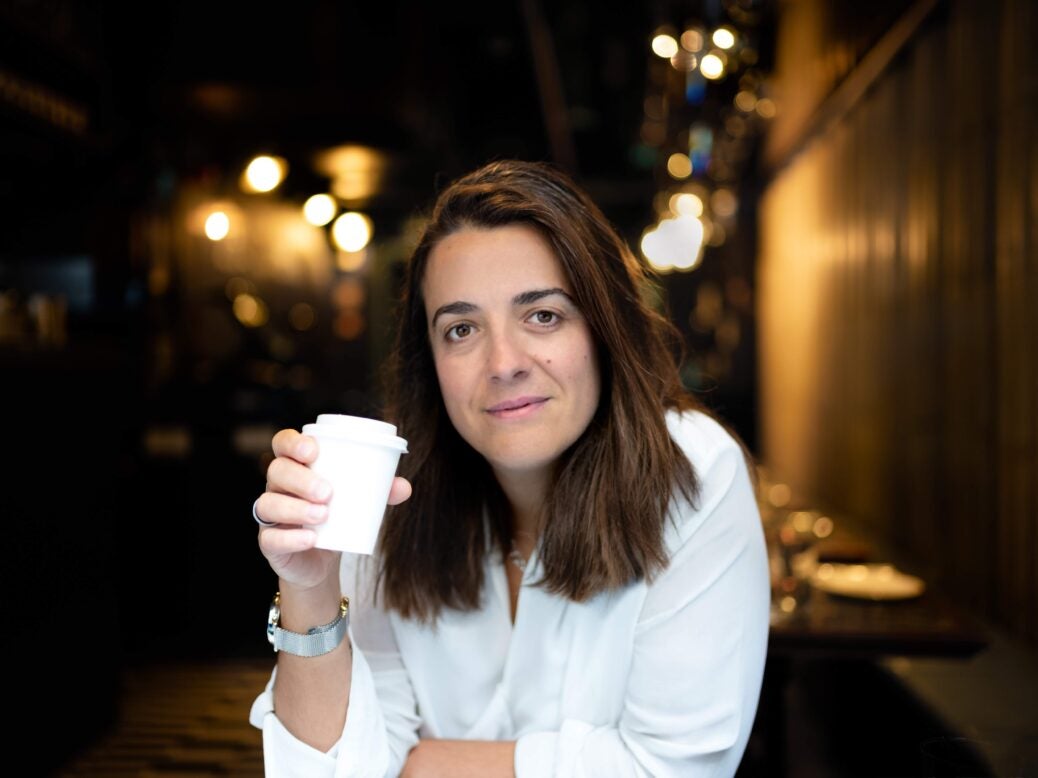 Afroditi Krassa, the designer behind Gordon Ramsay's new Asian-inspired restaurant, gives Sophie Killip some design tips
Greek-born, London-based interior designer Afroditi Krassa is a force to be reckoned with. Having garnered acclaim in the world of luxury hospitality design – working with everyone from Heston Blumenthal and Rosewood Hotels to Mourad Mazouz, designing pieces for his famous restaurant, Sketch – her latest venture is Gordon Ramsay's new restaurant, Lucky Cat.
Sitting down with Krassa in the west London creative hub where she has her office, she tells me that Lucky Cat was inspired by the drinking dens of Tokyo, a popular choice for young, hip urbanites during the 1930s and 40s. The creative visionary worked with Gordon Ramsay on all aspects of the Grosvenor Square restaurant; it opened at the end of June, delivering on its promise to be an Asian-inspired eating house.
Involved in everything from interiors to menus and music choices, Krassa has worked with all manner of clients, from global corporations to small, independent start-ups. However, more recently, the studio has found the majority of its clients come from the luxury sector, which Krassa believes is down to the fact that 'there are more HNW individuals than there used to be, and younger ones, and in new markets.'
With a track record in creating interior 'worlds' for food and beverage concepts, it's clear that Krassa is excited by the expanding market. 'I think people assume they need to be more conservative in luxury design,' she says, 'but this is the area with a lot of innovation taking place.' It seems she's not wrong – the flair, authenticity and individuality of her projects is one of the reasons why luxury clients approach her studio.
A case in point is Lucky Cat, where Krassa's immersive design complements the exciting, varied menu. Asian small plates and Robata grilled dishes are served up on indigo crockery; rare Japanese knives are displayed beside the restaurant's open kitchen. References to the Lucky Cat name run throughout the venue, from the cat-tail hooks on the bathroom doors to the wall of 300 handmade ceramic Maneki Nego cats that wave across the bar.
Whether working with celebrity chefs on one-off restaurants or leading the design team for a major restaurant group, Krassa's love of innovation is also why she tries her hardest to avoid trends. 'We do a lot of research to avoid them, and it's sometimes very hard. Very few people have the bravery to trust us,' she mentions. So what to do with those trend-loving clients? 'You have to educate them,' Krassa says. Make them see that 'everyone else is using trends – and that's exactly my point, everyone is using them!'
Krassa doesn't just avoid trends in her work, either – she refused to use them when she and her partner designed their own home. 'The great thing about a home is that you don't need to tell anyone else's story. It's your home, it's your story; it can be whatever you want,' she says. 'I find it really absurd when people employ interior designers to design their homes. I can't imagine getting anyone to design my home – it has to be about me. How can anyone else understand me better than me?'
Her feelings about this are so strong that Krassa even declined to design Heston Blumenthal's home when he asked her to, following her work on his Perfectionist's Café. 'I said no,' she laughs. 'He asked why not, and I said: how I could go into someone else's space – which is such a sacred thing – and tell them what they should do?' Krassa's ethos is that a home should be what its owner wants, and, she says, 'if they know what they want to do, what am I there for?'
Even so, the award-winning interior designer does have some advice for those designing their own homes. She tells me that it's best not to 'think about how other people will see it', likening interior design to 'dressing up' and making fashion choices: 'You should decide what you want to wear, and have the confidence to feel comfortable in your own skin. Think about whether you like it and whether you feel comfortable… I really admire people who have the guts to do that.'
There is one thing you will need professional help for, however. 'A building is like a machine, it has to perform and do its job. It has to be in proportion and have the right amount of light – that's the reason,' she insists, to bring in a designer or architect. Once you've done that and are on to furnishing your home, 'think of it as a moving target.'
Be aware that your own tastes might change, and that nothing has to be fixed or stay the same. 'I keep adding, subtracting, and moving things around all the time,' Krassa admits, discussing her own home. 'People change – what I like today might not be what I like tomorrow.' Equally, don't be afraid of choosing objects and furniture with different price points. 'People think design means expensive, or branded, which is not the case,' she says, 'I've got pieces I've had for many years that range from IKEA to Knoll.'
Krassa believes people should stay true to themselves and what they want in their home – but with a great budget comes great responsibility. When it comes to creativity, the environment, and supporting craft and culture, Krassa believes that 'the bigger your budget, the bigger your responsibility'. But, she adds with a smile, there is a liberating factor to having a large budget, too: 'You should still be playful. Why not experiment and try things out?'
Sophie Killip is the editor of DesignCurial and a regular contributor to Spears