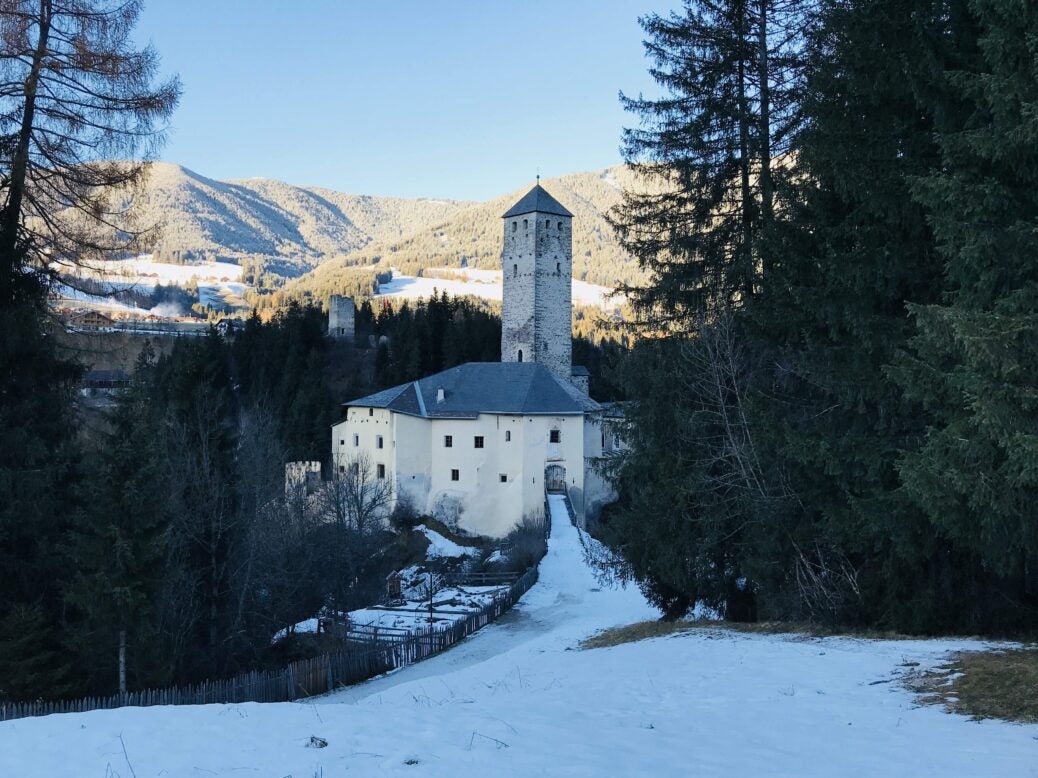 Visit a corner of Italy with a uniquely German flavour. Article by Silvia Marchetti
'These Alps used to be a tropical ocean. We're  walking on a former coral reef,' explains climber-explorer Michael Wachtler as he shows me fossils in his private museum in San Candido, a mountain village in Italy's northernmost tip. I'm baffled – not just by the ancient Celtic gold earrings on display and the skeleton penis of a mummified marten, but because Wachtler looks and sounds anything but Italian. Red hair, freckles, white skin and hyper-active, he speaks with a strong Teutonic accent.
Welcome to Alto Adige  – Sud Tiröl for German speakers – dubbed Italy's Little Austria. This skiing heaven was once part of the Austro-Hungarian empire, and was annexed by Mussolini. Today its fiery people remain proud of their origins. Here they speak German, so at first I feel like a stranger in my own land. Yet the stunning views, people's warmth and cosy villages conquer me.
The scent of strudel and warm orange punch fill the air as I make my way through narrow cobbled streets and frescoed, pastel-coloured cottages. Legends of giants, rock-warriors, forest monsters with three heads, devil-men, snow queens and workaholic dwarfs who sprayed the Dolomite peaks with pink crystals mix with dark stories of witches  burnt alive by the Inquisition.
In Bressanone, founded by the Romans, I stay at Hotel Elephant, a lavish villa that once hosted an exotic guest: elephant Soliman was a wedding gift of the Portuguese king to an Austrian royal couple. The 'Big Grey One', as locals call it affectionately, journeyed from India, and is now the city mascot.
At dusk, locals gather at outdoor bar lounges sitting on warm sheep skins. Dinner at Oste Scuro, a chic restaurant dating to the 1200s, is a sensorial experience. As I savour bread-and-cheese Knödel dumplings in both the sweet and salty variant, I admire the ancient rifles and portraits above my triangular table, located in a protruding bow window. Wine flows in abundance, as it did in the past: clergy used this place as a liquor store. When night fell, it was party time for the greedy bishops (hence the name, 'Dark Host').
My most sublime gourmet experience is at the Dorfner guesthouse, where owner/chef Anton Dalvai spoils me, starting with simple bread, homemade with cornmeal mush polenta and parsley. As an appetiser, I pick a tender beef tartare and a smoked trout that melt in my mouth. Then I devour a deer steak as the sun pours through a glass veranda overlooking pristine forest. Anton's cows can be heard bellowing in the garden. For dessert, I indulge in black cherry omelette and chestnut crème brûlée.
At Alto Adige, élite wine flows in abundance. It's the kingdom ofaromatic Gewürztraminer, from Tramino. Flavours of peach, raspberry and chestnut tease my tongue as I sip a few glasses at the panoramic Pfitscher canteen, suspended above terraced vineyards. What catches the eye is the fairytale landscape. Tiny medieval chapels, abbeys where monks make wine, and stunning castles dot the white snowy plains and frozen lakesides.
Brunch, in San Candido, is at Kerschbaumhof, a family-run dairy farm (or 'maso', in Italian), where I'm treated to yogurt, strawberry jam and Speck seasoned in the stable. Owner Gerlinde bursts out laughing when I cut away the greasy fat of the smoked ham. A glass of milk here is nothing you've ever tasted, sweetened by the healthy grass of the Alps. Guests can spend the night in simple, no-frills wooden rooms and wake up at dawn to admire the glowing golden peaks.
The farms are foodie heaven. During the Törggelen festival, farmers-turned-chefs serve huge quantities of local specialty dishes. At Griesserhof I have delicious Schlutzer ravioli with spinach and melted butter.
Many farms have been elegantly restyled and turned into luxury chalets for unplugged, detox breaks. The only sounds at Hotel Silentium are a running stream and chirping birds. There are just a few designer rooms with thick stone walls and floor-to-ceiling windows. The sauna is located in the former barn, so you walk out in the snow in flip-flops and bathrobe.
I get to have the whole cottage to myself: 'Don't worry dear, sleep with the door open,' says owner Evi as she shows me her insect hotel, a wooden box hung on a tree with holes and beds for bees, butterflies and the like to rest. 'We feel a strong bond with nature, and insects are very precious,' she adds.
Over dinner with Evi and her partner, they tell me how hard it is getting away from Alto Adige. To them it's simply the best place in the world: healthy, full of oxygen, regenerating.
And how could I blame them? The water I'm drinking comes from the brook in their backyard, where brave guests like to dip for a freezing leg massage – great for blood circulation. In summer, the couple both ride to Silentium on their horses, so there's no need for a car.
Cheese bunkers are another novelty. Hansi Baumgartner of Degust refines his stylish blue cheeses coated in hay and prairie flowers inside a Second World War bunker deep in the forest. Mussolini had these underground fortresses built as hiding places, which are perfect. He never trusted the Germans, notes Hansi.