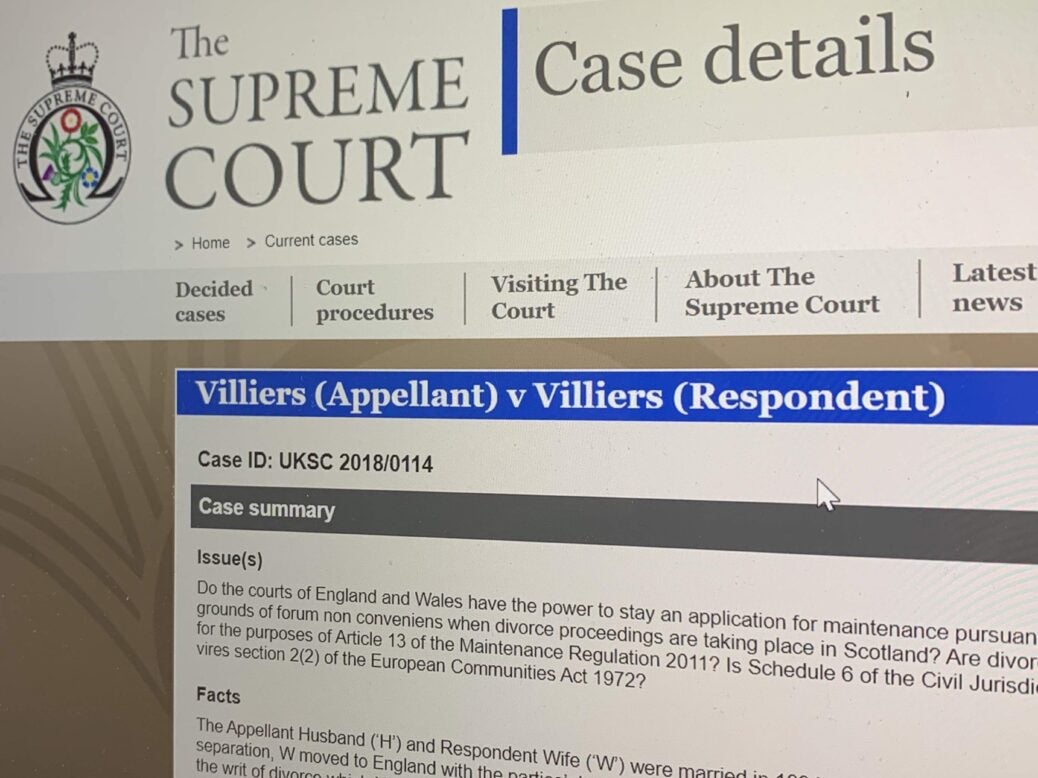 The legal battle between Scottish aristocrat Charles Villiers and his wife Emma has been raging for years. As the dust settles on a landmark Supreme Court judgement in Mrs Villiers' favour, Spear's catches up with her Scottish solicitor, Rachael Kelsey
In 2014, Scottish aristocrat Charles Villiers – a relation of Camilla, Duchess of Cornwall –  filed for divorce in Scotland. But, soon after, his wife Emma, who had moved to Notting Hill after the breakdown of their marriage in 2012, brought her application for maintenance payments in England.
This sparked a long-running legal battle, and accusations of 'divorce tourism' against Mrs Villiers, since English and Welsh courts are often perceived to treat the financially junior party in a divorce more sympathetically. Charles Villiers was declared bankrupt in 2013, but his wife insisted he had half a share in a £3.5million trust fund and was granted £5,500-a-month interim payments.
The case was finally ended decisively last month at the Supreme Court in London, when the judge decided that Mrs Villiers could, in fact, pursue her maintenance claims in England whilst the divorce was dealt with in Scotland.
The judgement has been painted by some commentators as a license for cynical spouses to practice so-called 'divorce tourism' and 'forum-shopping'. However, when Spear's catches up with Mrs Villers' Scottish lawyer, SKO partner Rachael Kelsey, she explains that things are a little more complicated than they may appear.
'There is a sense that 'forum shopping' is intrinsically morally suspect,' begins Kelsey. 'But it only arises when people have connections with more than one place. And I have precious few clients these days who don't have connections with more than one place.'
Because England and Scotland have separate legal systems, there is the need for rules to decide which country's law should take precedence where. Historically, this has been defined by which country the party or parties have the strongest connection to. However, says Kelsey, this simply isn't possible today because of the intrinsically multi-jurisdictional nature of many clients – HNW ones in particular.
'It's difficult for them to say where is the centre of their interests because they are very mobile. It's not a case of asking "where do HMRC write to you? Where is your doctor? Where are your family photos?" We are now working with people who travel with people who are educating their children and accessing private medical care in multiple different places,' she explains. Passing moral judgement on those who pursue multiple jurisdictional options is at odds with the international nature of modern HNW and UHNW clients.
'Forum shopping' is nothing new, and Kelsey dismisses the suggestion that the Villiers ruling has somehow 'opened the floodgates'. 'The commentary that you will have seen is about how outrageous it is that people might be able to forum shop. It's just nonsense, that has always been the case,' she says. 'If somebody had contacted me last week and said "it's going to be a disaster if English law applies to my divorce", I would say there are steps that they can take to minimise the space for English law to have any input. For example, when [couples] separate they should do so in their Scottish home, not in their English one. That has been happening for years.'
What the Villiers ruling has achieved, however, is an unambiguity that 'bifurcated proceedings' can exist. It is possible for a court in one part of the UK to deal with some aspects of the financial consequences of a separation, and another part to deal with others.
'If you are somebody with the ability to move, it is clear that you can potentially access remedies in one place or the other, or indeed preclude the other person from accessing remedies in another place,' says Kelsey. 'It does shift things, because people are able to move themselves and their family to a jurisdiction which suits them.'
This all, of course, comes against the backdrop of Brexit. Kelsey acknowledges that 'we still don't know' how 'everything is going to change on the 31st of December', but adds that the Villiers ruling – that people can move jurisdiction according to their needs – 'gives us some clarity'.
The Villiers case has also raised the profile of England's status as favourable to the financially junior party in a divorce. 'If you are the vulnerable party, you can engage the English courts very quickly. I think people will be aware of this in a way that they haven't been to date,' says Kelsey.
She has her reservations about this stance, however. 'There's this underpinning in English law which is about discretion – from a Scottish perspective, an almost paternalistic notion which feels very, very dated,' she says. 'It has this sense that women still don't work, that men are the breadwinners, that they don't participate in child rearing to the same extent.'
She muses on whether it is a 'chicken and egg' situation; whether, on some level, women in London make life decisions based on the knowledge that they are likely to get a joint lives maintenance order in the event of divorce. Kelsey poses the question: 'Do you feel more free to stop working and give up your earning potential because you know you have the safety net of the court looking after you?'
Whether or not this is the case, Kelsey defends a person's right to conduct financial proceedings in a jurisdiction that works for them, and, in this case, has done so extremely successfully.
Read more
Coleen, Rebekah, and why there's no such thing as an 'almost' failed mediation
Why banks are being warned about changes to the bereavement process
Family law comment: How coronavirus might affect divorce settlements