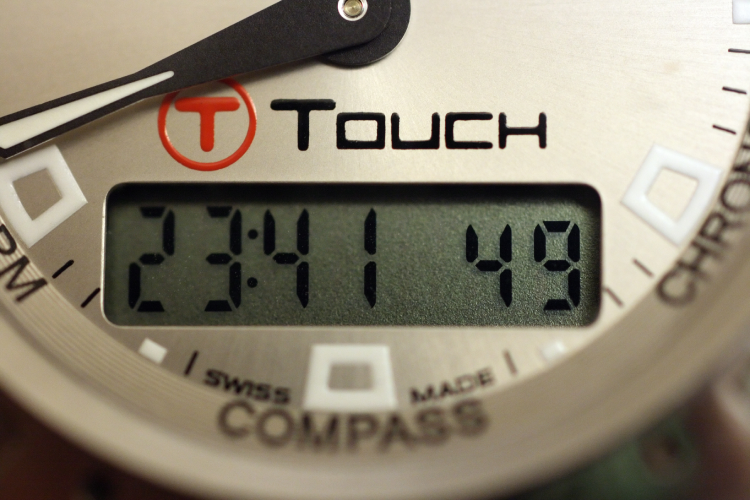 One of my weirder digital experiences during lockdown was watching a livestream of the board of Swatch Group, the Swiss owner of watch brands such as Omega, Longines, Tissot and indeed Swatch, delivering their annual report – with sepulchral seriousness – to a room occupied solely by 90 blue teddy bears.
Arranged in seated rows (they were being sent to a children's charity afterwards), the inscrutable teddies generated some surreal bathos as Sylvain Dolla, Tissot's CEO, cheerily addressed them with some big news: Swatch Group was entering the smartwatch market. Its debut product would be a solar-powered Tissot, part of its long-standing 'T-Touch' range of touchscreen sports watches.
On offer is a deeply impressive six months' autonomy between charges and an exclusive operating system developed in Switzerland by the group itself and its partners. In other words, rather than tie up with tech giants (as TAG Heuer and Montblanc have done for their Wear OSbased luxury smartwatches, for instance), Swatch Group has gone it alone once more.
'That was most bizarre presentation I've ever made in my life,' says Dolla now of his toyland exposition. The teddies may have created a bit of absurdist distraction, but the venture into wearables is deadly serious for Swatch Group, with CHF25 million (£21 million) invested across a four-year development period, and the possibility of rolling the tech out to other brands in the group.
Tissot's £900 T-Touch Connect Solar won't link you to the panoply of apps available via the Google and Apple operating systems. But its luxurious build quality, with a finely honed case in titanium and ceramic, is heavily emphasised by Dolla. The fact that you need never plug it in to charge – solar cells secreted in the touchscreen do the job – is arguably a luxury in itself and considerably outstrips the capacity of solar-powered devices from Garmin, for instance.
'The big USP is that it's a fine watch first and foremost, built and developed in our factories in Switzerland, for which we've integrated connectivity,' says Dolla. 'A real watch is one you don't need to charge, and there was no operating system in the market for that. Every line of code has been written with the mindset of reducing energy consumption.'
Dolla won't even call it a smartwatch, though that's unquestionably what it is, even if its uses are narrow, for now. Besides notifications and updates from your phone via Bluetooth, it has weather, compass and altimeter functions, while further sports-related applications (including GPS) are in the pipeline.
[See also: From lifesaving tool to $24,700 icon: The evolution of Blancpain's fifty fathoms dive watch]
Just as importantly, he says, it won't collect your data, and it's designed to see off the obsolescence issues of most consumer tech. 'We're not interested in data, we don't want to follow trends – that's not in our culture,' he says. 'We want to remain a watchmaker, and our clients are looking for longevity.'
How and whether Switzerland can get to grips with the smartwatch market is still an open question. The Apple Watch alone now outsells all of Swiss watchmaking, and the smartwatch revolution is taking enormous chunks out of high-volume, low- to mid-priced Swiss brands in particular.
Nevertheless, if a smartwatch with the sheen of Swiss luxury and craft is what you're after, the options have been getting increasingly sophisticated. TAG Heuer's latest-generation Connected is one of few models to match (or even exceed) the Apple Watch in sleek, premium feel. At almost £1,500, it's about three times the price of a mid-tier Apple Watch, but TAG Heuer, like Montblanc and its cellular-connected Summit 2+ (£1,040), is clearly convinced of the market potential for something different and exclusive.
That certainly seems to be the thinking at TAG Heuer's LVMH stablemate Hublot, which launched a £4,800 smartwatch in the summer in the case-shape of its iconic Big Bang chronograph. The Big Bang E's pricing seems almost arbitrary, though Hublot's CEO Ricardo Guadalupe once more offers the superior case construction in high-tech ceramic as justification, along with exclusivity.
'Rarity plays a role, as this model will be limited to a few thousand pieces,' he tells me. In the tech world there's always the option of adding and upgrading – though according to watch business consultant Oliver Müller that's a mindset that doesn't sit easily with Swiss watchmaking.
'High-tech and the watch industry don't share the same product development cycles at all. Tech is by definition obsolete the day you launch it, and a traditional watch is meant to last for ever,' he says.
Nevertheless, he reckons strong propositions for luxury smartwatches do have potential if they can establish a clear raison d'être. 'Smartwatches have created a huge new market, and even taking a small chunk of a growing market is better than doing nothing,' he says, noting that as far as health tracking is concerned – held up by many as the most important aspect of a smartwatch – the war with Apple is already over.
'That's why if your watch costs three times the price of an Apple or Samsung, you'd better be ready with an innovative and coherent approach.'