Every Champagne house has its own history, but Laurent-Perrier's is particularly special.
Over its 210-year history, the Champagne house Laurent-Perrier has forged an impressive lineage and a storied legacy, rising from humble beginnings to establishing itself as one of the most highly revered and celebrated champagne brands in the world.
When it comes to champagne, heritage is crucial. With longevity comes experience, as vital knowledge and tried and tested methods are passed down through generations of people who live and breathe sparkling wine. Laurent-Perrier ranks as one of the oldest, yet far from being stuck in old ways, its history is rife with innovation and firsts.
The story began amongst the vineyards of Champagne, Northern France in 1812. The year Charles Dickens was born, the fourth president of the United States, James Madison, was re-elected, and the first edition of Grimms' Fairy Tales was published in Germany.
Alphonse begins his life's work
Alphonse Pierlot was a cooper (a casks and barrel maker) and a bottler who settled in the village of Tours-sur-Marne. After saving up, he purchased two plots of land known as "Les Plaisances" and "La Tour Glorieux," in order to grow his own grapes. This would be the beginning of Laurent-Perrier's journey.
Alphonse saw mild success. On his deathbed, lacking an heir and having dedicated his entire life to the winemaking process, Alphonse left his greatest possession — his company — to his cellarmaster Eugène Laurent in 1881.
Eugène would continue producing wine with the help of his wife Mathilde Emilie Perrier. In 1887, just six years after acquiring the company, a fateful accident in the cellar took Eugène's life and left the company to his wife Mathilde. This would be the first female to take the reigns of Laurent-Perrier — unusual for the time, but a stigma that Laurent-Perrier would soon help to break.
Mathilde Grows more than just grapes
Mathilde Perrier would take her and her husband's patronymic and by combining them Laurent-Perrier was officially born. Initially, the company was known as Veuve Laurent-Perrier — "veuve" being the French for "widow".
Under the control of Veuve Mathilde, Laurent-Perrier saw major success for the first time. Known for her hard work, strong character and integrity, Mathilde continued to develop and push Laurent- Perrier, strengthening the company's finances. This would prove to be vital with the First World War just around the corner, seeing the region of Champagne transformed into a battlefield.
As well as her strong business acumen, Mathilde also showed the confidence to go against the grain. In 1889 — breaking from current fashion — Laurent-Perrier launched Grand Vin sans Sucre, sugar-free champagne. This break from tradition was more attuned to Laurent-Perrier's own preferences, in addition to the developing market in Britain.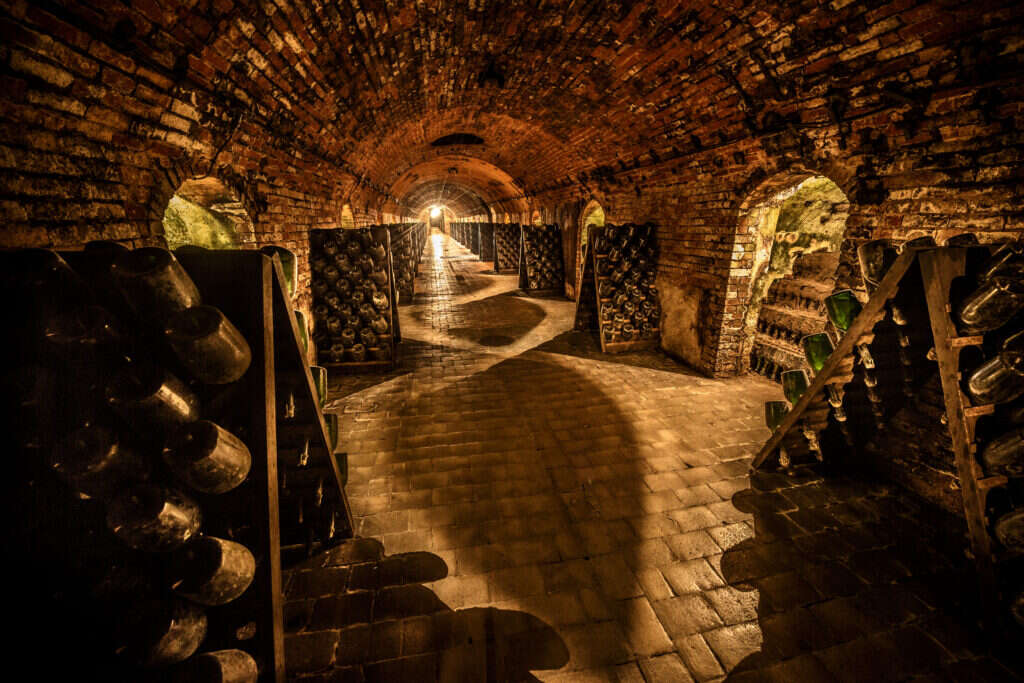 De Nonancourt family purchase Laurent-Perrier
In 1925 Veuve Mathilde's daughter, Eugénie-Hortense Laurent took control of the family business. However, this would prove to be a difficult time. Global economic crisis hit the champagne industry particularly hard.
In 1939, heavily in debt, Eugénie-Hortense sold Laurent-Perrier to Marie Louise Lanson de Nonancourt of the Lanson Champagne family. The de Nonancourt family continues to own Laurent-Perrier to this day.
Marie Louise Lanson de Nonancourt intended for her sons to run Laurent-Perrier after the Second World War. When Bernard de Nonancourt, who had been part of the underground French Resistance, returned home, he quickly began the task he would dedicate the rest of his life to — transforming Laurent-Perrier into an internationally renowned brand.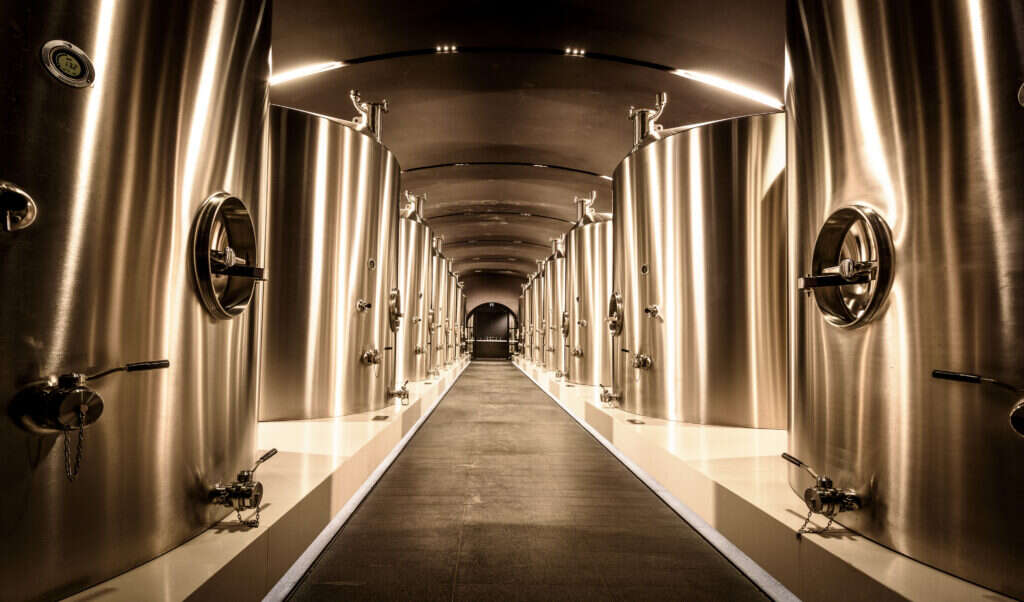 Bernard creates a household name
Having been encouraged by his mother to learn and study all that goes into the champagne process, Bernard toiled in the fields as a vines laborer, he worked long hours in the cellar and spent time in the office learning the business.
In October 1948 at the age of 28, Bernard was appointed chairman and chief executive of Laurent-Perrier. His knowledge of almost every aspect of the business would position him leagues above his competitors having developed competence in all the tasks of his future employees.
Bernard would continue the innovation of his mother, hiring Laurent-Perrier's first chef de caves and adopting a house style of freshness. This was created by transitioning away from commonly used oak barrels and in the late 1960s Laurent-Perrier became the first champagne house to use solely stainless-steel tanks.
In 1968 Laurent-Perrier was one of the first Champagne houses to reintroduce non-vintage rosé; the offering from Laurent-Perrier with its exquisite salmon pink color and the iconic bottle remains the benchmark in the industry to this day. In 1981, Bernard broke ground once more as Laurent-Perrier reintroduces non-dosage cuvée to the champagne world with Ultra Brut.
The baton is passed to his daughters
Having innovated, developed and forged the history of Laurent-Perrier into a global brand, Bernard stamped his mark on the art of champagne forever. On 29 October 2010, Bernard de Nonancourt passed away. Having retired in 2005, Bernard's daughters Alexandra and Stéphanie de Nonancourt were already running the family business.
Having two sisters at the helm of Laurent-Perrier made it the largest female and family-controlled Champagne house in the world – and provides a wonderful throughline to Mathilde Emilie Perrier's legacy as an early pioneer of female leadership in what remains a male-dominated business.
Taking the example set by their father, Alexandra and Stéphanie continue to grow the brand while maintaining their exacting standards.
In 2020, the fourth generation of the de Nonancourt family officially joined Laurent-Perrier. Lucie Pereyre de Nonancourt — Bernard's granddaughter — takes the lead on the finest product on offer by the Laurent-Perrier brand.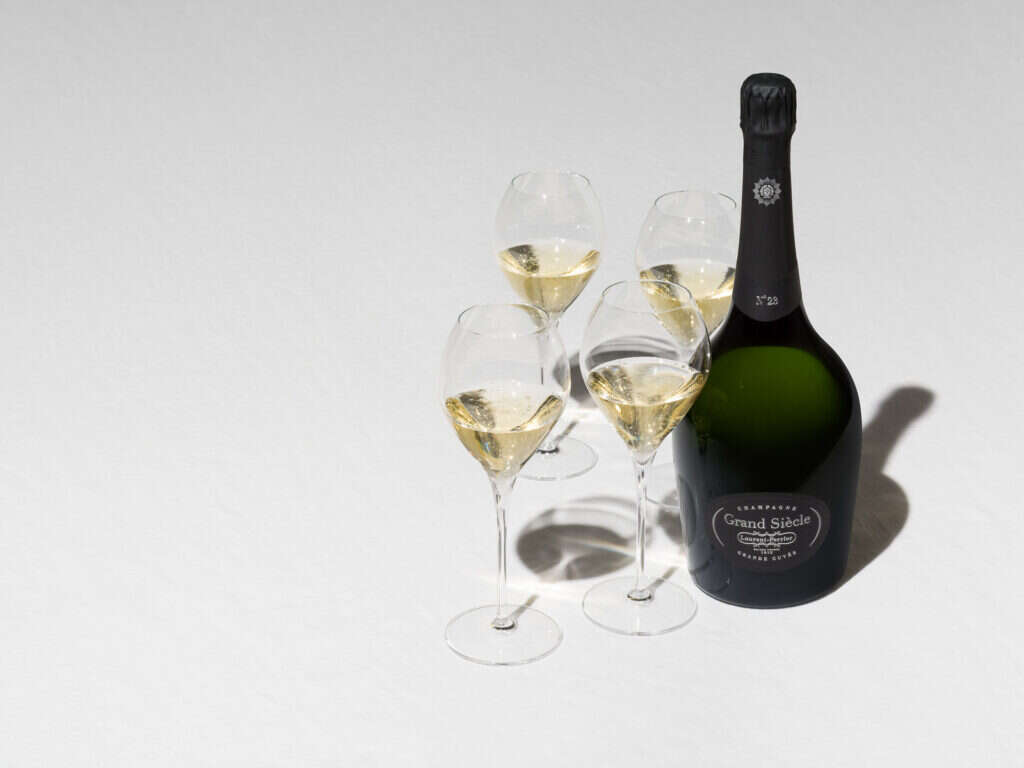 Grand Siècle
The eldest daughter of Alexandra de Nonancourt and the newest family member to join the business, Lucie represents Grand Siècle in France and around the world.
Grand Siècle is that incredible Laurent-Perrier history realized into its ultimate form. Champagne makers are constantly searching for the perfect year — the year that produces the greatest champagne imaginable. Aware of the fact that this is nothing but a dream, Laurent-Perrier strives to create the perfect year through the art of assemblage.
A Grand Siècle assemblage is based on three principles. A blend of three exceptional years that are complementary in character. A majority of Chardonnay, supplemented by Pinot Noir and selected among 11 of the 17 existing Grands Crus in Champagne. And finally, it's a blend that has benefitted from more than 10 years of aging in the cellars. Since 1959 there have only been 25 iterations of Grand Siècle.
Placing Lucie as the representative of Grand Siècle shows Laurent-Perrier's commitment to the future, but also reflects a recognition and celebration of the qualities and personalities that have brought it to the pinnacle of the champagne world.
For more information, visit grandsiecle.com or laurent-perrier.com
Visit the Elite Traveler x Laurent-Perrier Hub