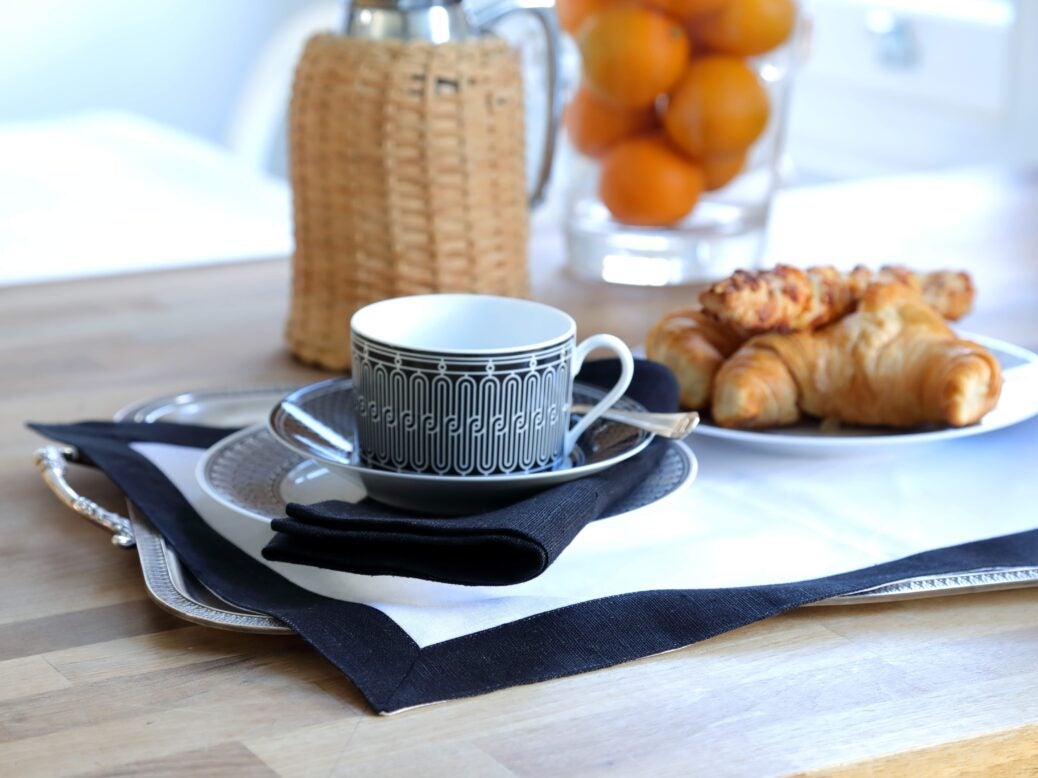 Stranos Linen Collection is a luxurious British brand based in London. Founded in St Tropez by Christophe Mela, whose bespoke, handcrafted gifts are now produced in his Chelsea studio, the label specialises in bedlinen, bathrobes and tableware using only the finest cotton, silk and linen.
Such pieces make the perfect gift for Christmas, from napkins embroidered with guests' initials to children's dressing gowns or djellabas monogramed with their name or initials and a choice of coloured piping. Impress your Christmas guests with a beautiful embroidered breakfast tray set or monogrammed sheets and towels. For the sophisticated traveller, Stranos has just created the ultimate travel collection in luxurious cashmere.
In addition, customers or interior designers are welcome to visit with a Christmas bauble, ribbon, or specific colours as examples and Christophe will create a festive scheme for the home. With A-list clients from around the world, Stranos Linen is synonymous with the ultimate in luxury.
THE TRAVEL COLLECTION
Christophe has created collections for luxury hotels, spas and super yachts around the world. His new travel set is a 100% cashmere pochette which contains a cashmere wrap (150x90cm) and eye mask. Each item can be monogrammed with a choice of fonts and the set comes in beige or slate grey with up to four initials monogrammed on each item – an elegant way to bring a touch of first class to any journey. From £385.
THE BEDROOM COLLECTION
The Stranos Linen Collection bedroom range include exquisite sheets, duvets, pillow cases and boudoir cushions made from Irish linen, satin cotton and Egyptian cotton with thread count from 600tc up to 1500Tc, with a choice of embroidery or monogrammed initials. From £65.
THE CHILDREN'S COLLECTION
Delightful robes and Moroccan djellaba's made from 100% cotton towelling come in a choice of beige, white or navy with a choice of piping: dusty pink, baby blue, red, navy, polka dot, tartan, grey and beige. From £55.
THE BATHROOM COLLECTION
Stranos Linen is known for producing top-quality towelling made from 600-gram, 100% cotton and finished with a choice of contrasting piping or the same colour to match the embroidery. From £45.
THE TABLE & TRAY COLLECTION
The latest addition to the Stranos Linen Collection is elegant tablecloths, place mats and matching napkins will make Christmas morning a delight. There are several choices in the collection which can all be monogrammed and co-ordinated with your preferred scheme. From £45.