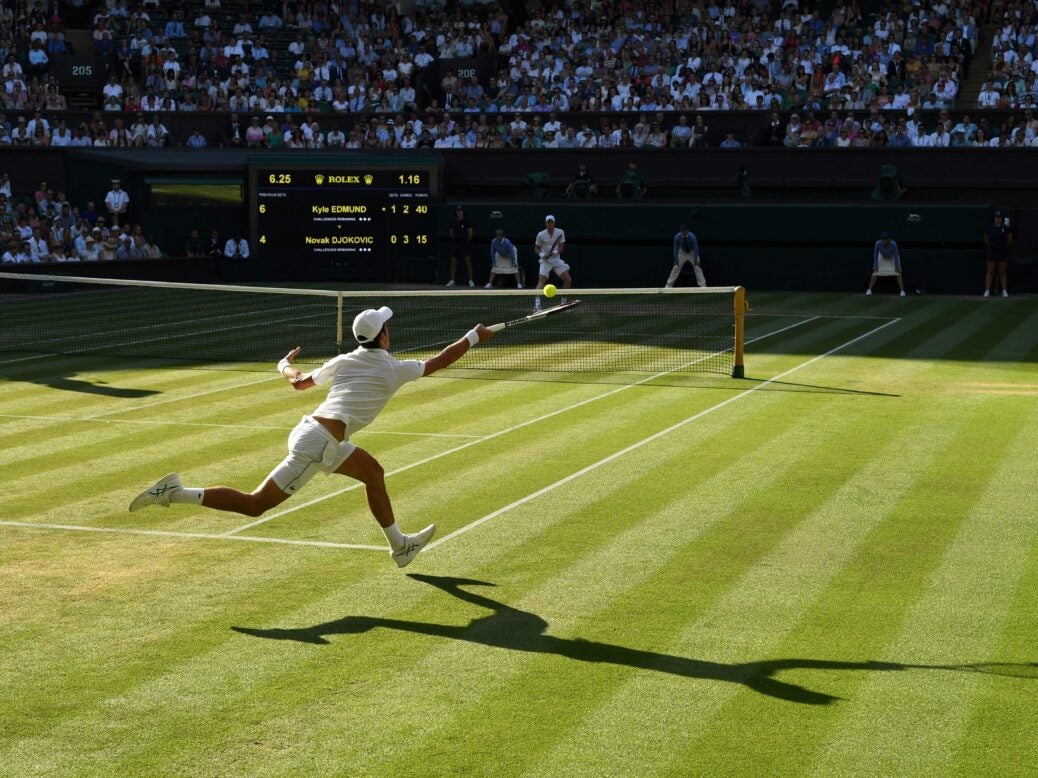 The Championships, Wimbledon is arguably the world's most prestigious tennis event. Here's how HNWs can make the most of it, writes Arun Kakar.
If you've been in the UK over July, then Wimbledon needs no introduction. The oldest tournament in tennis, it is the Grand Slam of Grand Slams – without doubt the most prestigious trophy in tennis, and a magnet for royals and celebrities alike. 'I went to Wimbledon before I could walk,' Vogue editor in chief Anna Wintour once recalled. Indeed from the Obamas to the Carters, you can always count on the All England Lawn Tennis Club to attract the stars and serve up some top tennis.
Half a million flock to the courts each year to watch almost 900 matches, and it's not hard to see why the tournament is one of the hottest tickets of the London summer. Wimbledon's popularity is rooted in its effortless class and consistency when it comes to pulling out top-drawer matches – Rafael Nadal's quarter final thriller last year against Juan Martin del Potro comes to mind – a combination that pulls up aces every year for guests all over the world. Adding to this, The Championships are all set among the distinctive British gardens that make up the Grounds between the Courts.
HNWs will be pleased to hear that they can guarantee a ticket to The Championships thanks to hospitality provided by Wimbledon's exclusive partner, Keith Prowse. Whether its clients you're looking to entertain or simply spending some quality family time, there's no better way to please a tennis fan than with an afternoon spent on Centre Court or No.1 Court, the venues for all of the top-tier games.
The newly established Rosewater Pavilion from Keith Prowse is the personification of English tennis.
Set amid landscaped gardens and a backdrop of ivy-adorned buildings, it is the ideal spot for everything from relaxed, informal lounges with live pianists, to private tables in the fine dining restaurant, and outdoor terraces with views of the Grounds. Its four-course à la carte menu takes on a quintessentially British theme using locally sourced, premium ingredients, later followed by an enhanced afternoon tea with paired cocktails. Chilled Champagne flows throughout the day, while a specially selected choice of premium wines is paired with the menu; and bespoke cocktails cater to all tastes throughout the day. It goes without saying that strawberries and cream are supplied in abundance throughout all the hospitality experiences on offer. Tickets to Centre Court are also included in the package, which is just a short walk away, ensuring you won't miss a second of the action.
For a more informal affair, The Lawn offers a warm welcome and balmy atmosphere away from the Wimbledon bustle. Its three course à la carte menu is designed by the legendary Michelin-starred Albert Roux OBE, alongside his son Michel Jnr and granddaughter Emily. It's the ideal spot to soak up the sun while enjoying an array of traditional afternoon teas, pastries and bespoke cocktails. Its ample garden is an ideal place to chill out, with live music, choice whisky and a cigar bar adding to the ambience, while tickets are included for either Centre Court or No.1 Court depending on your preference.  Once play commences on court, you'll be whisked across to the Gates by buggy so none of the action is missed.
With all eyes this year on the potential return of Andy Murray, who announced his imminent retirement in January, this Wimbledon has the potential to be one of the most historic yet. The women's pool is wide open, as Angelique Kerber faces stiff competition as she defends her crown.
Wimbledon's partner Keith Prowse has provided hospitality for The Championships since 1982. This year it elevates the Wimbledon experience further with the launch of new packages offering a tiered range of hospitality experiences to suit a variety of budgets and requirements, all with guaranteed tickets for the Show Courts. Prices start from £700pp + VAT. Click here for more information.
Arun Kakar writes for Spear's