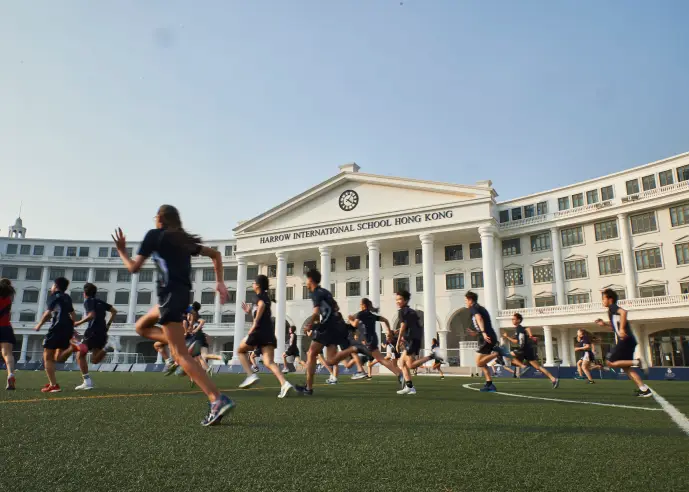 1. When you look at the long and esteemed history of Harrow's schools globally, the story of Harrow Hong Kong sits at the very tip. Harrow's history began in London all the way back in 1572, under a Royal Charter granted by Queen Elizabeth I.
2. The UK school has 450 years of heritage compared to Harrow Hong Kong's 10, yet the latter is very much a part of the school's DNA, fusing centuries-old traditions like the House System with modern offerings and enterprises.
3. The head of Harrow International School Hong Kong, Ms Ann Haydon, is the first woman to lead a Harrow school.
4. Did you know that Harrow Hong Kong is the first and only British boarding school in HK?
5. For upper school students there is a weekday boarding option (leaving school on Friday evening and returning Sunday evening), an experience built on the traditional British principle of community living. Harrow believes that boarding gives pupils the opportunity to flourish independently and prepares them for life beyond high school.
6. The house system is one of the most distinctive characteristics of Harrow Hong Kong. All students – whether boarders or day pupils – are allocated into a House upon joining Harrow. This House then becomes a student's family unit while at school. It provides an immediate sense of belonging that stays with most students for life.
7. Along with a cohort of students from every year group, each pupil will have a House Master or House Mistress who takes responsibility for their pastoral care. This House Master or Mistress will then update parents about the student's academic achievements and personal development.
8. Harrow's house system has birthed some of the world's most intriguing leaders in their field, from Sir Winston Churchill to actor Benedict Cumberbatch.
9. Here in Hong Kong, leadership opportunities arise for Harrow students through traditions such as Head Girl and Head Boy, to Communications and Wellbeing Prefects, Heads of Houses, as well as SCA Programme leaders. These leaders of tomorrow help to guide the younger year groups and set an example for other pupils to follow.'Being a prefect has given me a chance to improve my leadership skills as a whole.
I do hope to study management at university, so it's been great to experience that firsthand.' – Anjeli, Deputy Head Girl
10. Harrow is hosting 10th and 450th anniversary celebrations in HK and the UK respectively this year. All kinds of things are planned, including the #HarrowIDEAS450 Sustainability Competition, in which Harrow schools worldwide will come up with 450 unique ideas and solutions to address problems pertaining to sustainability.
Image courtesy of Harrow International School Hong Kong