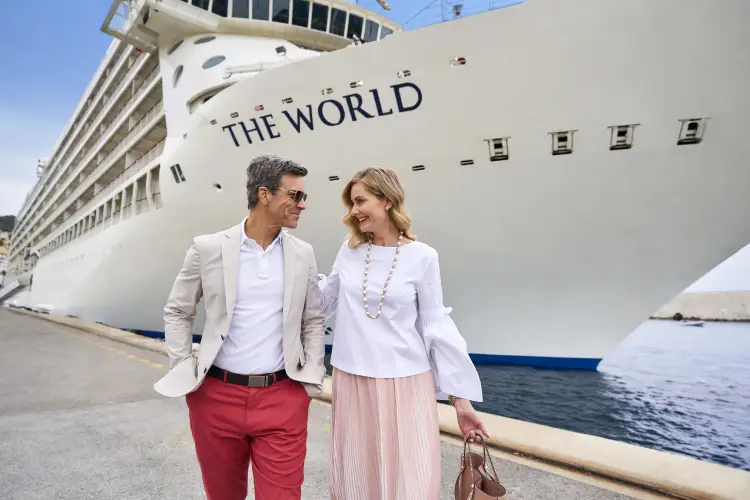 Owning a residence aboard megayacht The World opens up the whole planet for a lucky few – and as well as enjoying the height of luxury, its residents are on a continuous journey of education and adventure
Many UHNWs identify as global citizens, but barely any more than 150 families from 20 countries own a slice of The World, the only privately owned megayacht, which has 165 luxury homes. This is a 'private community at sea', Tom Wolber, its newly appointed president and CEO, tells Spear's. 'It offers a unique lifestyle that exists nowhere else on the planet.'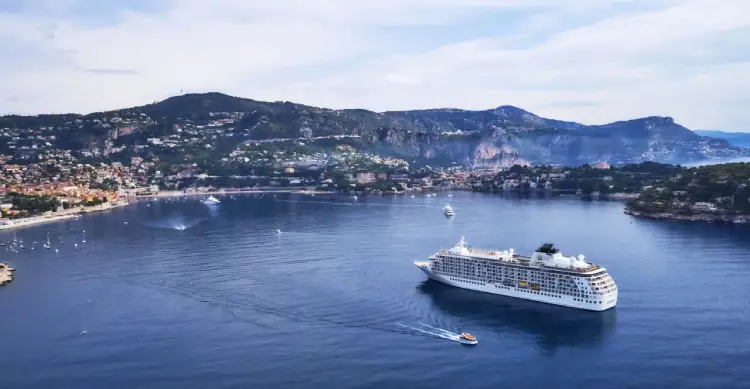 What makes this set of floating residences otherworldly? 'Our residents travel to the most exotic destinations in the world in absolute luxury from the comfort of their own homes at sea,' Wolber says.
The World is a floating residential community circumnavigating the globe every two to three years. Its apartments, which range from $2-15 million, plus annual ownership charges, are occupied, enjoyed and, essentially, steered by a community of discerning travellers who craft a new itinerary on each year's voyage.
The ship is currently on an adventure across five continents, which includes more than 93 ports of call. Residents' active lifestyle includes everything from polar bear sightings in the furthest reaches of the northern hemisphere to swimming across the equator off the coast of Namibia with a pod of pilot whales nearby to discovering the ornate and rarely seen beauty of the ecosystems of West Papua.
This is a particularly exciting time for UHNWs with a European nexus, as The World will soon disembark in Gibraltar after completing an epic voyage around much of South America.
For over 16 weeks, the ship's travels will encompass the best of Northern and Western Europe, from cities such as Amsterdam to alternative destinations such as the Faroe Islands and Ireland's Bantry Bay. This will be followed by a further two months in locations across the Mediterranean, from Sicily to Tunisia, Israel and Egypt.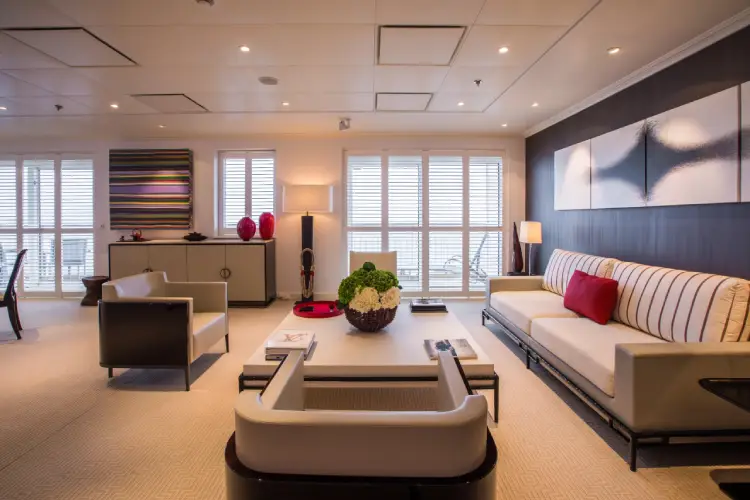 The World's residential adventurers will sail through the Suez Canal as the year draws to an end, indulging in the sun-drenched pleasures of Oman and Qatar before celebrating the New Year in style in Dubai. Wolber urges UHNWs to use this chance to capture very limited opportunities for private tours and sailings during its European juncture.
Demand is strong, he confirms: 'We continue to experience a high demand for resale opportunities to join our international community.' He reminds readers that the reason for this is not only the wide array of exotic destinations. 'Residents on board will often invite their family and friends to share in bespoke, once-in-a-lifetime experiences,' he says.
'To cater to that, The World offers first-class facilities and the highest levels of service, amenities and pampering delivered by an expert crew.' This includes six luxury restaurants 'with impeccable culinary mastery', a variety of lounges of bars featuring The World's award-winning wine and sake programme, exceptional golf facilities and what it claims is the only full-size regulation tennis court at sea, as well as a 7,000 sq ft spa it calls 'the sanctuary of the senses' with a wide range of products and services featuring Natura Bisse cosmetics and Luzern skincare products.
Guest lecturers, artists and musicians are invited on board to discuss topics pertinent to the countries and cities visited and meet residents' inquisitive nature and thirst for knowledge. Expert speakers often talk on a variety of topics including arts and culture, history, finance, economy, world affairs and politics, food and wine, photography, health and wellness, science, space, and more.
But more important is the fact that residents are also taking part in crucial environmental efforts and scientific research. Residents see themselves as citizen scientists, assisting in a number of projects, including identification of rare plants and animals, while enjoying the most remote locations.
It's this seamless combination of conscientious travel, luxury and the highest level of service that sets The World apart from other luxury providers, Wolber says. 'We consider a home on The World to be a life filled with global adventure at the pinnacle of luxury,' he says. Among its most striking features is the simple fact that as a resident, whenever you return from a day ashore, one of its hikes or even a business trip away, the greeting you will always hear when you step back on board is quite simply this: 'Welcome home.'