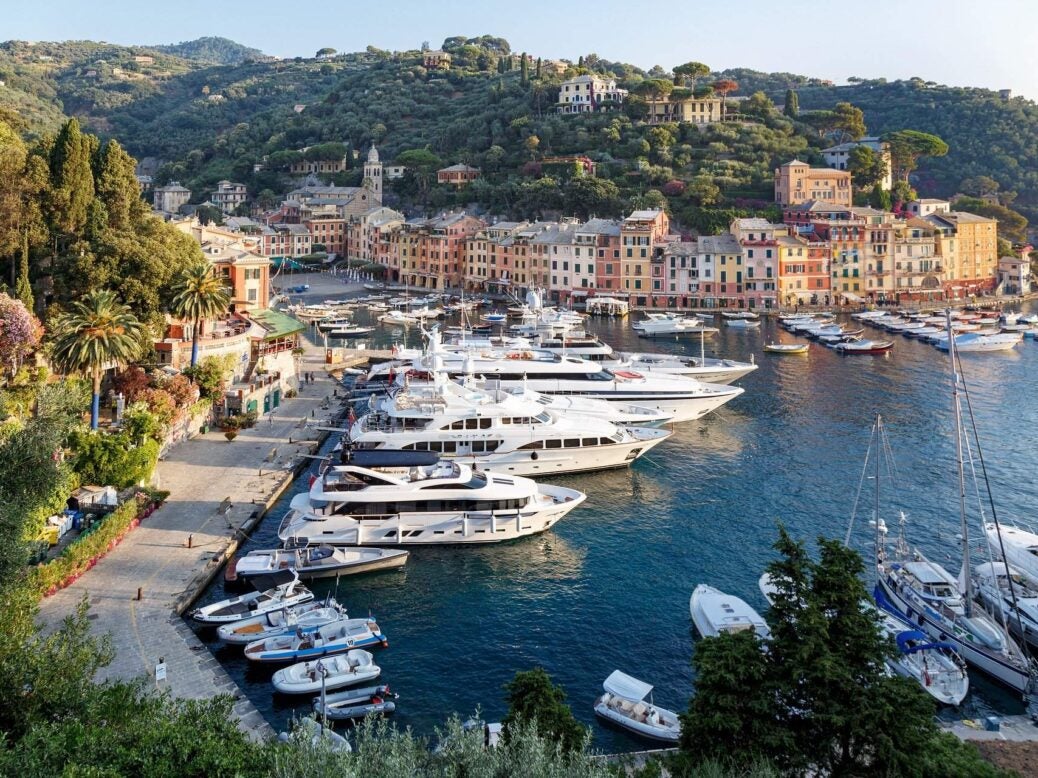 Superyachts can deliver a serious boost to the global luxury property market, writes Catherine Moye
When the world recovers from the horrors of the Covid-19 emergency, it's a sure thing that many UHNWs will still desire the cachet of a superyacht. But having acquired an ocean-going palace, said ultra still needs a suitably sumptuous waterfront property too. According to Knight Frank's latest Wealth Report, 77 new 60-metre-plus boats are scheduled for delivery by 2023, worth an estimated €10 billion.
Edward de Mallet Morgan, a partner in the agency's international super-prime sales team, says there is a tremendous connectivity between big boats and high-end real estate. It's one reason why waterfront villas sell for 20-30 per cent more than comparable properties inland. 'The superyacht crowd are more likely to want to own a waterfront villa, in Sardinia, Cap Ferrat or Saint-Tropez, for example, than a berth,' de Mallet Morgan explains.
'Most arrive by superyacht, then take a tender to their villa, or host other people there. But it's all about retaining that connection to their boat and the sea.'
Beachfront villas and marina berths in key parts of the French Riviera are scarce and their cost is soaring. That has led superyacht owners to look at other, equally beautiful parts of the Mediterranean, boosting property values as they travel.
'In Ibiza and Sardinia there's been a big uptick in the property market since the big boats started going there,' says de Mallet Morgan. 'The dynamic and desirability that these high-value individuals have bought to these destinations cannot be overestimated.'
The real estate markets of islands like Corsica, Capri, Mallorca and Cyprus have also benefited, and Porto Montenegro – a 500-plus-berth marina with residential complex on the Adriatic – has become a key second home and tourist destination. Now Ventimiglia in Italy is looking for a slice of the action.
Cala del Forte, a 178-berth marina with shops, restaurants and apartments just 8km by sea from glitzy Monaco, is due to open this summer. Prices in the Ventimiglia area are already rising. 'If Marbella didn't have Puerto Banus it would just be a motorway with a lot of concrete behind it,' observes Andrew Langton, chairman of high-end estate agent Aylesford. 'It is arguably one of the most successful ports of all time.
Those that bought on the frontline overlooking the marina have seen the value of their property appreciate as dramatically as anywhere in the world over the last 30 years.' High-end agent Sphere Estates is selling properties in several far-flung locations. They include the Landings at St Lucia in the Caribbean, La Balise Marina on Mauritius, and Portopiccolo on Italy's Gulf of Trieste.
'The majority of those buying into these resorts aren't boat people but choose to live there because a marina is a lovely thing to look out across and also generates a sense of community,' says Robert Green, Sphere's founder and general manager.
In some parts of the Anglosphere, especially Miami and Australia, developers are going one step further. One Barangaroo, a collection of 82 private residences at Sydney Harbour, has moorings large enough to take superyachts and boasts a pick-up and drop-off jetty. That means crew can pick residents up outside their homes, take them sailing, then drop them off before parking the yacht.
At the new Ritz-Carlton on Miami Beach, the 111 luxury residences and 15 single-family villas face a 36-slip boat marina. Just as the voyage of every yacht inexorably leads back to port, so their owners are increasingly acquiring properties in whichever coastal paradises they favour most.
This piece first appeared in issue 74 of Spear's, available now. Click here to buy a copy and subscribe
Read more
Onboard Lady Moura: The world's first superyacht
How Phillips' James Marks has shaken up the watch auction world
'In essence, you are sitting on a live rocket' – flying the Aero Vodochody L-39 Albatros