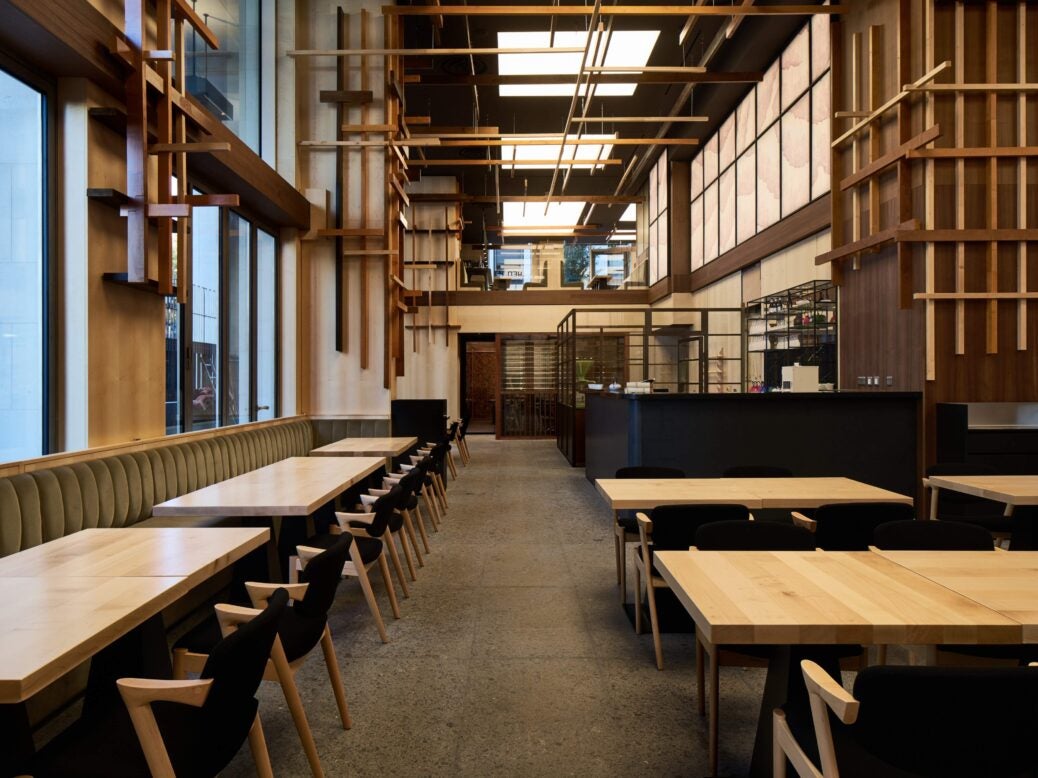 New Japanese restaurant Yen surprises, delights but remains traditional and nourishing, writes Arun Kakar
Yen is a Japanese restaurant that specialises in handmade soba, noodles made from buckwheat that can be served hot and cold, in a soup or with toppings, traditionally eaten on New Year's Eve in Japan.  It is a healthier source of carbohydrates too – about 100 grams of cooked soba has 99 calories compared to more than 300 in regular noodles. Different types of soba can be named after popular ingredients or locations in Japan such as Etanbetsu, Izumo, Izushi, Shinsu.
Yen was first launched in Paris in 2000 and was featured in the Michelin guide, which calls it 'highly refined'. You find Yen London around a corner of the slope of Arundel Street, in a clean, marble-coloured building by the name of 190 Strand that looks like it is polished daily. Its entrance is above the restaurant, in what could be a private members club – it's midday on a chilly Saturday and its empty – which you are guided through before taking seats in the large dining hall.
Yen's menu is extensive and traditional and crafted with sincerity that only a restaurant which means business can do in earnest. We browse through a lunch menu of: bento box, salad, tempura, mains, soba, sushi rolls, sushi and sashimi, a la carte sushi and sashimi. Our waiter comes over, slick and detailed in his exposition, and asks us if we'd like   a showcase of what Yen is all about. We accept. Bring it on. 
When our sake arrives – the sweet, stronger-than-you-think-it-is 'Dance of the Devil' – we're ready for business. The food comes fast and kind of relentlessly, too. In a good way though. White wine is needed, and Mittelbach is recommended. Our waiter could have recommended us raw broccoli. We're happy to go for 12 rounds with Yen, it just keeps twisting and turning, and of course, delivering.
We don't just get one dish at a time; we get a variation on a theme. First with sashimi or the 'velvet dust' as it is has been revered as by French writer Muriel Barbery. Served around a floral salad, with accompanying nigiri – of which we get plenty- is good, better and excellent. We then segue into tofu, unlike tofu that neither myself nor my partner have tried before. It's a dense, rich paste, served with a delicate pinch of ginger and spring onion and is unique, careful simplicity.
One other thing about Yen, by the way: it is a beautiful place to eat. What could be kitsch is clean, tapered, held back and arranged with a colour scheme which is earthy without being rustic-chic, radiating the kind of  effortless authenticity of a place that doesn't need to wear its credentials. We peer over our table every now and again to take a look at the kitchen which is always busy despite the restaurant being far from full. There, an ensemble of chefs are concocting, frying, stirring, rolling and unrolling and doing God knows what.
Back to the food: Miso marinated black cod; deep fried lemon sole with mushroom, lightly fried prawn are the next to arrive. Food is presented all at once, between different relishes and accompaniments. Interaction is encouraged with all of the dishes at yen, whether it's with mixing the tofu or arranging different combinations from our fish. This was consistent through everything we ate (apart from dessert) and it never felt whimsical or superficial or gimmicky. There's an odd educational aspect to it. It might have just been my inexperience or my partner's relative experience, but eating each dish felt like I was being given a new perspective on a tradition.
That being said, when our soba arrived next it was back to basics. No messing around, nothing fancy here. We get two: one cold, one hot, served in that order. The cold is served flat, broth on the side, and the hot is served in the broth. If carbs must be a necessary component of one's diet – the sugars, starches and fibres that must be consumed in order to be balanced – then I'd happily opt for this one-two combo every day. It's direct, straightforward and tasty in an earthy, comforting kind of way.
Dessert is a lightly sweet traditional Japanese sorbet that sends us on our way back into the cold. Leaving is difficult. Yen fills one with the warmth, of service, classiness and, yes, soba. It'll fit in well here.
Arun Kakar writes for Spear's