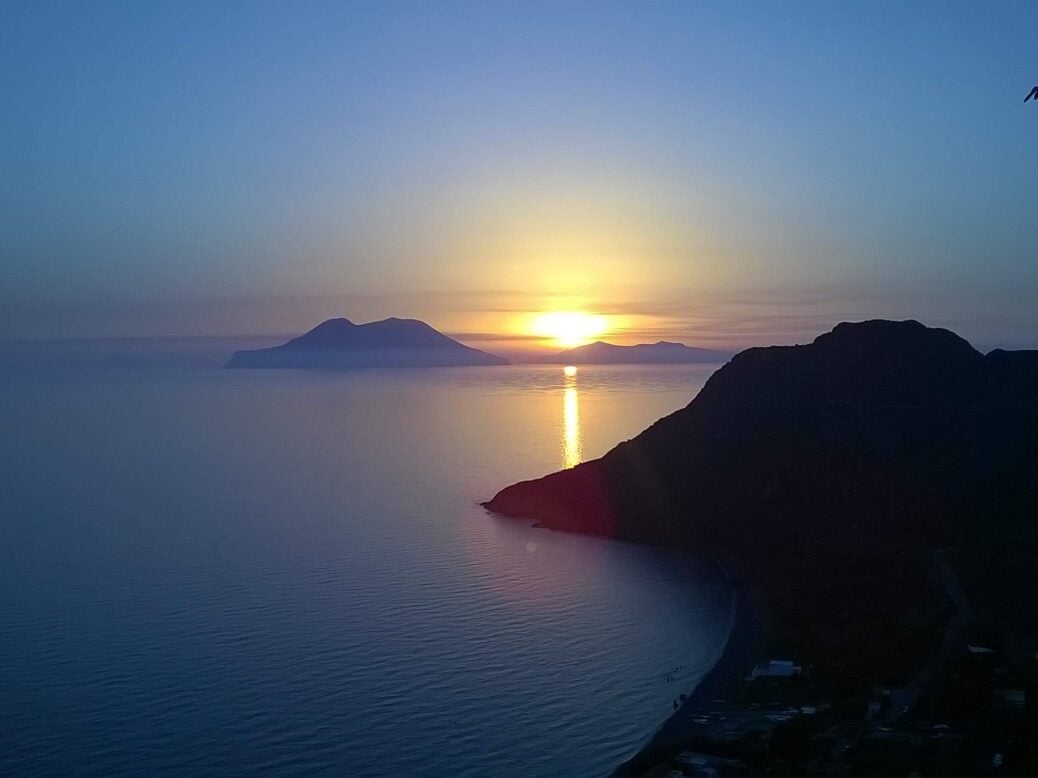 A 'black giant', the God of Fire, magma animals and donkey taxis are the denizens of Sicily's Aeolian archipelago, writes Silvia Marchetti
The first thing Nino Terrano tells me as I jump onto his blue-and-white boat to tour Filicudi island is to 'make sure you take it all in, savour and experience these isles — because one day they might disappear, crumbling back into the sea. Their devastating beauty is temporary.' Nino is an old sea dog with sun-kissed wrinkly skin and a bright white smile, who treats clients to bruschetta with sea urchins. As we zig-zag between sea stacks and collapsed rock arches jutting out of the emerald sea, I can't believe I'm inside the Mediterranean's largest volcanic kingdom.
Filicudi is the most pristine and wild of Sicily's Aeolian islands. This UNESCO-protected archipelago is named after the powerful wind god Aeolus, whose nasty blows have dotted the sea bed with ancient wrecks.
But fire is the main element: these seven atoll-gems were born from the hot magma of the earth, shaped across millennia by blasting volcanic eruptions that still continue, even if on a smaller scale.
That's why locals call them the 'wandering, shape-shifting isles'. Villagers fled in the 1950s in search of a brighter future, but today the islands are themselves an exclusive escape.
Many modern-day hermits now inhabit Filicudi: adventurers who have relinquished modern comforts to live in caves up on the hills. There's a mystical, magical ambience. Old village witches, 'le maiare', still make fertility and anti-jinx spells. For centuries locals ate bread made with hallucinogenic fermented yeast without even knowing it.
As Nino takes me inside the lovers' grotto, 'where you enter in two and exit in three', and then to the solitary sea stack of La Canna where amateurs go free-climbing, I can feel the sea breathe, that total sense of interior peace and isolation.
The view from Hotel La Canna is unique. Suspended mid-air between sea and sky, each room is a separate stone dwelling with typical Aeolian-style white-washed terraces of columns and maiolica stone benches. It's the house of Filicudi's historical postman who still lives there with his family. Each day he fishes for his guests, and serves them vegetables and fruit from his orchard. This is where I first taste 'perette' — tiny sweet pears that look like peanuts.
Filicudi's shore is dotted with crumbly hay-thatched grey huts, black and red volcanic rocks, fig trees and prickly pears. The village of Pecorini a Mare is a bunch of bright, low-cut dwellings with one bar, a tavern, and a four-room hotel that once housed prisoners until the locals revolted, kicking them out. At night, there are just the stars to light your path.
From Filicudi I take the ferry to nearby Alicudi for a day-trip. More than 400 stairs connect the village layers, and donkeys are the sole means of transport. It's an island frozen in time. There are only 20 residents, who rent summer houses. Solitude can be ecstatic at times, but here it is probably too much to endure.
The next day I move on to Lipari. The vibrant harbour boasts an overhanging fortress and one of the Mediterranean's best archaeological museums. Chaotic alleys wind  between Arab-style courtyards and lush gardens. The best view is from Hotel Villa Enrica, an ancient farmhouse turned into a boutique hotel. Stunning ruins of pumice stone factories have been restyled into beach facilities and lounge bars. The pumice has coloured many beaches white, giving them a tropical hue. Kids like to roll down the pumice hills into the translucent waters.
But the most spectacular Aeolian island is Stromboli, the 'Black Giant'. This is the Volcano King that erupts every ten to 15 minutes. As soon as I set foot here, I feel heat coming from the ground and can smell a pleasant scent of charcoal. Vibrations run through my body. I look up and see a pinnacle of smoke oozing out of the crater. But to see the bright red gushes of lava you need to wait until night time, when fishing boats take visitors out under starry skies. As the incandescent lava falls to the ground, it runs along the volcano flanks and solidifies. These are real, natural fireworks. Locals fear and respect the volcano, calling it 'Iddu' ('him'), a term expressing a mixture of awe and affection. Stromboli has a disquieting appeal and, according to local lore, an aphrodisiac power: at night citrus plants release a perfume that makes people fall in love.
The jet-black soil and beaches contrast starkly with Stromboli's white village, which extends from the port to the lonely beach of Piscità. The sea is warmer and more translucent than in the rest of the archipelago. Despite the dark magma rock, the underwater scenery is the colour of aquamarine gemstone: and above water it is even more fascinating.
Stromboli's flanks are covered in past lava flows that have left black-scorched scars called 'sciare', juxtaposed to fluorescent green pinnacles and yellowish-sulphur plains covered in pink flowers. At a short distance rises Strombolicchio, a former, ancient volcano that gave birth to Stromboli. Here, you get to swim in dark blue waters that fall 1,000 metres deep into the bowels of the earth. This sea stack is shaped like the back of an armoured dinosaur, and is home to a huge black lizard. Mussolini had its top cut by 20 metres to build the lighthouse. On the other side of Stromboli the picturesque hamlet of Ginostra, reachable only by sea, is popular for drinking sunset aperitifs.
Panarea is the tiniest of all, surrounded by smaller atolls. Shaped like a tennis shoe, it lures VIPs' yachts and is lined with boutiques and cafés. Alleys are narrow and dwellings covered in bright pink bougainvilleas. Prepare to walk under a scorching sun to reach Zimmaré beach and the ruins of a prehistoric village. At Hycesia, a cosy resort of just ten designer rooms, I tasted the best of Aeolian fish cuisine. Chef Gaetano Nanì treated me to raw red king prawns of Mazzara with citrus.
Salina island is a heaven of sweet, amber-coloured Malvasia wine and capers. Vineyards of Malvasia, their produce dubbed the 'nectar of the Gods', make a green, luxuriant vegetation that covers two sleeping 'twin' craters. Abandoned fishermen's grottos line the shores at Pollara village. In the sleepy town of Malfa there's a black beach with stones so big that instead of sun beds, visitors rent air mattresses to lie on.
I stayed at Signum, which boasts a Michelin-starred restaurant. Decades ago local businesswoman Clara Rametta transformed an abandoned part of Malfa into a boutique hotel of pastel-coloured cottages with private balconies, a panoramic terrace and an open-air spa. Old furniture and metal cribs decorate the rooms. Clara's daughter Martina, aged 27, is one of Italy's youngest Michelin chefs: at the end of a nine-course meal of supreme fish delicacies, I'm conquered by a simple plate of spaghetti with garlic, olive oil, chilli pepper and pesto.
My last island is Vulcano, the closest to the mainland. The first thing that hits me is the strong scent of sulphur and the shining yellow rocks and sand. The name says it all: even if not as active as Stromboli, Vulcano is a restless sleeping giant with geysers and vapours oozing out everywhere, even from brick walls where tourists rest. It's like sitting on a boiling pot. Tiny clouds of gas can be seen at street corners and seeping up out of cobblestones. There's a huge mud bath where you can float and spread the healing sludge all over your body — said to be good for rheumatism and aching bones. After that, you get to jump into the sea where underwater fumaroles act as natural Jacuzzis, being careful not to burn yourself on the hot bubbles. The sulphurous air made me dizzy and I almost fainted, but many tourists choose to sit there for hours, inhaling Vulcano's intoxicating vapours.
According to myth, this is where the God of Fire Hephaestus lived, deep underground, serving as the official blacksmith of the Olympus. He was married to the stunning Aphrodite who frequently betrayed him, triggering his anger — which he was forced to vent. I take a dinghy to the peaceful Aphrodite's Pool, where the goddess would wash away her sins and emerge from the clear waters as a virgin once again. If you look up, you can spot tiny white goats clinging to the cliffs.
Vulcano is a lava pebble-desert with round green and yellow cactus sticking out of the Martian-red soil. The Valley of Monsters has bizarre magma rocks shaped like animals, but the greatest highlight is the sunset at Therasia Resort. The sky sets aflame, turning purple-orange-pink, and you get a full view of all seven islands. It's hard to choose a favourite.
This article first appeared in the Spear's Travel Guide 2018. For more, visit: https://spearswms.com/luxury/travel/