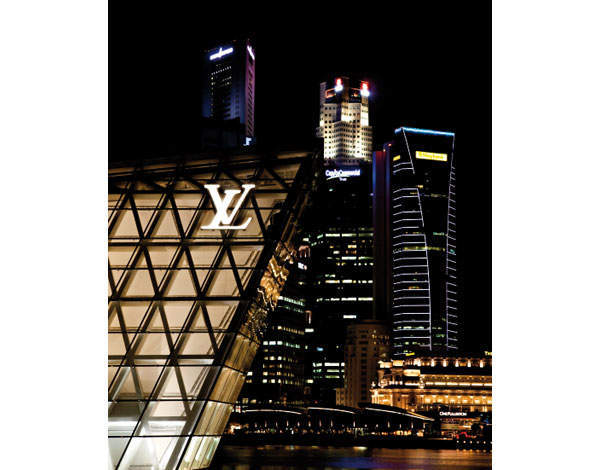 It is 9am on a humid Sunday morning and Michael Ault has just finished work. Cruising through the crosstown traffic, he reaches into his pocket and pulls out the stack of business cards he has collected. 'There's a queen, princes of "this" or "that" country, Saudi sheikhs, oligarchs, generals from Indonesia and Burma, the sons of the generals, Kevin Spacey, David Beckham and Paris Hilton,' he says.
It's been a long but very good night. 'Right now we are the most profitable club in the world,' says the New Yorker. 'We take more than $200,000 in a good night — in a 4,000ft2 space!'
Ault runs Pangaea. He has opened 89 nightclubs in the world's capitals and party cities but the one he's driving home from now with the United Nations of business cards, the one that's making more money than any other, is in Singapore. Singapore? 'Yes. There's opportunity here now. Singapore is ahead of the eight ball,' he grins.
Jim Rogers' nightclub days are over. But the storied investor who co-founded the Quantum Fund also shares a new home from home with Ault. He moved from New York to Singapore a few years ago and has not looked back. 'Singapore is the most successful country of the past 40 years. We've gone from half a million people living in poverty to five million people living prosperous lives,' he says.
Read more on Singapore from Spear's
Simon Cheong looks up and down, not back. The CEO and chairman of developer SC Global builds skyscrapers. His latest is the Marq development, just off Orchard Road, where he joins me in a 6,000ft2 apartment he is selling for $30 million. 'I've never been more bullish on the future of Singapore. Things can only get better,' he says.
When Singapore was awarded a Formula One grand prix and announced bold plans to build vast casinos to turbo-charge its economy and shed its image as the dullest capital city in Asia, many did not believe it would work. But almost a decade on, it has turned out better than anyone dared to hope. Singapore is fast becoming the new capital of the fastest-growing region on earth. And, whisper it, fun, too.
Don't take my word for it. Ask Eduardo Saverin, the Brazilian co-founder of Facebook, who moved to Singapore a year ago and is a regular on the nightclub circuit, arriving at Pangaea in his Bentley. He's not alone. Last year Nathan Tinkler, the minerals tycoon, moved to the island nation from Australia. So have Bhupendra Kumar Modi, one of India's biggest telecom moguls, New Zealand billionaire Richard Chandler and Gina Rinehart, who is, thanks to a mining empire, one of the world's richest women.
Wealth magnet
Today, in spite of its postage-stamp size, Singapore is home to the third largest number of UHNWs (net worth above $30 million) after London and Tokyo — with 3,154. The WealthInsight Intelligence Center Database says Singapore is attracting more new UHNWs than any other city.
Singapore is growing so fast it is on course to overtake Hong Kong to become the capital of Asia. Just look at the numbers. Gross domestic product for the three months to the end of September grew 5.1 per cent, faster than the second quarter's 4.2 per cent. Assets under management have risen by more than a fifth over the past year to a record $1.29 trillion.
Read more on travel from Spear's
So much new cash is flowing into Singapore that its funds are now almost as large as those in Switzerland. Swiss private banks have been losing business steadily following revelations that some banks helped US citizens to evade tax. Consultancy PwC says Singapore's assets under management could overtake Switzerland's by 2015.
Why is Singapore on a tear? Hardware first. It is close to booming China but not too close for comfort, like Hong Kong. 'China has had a fairly benign attitude to Hong Kong so far but there's always a nagging doubt in people's minds: what if Beijing changed its mind? What would then happen to people in Hong Kong, to people's money, to the city?' says one Singapore-based business leader who has just moved his main office from Hong Kong.
Singapore has the best airline in the world, Singapore Airlines, and one of the best airports, Changi. It has the best road and rail network of any Asian city and is easiest to get around. It is even expanding physically. New land is being reclaimed all the time as the city state struggles to keep pace with its population growth.
Hong Kong? Phooey
But it is software that is really driving change. Singapore has stable government of the no-nonsense, laissez-faire kind investors like. More people speak English than in Hong Kong. Schools and healthcare are world-class. Yale has a campus. Taxes are very low. It does not suffer the pollution that Hong Kong endures. 'On virtually every level you care to think of, Singapore is the easiest entry point to booming Asia,' says Rogers. Small wonder Google and Yahoo have just opened their offices for South East Asia there.
Quality of life for the super-rich has gone from zero to 'whatever'. A country roughly the size of San Francisco now has 449 Ferraris, up from 142 in 2001, while its Maserati fleet has grown from 24 to 469. Yacht clubs are popping up along with super-luxurious shops, notably the Louis Vuitton Island 'Maison', a flagship boutique on its own floating pavilion in Marina Bay.
Nightclubs such as Pangaea are the new playgrounds of the young Saverin and his crew of UHNW party boys. Rich out-of-towners also flock to Singapore's two new casino resorts, that opened in 2010, including the Marina Bay Sands complex with its celebrity-chef restaurants and an infinity pool on the 57th floor. Gaming revenues in Singapore now exceed those in Las Vegas.
Hotels and restaurants are now world-class. The Fullerton Bay is about as damn near perfect as a city hotel can be. The boutique rainforest resort of Capella Singapore on verdant Sentosa island is twenty minutes but a world away from the downtown glitz. The angel hair pasta with Oscietra caviar at Les Amis restaurant is worth the cost of the flight to Singapore alone.
As he arrives back home to sleep for the day before another night at Pangaea, Ault says he 'no longer feels the magic' in Manhattan. 'It is still my home town and I carry a deep love for the city. But from a nightlife perspective, it has lost its magic and no longer has the world's top clubs.'
Singapore is another matter. This is where he says the rich feel rich and unusually secure. 'What I see here is what I imagined must have happened in the US in the 1880s, in the Gilded Age, when it first took over England in terms of wealth,' he says. 'It is extraordinary how much wealth there is — and how willing people are to spend it.'