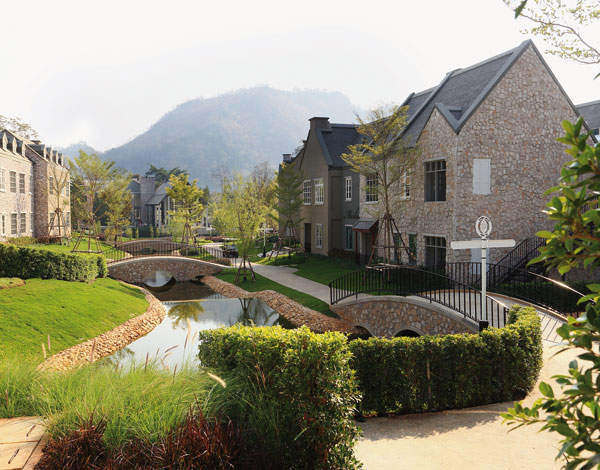 The time is approaching 4pm and I am running late for afternoon tea. The cottage pie I ate earlier was a hearty lunch for a summer's day, and I've just awoken unfurled in my back garden with a newspaper covering my face after an involuntary slumber. Thankfully the distance between my holiday abode and the local tearoom is negligible. I take a walk along a narrow stretch of the River Thames and cross over a hump-backed bridge that leads to a lush, grassy lawn. After pushing through a low set of garden gates, I enter the tearoom, where rose-petal-infused Earl Grey is being poured into pristine china and scones are stacked high on a tiered stand alongside jam and a jug of thick clotted cream.
The arcane rituals of the British chattering classes are not normally my, er, cup of tea. As an exile of a good few years, however, this reacquaintance with the quirks of old Albion has stirred up a latent affection for quaint traditional ways.
There are just a few things wrong with the picture, though. The lazy waters of the Thames have a torpid, tropical flow; the cottage pie was served along with sides of burning-hot, chilli-laced salad; and my companions at high tea hail not from Berkshire nor Buckinghamshire, but from Bangkok.
'There's just something really romantic and cool about England,' says Kanchala Thadloha, head of marketing for Thames Valley Khao Yai, a newly minted 'concept' resort on the fringes of Khao Yai National Park. Around two hours from the Thai capital, it is selling genteel English affectations to an appreciative Asian audience.
England certainly seems to hold an exalted place in the Thai psyche. Trading and diplomatic links between the countries have traditionally been strong, and English universities remain the most popular destination for Thais who choose to study abroad. In fact, it is not uncommon for young, social-media-obsessed Thais to include snaps of London in their Facebook photo albums, even though few have set foot on the shores of Blighty.
'Our chief executive studied in England and she fell in love with the villages in the Thames Valley,' says Thadloha. 'She was very passionate about re-creating the same kind of feel here in Thailand.'
'Feel' is the key word. While some re-creations strive to get each and every detail right, Thames Valley Khao Yai dispenses with out-and-out accuracy, capturing instead the essence of Englishness as viewed through a Thai filter. Accommodation is in quaint, cottage-style buildings, each named after an English county, town or area. It doesn't matter that Paddington and Kent are some way removed from the Thames Valley proper. To Thais, they carry more resonance than less evocative (yet more geographically accurate) names such as Swindon, Slough and Reading.
It's a similar story in the Castle Restaurant. High ceilings and stone surfaces are redolent of a venerable country pile, while the menu features dishes such as fish and chips, pork chops and, of course, cottage pie. Thai cuisine still dominates, however, while the books adorning the shelves of the restaurant are written in German and Swedish.
Other anomalies, meanwhile, include the exclusive use of Singaporean luxury tea brand TWG in the tearoom. What, no Twinings?
'Our clientele is 99 per cent Thai,' explains Nijjaporn Marprasert, senior vice-president (hospitality). 'So it is more important for us to sell the dream, rather than the absolute reality. We want to make this an enchanting place — a romantic place — for people to come to experience something different. At the same time, we need to make sure that we are offering something that provides a novelty factor without alienating anyone. Although our customers appreciate the effort that has been put into creating an English village here in Thailand, I don't think they are too concerned that it may not be completely authentic.'
There doesn't appear to be any fallout from the resort's decision not to opt for an exact facsimile. Skilled landscaping makes it as appealing a fake English river valley as you'll find, while the attractive rooms are as luxurious as anything in an aristocratic country pile. With occupancy levels healthy and interest growing due to extensive coverage in the local media, Thames Valley Khao Yai seems to have tapped unerringly into a Thai hankering for an English-style resort.
While the appeal of themed resorts and developments may seem more elusive to cynical Europeans, such brazenly surreal ventures have long held charm in East Asian countries. Khao Yai itself, with its clutch of faux European attractions, is a case in point. The national park is a quintessentially Asian wilderness, with thick jungle and an animal population that includes elephants, sun bears and tigers. The surrounding countryside, however, has a decidedly foreign feel.
Dairy cows dot the rolling landscape, while vineyards produce some surprisingly decent wines. Themed properties here include the Italianate Palio Inn, with room balconies overlooking the piazzas of the similarly slanted Palio Shopping Centre, and the Hotel des Artistes, which pursues a less obvious but still perceptible Gallic theme. Elsewhere in Thailand, there are Moroccan and Arabian-styled boltholes, while other European-themed properties draw on Swiss, German and even Greek influences.
Indeed, Thailand is far from the only country in the region with a penchant for approximating foreign destinations to appeal to a domestic audience. Developers in China have been particularly active in recent times. Instead of cherry-picking European influences, however, the Chinese have taken a more sledgehammer approach in creating their copies. A whopping US$940 million was spent on cloning the Unesco World Heritage-listed Austrian village of Hallstatt in the southern Chinese province of Guangdong, complete with Disney-themed photo spots and security guards in traditional 'Mittel-European' garb.
Like Thailand, China also has its own take on the southern English ideal. Located around twenty miles from downtown Shanghai, 'Thames Town' boasts cobbled streets, Victorian terraces and corner shops. There are red telephone boxes, mock Tudor houses, an English pub and a fish and chip shop. Yet despite costing a reported US$800 million to build, the development has apparently failed to capture the imagination of the Chinese, and is now chiefly used as a backdrop for wedding photos.
Other clones in Asia include Colmar Tropicale in Malaysia, a faithful re-creation of the Alsatian town of Colmar. The legacy of French colonialism in Indochina, meanwhile, lives on in the Vietnamese mountain retreat of Dalat, which is dominated by a replica version of the Eiffel Tower.
'Europe has had a massive influence in this region,' adds Thadloha as we conclude our afternoon tea. 'Many countries, even ones such as Thailand and China that were never completely colonised, have traditionally turned to European countries for trade and sent their children to European universities for education. Speaking as a Thai, even though our own traditions are strong we have a lot of respect and admiration for nations such as England and appreciate qualities that are different from our own. This is still not a rich country, however, and many people will never get the chance to travel to England. Hopefully, we can fulfil a bit of fantasy right here in Thailand.'
Picture: The resort of Thames Valley Khao Yai, Thailand
Duncan Forgan writes and broadcasts on Asian travel, culture and cuisine