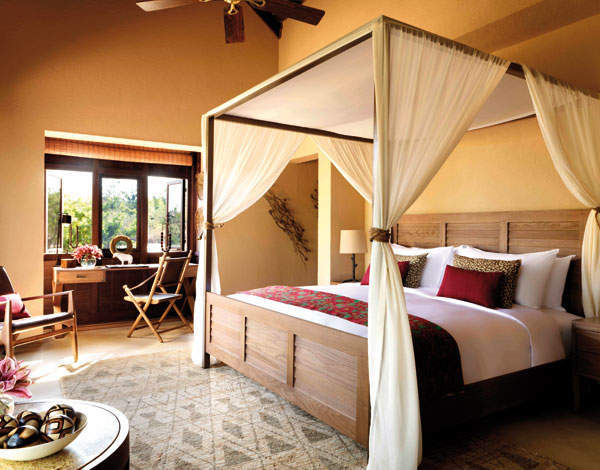 OUT OF ARABIA
The Emirates, notably Dubai, Abu Dhabi and Ras al Khaimah, are the oddest experiment global tourism has ever seen. Take a giant sandpit in what used to be the middle of nowhere, where temperatures can exceed 50°C. Create two rather spiffy airlines, Emirates and Etihad, and build three huge airports. Reclaim vast islands in the shape of palm trees and a map of the world.
Establish a hotel brand, Jumeirah, build one of the world's most instantly recognisable hotels, the Burj al-Arab. Invite lots of other hotel brands in, notably Sol Kerzner's Atlantis, each one launched with an ever gaudier party. Throw in the world's tallest building and its biggest mall. For those seeking a little history and depth, add a historical quarter or two — for completion in 2020. And then wait for the tourists to come.
And, amazingly, come they have, even when Dubai defaulted on its vast debt in 2009 and looked to be collapsing. New arrivals are rising by around 10 per cent a year and hotels run at almost 90 per cent occupancy, even when it's too hot to go outside, even at night. Dubai Mall is the most visited shopping and leisure attraction on earth.
Read more on travel from Spear's
Critics say the whole enterprise, the whole experience is fake. In a way, it is. Fake beaches, fake islands, fake snow in the Dubai ski dome. But the appeal is real. The numbers do not lie.
Which brings me to the oddest new tourism development in the oddest tourist destination. Abu Dhabi has decided to turn a small corner of itself into not merely another Manhattan style skyscraper or water park but something stranger: a fake continent, far from and about as different as you can get from the razzle-dazzle Gulf: Africa.
Wake up in Sir Bani Yas Island Anantara Al Sahel Villa Resort and look through the window into the long grass and, no, your eyes are not deceiving you. Those really are gazelle. In the distance there are cheetah relaxing with a kill under a thorn tree. Is that a giraffe on the horizon? It is.
Your thatched cottage, with carvings and paintings and a free-standing bronze bathtub, could have come straight out of Africa. So could — do — the staff. Everyone, from Doreen from Uganda to Johan from South Africa.
Read more by John Arlidge from Spear's
The chef makes the kind of food you only find in the bush — peanut butter porridge for breakfast, boerewors and pap (South African bangers and mash) for lunch and the finest game meats for dinner. Drinks come with biltong (African dried meat), rather than olives or stuffed vine leaves. There's Kanonkop from Stellenbosch, the Cape's finest red, on the wine list. Even the service is African: slow-but-in-a-good-way.
Bush boutique
Everything at Al Sahel is small-scale and boutique, set against huge skies, huge landscapes and, at night, stars so bright and close you feel you can reach up and touch them. There are only 30 villas around the lodge, each with its own plunge pool. At night, there's a traditional South African barbecue and a cigar lounge.
The infinity pool looks out over the bush, just as at the best African lodges. There are walks and nature trails through canyons that look like Namibia. The Toyota Land Cruisers you drive around in admiring the Arabian oryx and the gemsbok from south-west Africa are open-sided, just like you find on safari.
On paper, none of this should work — especially when you realise that Anantara is a Thai hotel brand. Fusion cuisine may be one thing, but fusion tourism? Arabia meets Africa, via Thailand? But it works fantastically. Anantara Al Sahel is as relaxing a spot as you can find in the Gulf — and that's saying something in a place dedicated to make you forget anything you ever cared about.
The change of pace — and charm — starts the moment you take the 25-minute flight to Sir Bani Yas Island. My boarding pass was filled out by hand — yes, handwritten in perfect script. It might have been a technical hitch, but I refuse to believe it. Nothing says de-stress more than a handwritten boarding pass. I liked it so much I kept it.
Sir Bani Yas airport is so tiny that the porters do not simply bring the bags to you, they take them to your hotel. So, it's straight into the Land Cruiser for the twenty-minute run from the airport to the lodge, with plenty of game to see on the way.
Half the 87km2 island is a conservation area, where around 30 species of mammal roam, including the Arabian oryx, previously extinct in the wild. They are joined by antelope and the striped hyena (with the wonderful subspecies name hyaena hyaena sultana).
The hills are peppered with frankincense trees, agave, Christ's-thorn and citrus. If you don't want to go on safari by Toyota, you can saddle up at the equestrian centre — or mountain bike across desert salt flats, safely away from the cheetahs (you hope).
And the best thing of all? Since Sir Bani Yas is an island, you are never more than half an hour's drive from the warm waters of the Arabian Gulf, where flamingos live in the mangroves. I've never ended a safari with a swim, but I could get used to it. And in years to come I might be able to see the Big Five on Sir Bani Yas and make it the 'Big Seven' by swimming with whale sharks and manta rays in the Gulf.
As I left, I recalled meeting Wilfred Thesiger in Samburu, Kenya, almost two decades ago. The British explorer described the deserts of southern Arabia as 'a bitter, desiccated land which knows nothing of gentleness or ease'. I wonder what he would make of Al Sahel's luxuriously unexpected 'Out of Arabia' experience. As a man who loved Africa more than anywhere but travelled most in Arabia, I hope he'd agree with me. Bonkers. But brilliant.
JOINING THE GULF STREAM
A one bedroom villa at Anantara Al Sahel Villa Resort, including breakfast for two, costs from £320 a night.
crome@anantara.com
+971 2 656 1399
anantara.com
Rotana Jet offers flights to
Sir Bani Yas Island from
Abu Dhabi Al Bateen airport from £88 return.
rotanajet.ae
Etihad Airways flies to Abu Dhabi three times daily from Heathrow and twice daily from Manchester. From £480 return, including taxes.
0845 608 1225
etihad.com