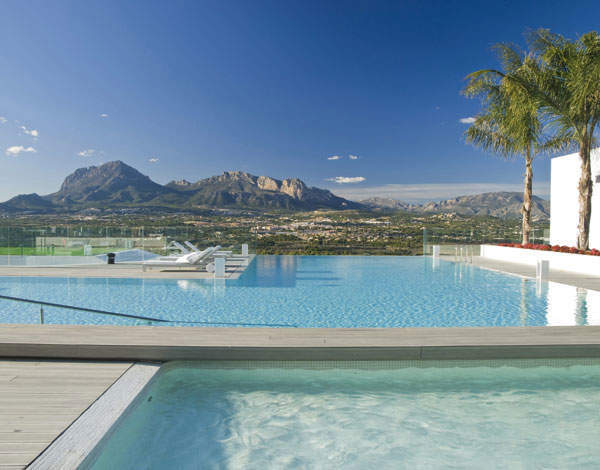 ¡VIVA ESPAÑA!
BUCHINGER WILHElMI CLINIC
Marbella may be famed for its lavish hotels, sumptuous villas, extravagant visitors and near-decadent lifestyle, yet for over 30 years it has housed one of the most serious therapeutic fasting and integrative retreats on the continent — the Buchinger Wilhelmi Clinic.
The clinic was devised by Dr Otto Buchinger to deal with his own ills some 60 years ago, and his family and followers have been spreading the word about his fasting cure ever since. Here, between the Sierra Blanca and the Mediterranean, is the newer sister property to the German original, which has been recently increased in size to add its own medical laboratory as well as an ozone therapy area.
Forget any thoughts or experiences you have ever had of fasting: this is the real McCoy and promises better mental as well as physical health. Ideally you sign up for 21 days for the best results, although recently a ten-day Compact Cure has been added where you learn to live on light broths, fruit juices, water and herbal teas — no more than 250 calories a day.
Fully medically supervised, it also includes massages, exercise (everything from hiking to Zumba and Zen meditation), rest and relaxation. Aficionados include Nobel laureate Mario Vargas Llosa, who returns regularly as he claims it's not just for the body but it also clears his mind. Who knows? A trip here may even help you write that Booker Prize-winning novel you've got in you.
From €2,920 for the Compact Cure
HEALTHOUSE LAS DUNAS
Just opened in Estepona, Healthouse Las Dunas — in the refurbished, rejuvenated five-star Las Dunas Beach Hotel — is more of a palace than a clinic. (The renovations are so extensive and luxurious that they are rumoured to have cost €40 million.)
Guests come for weight management programmes, with a minimum stay of seven days, and enjoy a daily regime of five meals totalling 900-1,300 calories. They are also issued with fitness trackers and are obliged to take 12,000 steps each day.
The fitness centre includes a gym and a yoga and Pilates studio, while the spa has nine treatment rooms, a huge indoor pool surrounded by sauna and steam rooms, an ice cave and a salt room. On hand are doctors, nutritionists, psychologists and a host of experts and therapists trained in various disciplines.
Best of all, chef Andoni Aduriz of the two-Michelin-starred restaurant, Mugaritz — recognised as one of the 50 best restaurants in the world — has inspired delicious meals of protein, leaves, air, pulses and seeds.
€2,400 for seven days, €6,480 for 21
LIFE & SUN CLINIC
The newly opened Life & Sun Clinic in Marbella offers everything — and I mean everything: weight management, cosmetic dentistry, anti-ageing treatments, hair transplants, plastic surgery, dermatology, fertility assistance, physiotherapy, psychology and cardiology. The clinic has twenty medical specialists on call.
Small operations take place in the clinic itself, adjacent to the five-star Hotel Gran Meliá Don Pepe, while the more complex procedures — hip replacements, breast augmentations, bypass operations — are carried out in eight hospitals along the coast. In fact, there are very few health problems and medical conditions that cannot be treated by the clinicians here; they even deal with varicose veins and help improve your sex life. More clinics are promised nearby.
Patients stay at the Don Pepe pre- and post-procedure, where a fitness centre and spa are in situ to aid both relaxation and recovery.
Founder and medical director Dr Luis Jaime says: 'We want our patients to feel secure and to be relaxed before any treatment, so we always offer a massage, even before an examination.' There's nothing like feeling blissful before the anaesthetic makes you feel nothing at all.
Life & Sun is targeting the resident expats alongside the regular visitors from Germany, the Netherlands and the UK, and it is in talks with the major private health insurance companies for policy coverage. Even so, costs, according to Dr Jaime, will be very competitive. Consultations can be arranged in London as well as in Marbella.
SHA WELLNESS CLINIC
Further north, near Alicante, the SHA Wellness Clinic, which opened in 2009, is already doubling its size due to the popularity of its anti-ageing, detoxing and wellness offerings, as well as thanks to the evident efficacy of the macrobiotic diet.
Without a doubt it is the chicest of the Spanish spas — with its gleaming white architecture and rooftop pool — which is one of the reasons it has attracted every oligarch, fashionista and stressed-out hedgie (as well as the occasional Russian president).
On arrival, each guest is seen by a doctor and macrobiotic consultant before being prescribed a personalised programme. Alongside massages, colonics, yoga and reflexology, the resort offers laser treatments for face and body, dentistry, cosmetic procedures, acupuncture and sleep therapies.
Most programmes are for a minimum of seven days, including the recently introduced anti-ageing programme which, using telomere (the part of the chromosome that protects it from deterioration) analysis, can determine genetic age. This programme is one of the most comprehensive offerings available, and includes everything from a general medical check-up to skin screening and postural re-evaluation.
Seven-night detox programme from €4,350