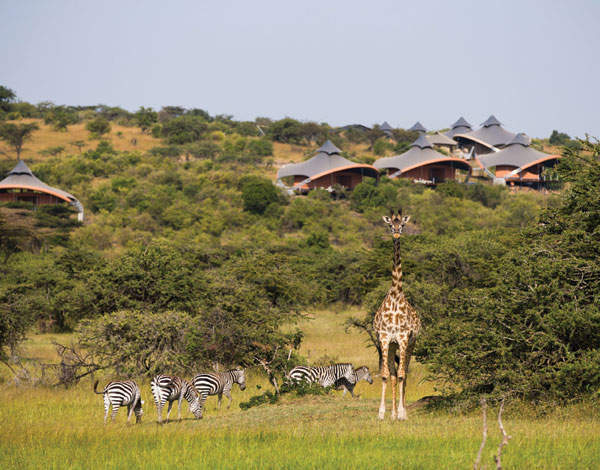 What makes the perfect long weekend? For me, it's simple travel to a sunny destination that is as different as possible from home. Marrakech is toasty and ticks the cultural contrast box, but the flights are at awkward times. No long weekend should start at 4.30am with a trip to Gatwick. It's far more civilised to check in at 6pm on a Thursday in winter at Heathrow on flight KQ101.
Not familiar with the airline code? It's Kenya Airways. Wait! Don't stop reading! Kenya Airways offers something rare: it's one of the first airlines to fly the excellent Boeing 787. Kenya Airways' Dreamliner has big flat beds in business class in a couples-friendly 2-2-2 configuration. It is also the only airline to fly overnight to Nairobi from London and back, maximising time on the ground.
From London, the Kenyan flag carrier flies from Heathrow Terminal 4, which is, by miles, the best terminal in London. It's so quiet, I am kerbside to lounge, which boasts a spiffy Cartier spa, in eight minutes. The flight is around eight hours long, which is enough to get a good night's sleep. I wake up as we begin our descent, to see the sun rise over Mount Kenya.
KQ101 arrives in time for a short ride to Wilson Airport and a Safarilink flight to the Masai Mara, where there is a camp as new and modern in its own way as Kenya Airways' 787. In Swahili, Mahali Mzuri means 'beautiful place', and it's not hard to see why. Set on a bluff above the Ntiakitiak river valley, the camp comprises twelve of the most modern 'tents' in Africa.
The camouflage PVC, which looks like canvas, is stretched over a steel exoskeleton to create a vast bedroom and bathroom with high ceilings and a large terrace. There is super-fast wifi and mobile phone reception for those who like that kind of thing, but the modernity is offset by local Masai furniture and art. Even the curtain rings are covered in jaunty-coloured beads.
But that's not the best thing about the tents, which cost $500,000 each to build. Thanks to the location, you sit out on the deck and watch the game come to you. Herds of impala, zebra, giraffe, eland, buffalo, elephant, baboon and migrating wildebeest come to drink throughout the day. Lions, leopards and cheetah prey on them and often kill right in front of the camp.
If you don't fancy watching from your terrace, you can watch from the infinity pool. If you don't want to swim, you can watch from the spa deck. And if you want to get closer — a lot closer — the excellent guides, notably John and Vincent, will clatter off with you in a Land Cruiser. The lions come as close as 10ft away. Near the camp, you can even do a walking safari with an armed ranger.
Mahali Mzuri is the first investment in Kenya by Sir Richard Branson's Virgin Limited Edition hotels. Since the end of the colonial period, upscale hotel brands have shunned countries north of South Africa and south of the Sahara as too poor, too dangerous and too downright difficult to bother with. But as the continent's economy starts to grow and international visitor numbers rise, they are rushing in faster than you can say 'emerging market'.
The IMF forecasts that the economy of sub-Saharan Africa will grow 6 per cent this year — second only to 6.5 per cent in Asia, and well above the global rate of 3.6 per cent. In 2012, international arrivals in Africa surpassed the 50 million mark for the first time, generating $33 billion in revenues, according to the UN World Tourism Organisation. The arrivals tally is expected to top 85 million by 2020.
As well as Virgin, Four Seasons, Ritz-Carlton, St Regis, Park Hyatt and Kempinski are buying up and launching more than 300 hotels in the next five years. That might not sound like much in a vast continent with a population of more than a billion, but as recently as ten years ago the figure was zero.
Four Seasons has taken over and is about to re-open the iconic Johannesburg hotel, the Westcliff. It has a vast lodge in the Serengeti and is opening two new resorts: a 30-room luxury tented camp near the Ngorongoro Crater in Tanzania, followed by a beach resort on Zanzibar. Marriott and its real estate partners are investing $1.5 billion in 25 new hotels, including Ritz-Carltons.
Starwood, Marriott's US rival, is increasing its footprint with a 50 per cent rise in hotels over the next five years. Most are under the Sheraton, Aloft, Le Meridien and Four Points brands but the first St Regis in Africa is now open in Mauritius. Park Hyatt is opening in Zanzibar.
After the successful launch of the 200-room Villa Rosa Kempinski in Nairobi and its sister property, the Olare Mara Kempinski luxury camp in the Masai Mara, plus a new hotel in Kinshasa in the Democratic Republic of Congo, the Geneva-based luxury brand is opening hotels in Accra, Ghana and Equatorial Guinea. In Rwanda, Kempinski has taken over the Hôtel des Mille Collines in the capital, Kigali. During the 1994 genocide, the hotel became a sanctuary and was made famous in the movie Hotel Rwanda. The firm also has properties in Chad and Djibouti.
What's more, the multi-billion-dollar overseas investment is prompting local African operators to create new brands. Nairobi, the fast-growing economic hub of east Africa, is a test bed for contemporary African boutique hotels. Sankara Nairobi is a £42 million, 156-room property decorated with modern African art and has one of the best wine lists on the continent, with many African rare vintages. The 137-room, locally owned Tribe Hotel is becoming a pan-African boutique hotel brand.
Mahali Mzuri is the most stylish and, many say, intelligent new camp in Africa. Not only does it look good and work well, it does good. Branson has spent years negotiating deals with local landowners and herdsmen to make sure that they benefit from the camp and that the local wildlife and ecosystem are protected. So far, the lodge has injected $1 million into the local economy and conservation. In a country where most people still live on a few dollars a day, that's a big chunk of change. Small wonder Masai elders have made Branson an honorary tribesman.
I stayed three nights that felt like six before it was time to retrace my steps. I caught the late-afternoon flight back to Nairobi and had dinner with friends before catching the midnight flight to London. At 7am, I was back in T4 after seven hours' sleep. By 8am, I was home. Four days, 13,000 miles, two continents, big skies, big game. There's no bigger or better long weekend.
Kenya Airways flies business class return from London to Nairobi from £2,084.86 (020 8283 1818, kenya-airways.com). Mahali Mzuri is from $620 per person per night, including all food and drink and game drives, based on two sharing (0800 716919 or 020 8600 0430)