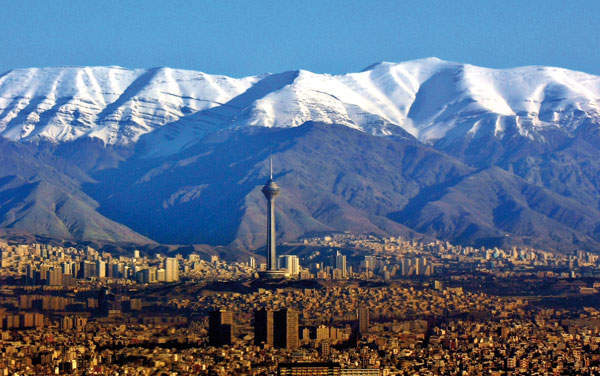 It was thanks to the impeccable timing of Ramita Navai's 2014 book City of Lies, which offers a portrait of Tehran today, that I arrived ready for its monuments of modern culture: the upscale shopping malls filled with Western brands, the hypermarkets, the £400 tablet computers brought in through Turkey and Dubai, the fancy cars and the twentysomething Iranian girls of north Tehran, pushing boundaries with their painted fingernails, heavy make-up and leggings.
Navai's central character is Vali Asr Street, and Tehranis feel passionately about it. 'When I am travelling for too long, the one thing I miss is Vali Asr Street,' explained a city-dweller. One of the longest roads in the world, Vali Asr divides the east and west of the city. As it snakes south to north, winding up in the Alborz mountains, the street charts the changing personalities of Tehran.
The south is home to the more religious and traditional working and middle classes, the north to Tehran's elite and its successful business owners. This manifests sartorially: the affordable dress shops with their conservative styles of the southern stretch turn further north into boutiques which would give pause to any seasoned traveller. You might almost mistake it for Paris.
It only took about fifteen minutes, sitting in the lobby of the Espinas Hotel, to witness evidence of Iran's new position as one of the fastest-emerging luxury travel destinations. I could watch elegant tourists from Italy and Switzerland stroll past the granite columns and sculptures to explore the streets of Tehran, a scene that would have been unusual even a year ago but is now part of the everyday tableau. These new visitors are the most visible impact of President Rouhani's one-year-old administration and, along with it, an interim nuclear agreement and plans for the United Kingdom to reopen its embassy.
'Before Mr Rouhani took office, our hotel was about 45-50 per cent full, but now it's 80 per cent full,' says Amir Mousapour, front manager at the Espinas, Tehran's only privately owned five-star hotel built after the revolution. 'We're seeing a lot of ministers, MPs, business executives and wealthy tourists. Previously, the guests were only from Asia, but now it's a lot of EU, US, British and Australian guests. It's a big change in Iran.'
Foot soldiers from multinational companies have been descending on Iran in droves, exploring local partnerships and sizing up the market. A country of sophisticated consumers, the majority under 30, Iran represents a gold mine across all sectors, including tourism. Airlines are adding or restoring routes to Tehran, and international hotel chains are making plans to re-establish themselves in the capital city for the first time since 1979. The Espinas will open another five-star hotel in 2015, equipped with a helipad, an air taxi and 500 rooms.
By all accounts, they won't have many vacancies. Iran's cultural and tourism director reports the growth of tourists from Europe alone is 240 per cent over the past year — a statistic that has prompted a government pledge to ease strict visa requirements for visitors.
For its part, Golden Eagle Luxury Trains has just completed its inaugural Jewels of Persia trip, a fifteen-day journey from Budapest to five different cities in Iran. The trip sold out in just three weeks, so it has already added itineraries for 2015.
I travelled as a guest of Travel the Unknown, a group and bespoke tour operator. London-based owner David McGuinness has seen a four-fold increase in interest in Iran over the past year, edging out traditional spots. 'It's gone from being one of our niche destinations to being one of our more significant destinations,' he says. 'I put it down to the political change and people's perceptions of Iran.'
Perceptions are changing rapidly. The current government is seen as more liberal, with plans for progress towards a more open society. Iran represents an unusual juxtaposition between East and West: women can dress in a Western style — within limits. But it is still a theocracy, and the recent jailing for one year of Ghoncheh Ghavami (now free on bail), a 25-year-old British-Iranian woman, for attempting to watch a men's volleyball match in Tehran shows the narrowness of female freedom.
The government mandates that a headscarf be worn at all times, which many women wear at the crown of their heads to show off their hair. A shirt, jacket or loose robe covering elbow to thigh must also be worn. The rules are enforced for visitors, although they are relaxed slightly. I saw many older female tourists wearing shirts just past the hip, which doesn't really comply, but they appeared to be ignored by authorities. I was given a gentle reminder when my headscarf slipped to my neck in a bazaar.
Women drive, work and own businesses, and a greater number pursue secondary post-grad degrees than men. Despite these freedoms, there's the age-old argument about supporting theocratic regimes with poor human rights records through tourism. But in
Iran's case, the rebuttal holds weight. Iranians directly benefit: from the family-owned hotel where I spent several nights to the small roadside shop in a deserted village where I bought beautiful cotton scarves hand-woven by local women, my tourism dollars contributed to the personal economies of average Iranians. The dialogue that occurred as a result only strengthened the belief that the discord is strictly political.
Most tourists come to see some of the seventeen Unesco World Heritage sites, from Shiraz, the city of love, poetry and, yes, grapes, to Isfahan, where Iranian and Islamic architecture (and one of the largest squares in the world) make it easy to imagine the city's former glory as the seat of Persia. Its legacy as the birthplace of civilisation and numerous archaeological attractions are what drive most tourists here.
But there are other reasons to visit Iran. Tehran, which many dismiss as the congested capital and a mere launch point for the rest of the country, offers a fascinating window into the world of contemporary Iranians. The city throws back the headscarf and reveals a modern style breaking all stereotypes, most evident to travellers in its independent sense of fashion.
Instagrammed pictures of long duster coats in powder-blue linen and sunshine-yellow blazers ensured that Anna Sani's atelier had to be one of my first stops. A bright young designer in Tehran's nascent fashion community, Sani's only formal training was basic sewing courses at school. She got her start designing theatre and film costumes, before convincing a shop-owner to sell her dresses on consignment.
Inspired by summers spent by the Caspian Sea, Sani's vibrant palette and sharp, cosmopolitan cuts are her signature. Despite rules about headscarves and manteaux (light, thigh-length jackets), there are no longer rules banning colour, and Iranian women embrace it. Today, Sani's clients come to see her in her large studio, where tall wooden wardrobes are flung open to exhibit a rainbow.
Her sophisticated interpretations of Iranian fashion would be right at home on the Huaihai Road. Mark my words, once sanctions are lifted I fully expect top international merchandisers to devote racks to Sani and others like her. Meanwhile, she designs individual garments for local judges, lawyers, doctors, engineers and visitors.
Tehran has set aside a budget for beauty. Throughout the city, on practically every other street or corner, stand buildings with delicately painted murals. I'm told the government's office for urban works regularly commissions well-known and up-and-coming artists to spruce up government buildings and residential properties on main roads.
There are tile works, portraits, abstracts and a work of bright pink, orange, purple and green flower cut-outs under a bridge which could have been borrowed from Matisse. No one seems to know much about the murals, but a good place to start is with Tehran's gallery owners, who host a late opening most Fridays.
The arts scene in Tehran has undergone major changes under Rouhani. In 2013, Vahdat Hall, the city's opera house built in 1967 to replicate the Vienna State Opera, reopened its doors. Its return was orchestrated in dramatic style, with an aria from Puccini's Gianni Schicchi that brought government ministers to tears.
With The Sound of Music scheduled and plans for Hansel and Gretel in the works, one quickly understands just how much artistic freedom has expanded, albeit with a soft, diplomatic touch. International arts festivals continue to be an annual event, and there are hopes the government will make good on its promise to restore two national orchestras, one of which is among the Middle East's oldest.
British, American and Canadian tourists must be accompanied by a guide at all times in Iran. I adored my guides but needed some space. Just below the mountains, in the affluent, northern part of the city, sits the Enghelab Sports Complex, within which are acres of walking and jogging trails, a golf course, climbing walls and a paintball area.
There are separate men's and women's gyms, as well as indoor and outdoor swimming pools and plenty of cafés, which offer the possibility of romance as well as tea. A regular visitor and her girlfriends used to come every week for a jog. One stayed behind at the café each time, confident she'd meet her Mr Right. Sure enough, she did and they rode off into the sunset in one of the BMWs parked outside.
The owners of German luxury cars aren't the only rich things in Tehran. I make my way through north Tehran's Tajrish bazaar, watching fresh parsley being chopped before it's weighed and sold, sweet lemons being smelled for their ripeness and six different dried fruits I've never seen before.
The Persian kitchen, with its thick stews, jewelled rice and dishes flavoured with fruits and juices, rather than spices, is layered with flavours, textures and history. Micro-climates mean each region produces its own unique watermelon, and the food of their neighbours heavily influences Iran's border areas. Within Tehran alone there are eight different kinds of bread, and my culinary guide, Fatemeh Fereidooni, knows exactly where to find them. Food tours are new to Iran — a result of the rise in Western tourists, she tells me.
Fereidooni set up her own travel agency two years ago and couldn't have had better timing. She's the first to lead culinary tours in Iran, and the Persian table, along with a forward-thinking society, means there's a constant balance of old and new. Traditional bakeries survive alongside nouveau teahouses serving peanut butter milkshakes, cupcakes and sweets laced with salted caramel, populated by students and Tehran's fashionable set.
Rising seven floors, we reach Divan, a restaurant decorated in ultra-modern local art. We're too distracted watching the stylish north Tehranis arrive in stilettos to stare out through the glass-paned wall at the Alborz mountains.
The increase in Western guests has created a two-way exchange of cultural insight, from our obsession with food to our quest for a quiet night's sleep. The new guests arriving at the Espinas have forced Mr Mousapour and his colleagues to think more carefully when assigning rooms: 'European guests always ask for quiet rooms, away from the street, on high floors. We never had that request before.'
But don't worry: Mousapour and his colleagues are getting used to it. They've already got the quiet rooms set aside.
Oman Air flies to Tehran daily via Muscat and offers layover packages
Amy Guttman is a London-based journalist working TV, radio and print