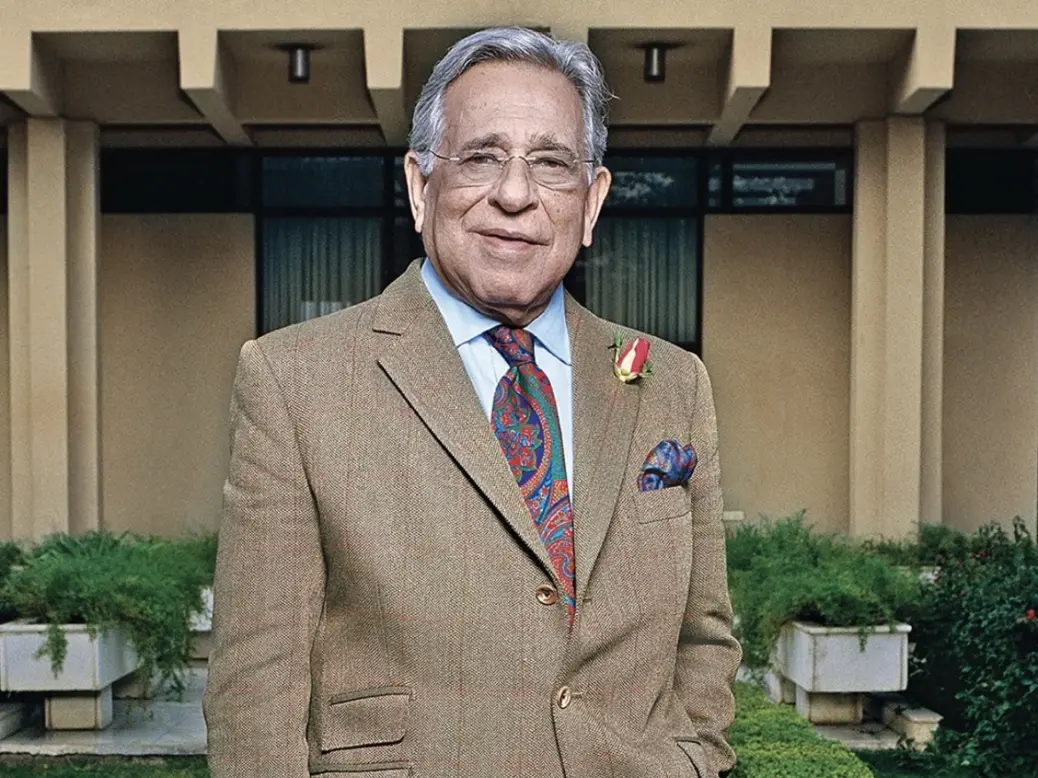 Hotelier Prithvi Raj Singh Oberoi, chairman emeritus of The Oberoi Group, one of India's largest luxury hotel chains, has died aged 94. 
Popularly known as 'Biki', P.R.S. Oberoi is credited with redefining Indian hospitality and putting the country's five-star hotels on the map. An internationally-respected figure, Oberoi was also instrumental in steering the group following a 2008 terror attack on its Mumbai hotel, which ended in the deaths of 32 people.
Anand Mahindra, the billionaire industrialist and founder of the Mahindra Group, is among those who has paid tribute to Oberoi, describing him as a 'class act'. Mahindra wrote on X, formerly known as Twitter: '[P.R.S. Oberoi's] many achievements were never sufficiently recognised. He made "Oberoi" a global byword for the Indian luxury hospitality experience and the first to put an Indian hotel on the very top of global rankings. He also rallied the group heroically but quietly post the 26/11 attack on their Mumbai flagship. He was a class act.'
The Oberoi Group: a family business
Founded in 1934 by Biki's father, Mohan Singh Oberoi, the Oberoi Group is one of the largest hospitality groups in India, operating 32 luxury hotels and two river cruises in seven countries, primarily under its Oberoi Hotels & Resorts and Trident brands. International destinations include Mauritius, Egypt, Morocco and the UAE.  
P.R.S. Oberoi succeeded his father as chairman of East India Hotels Limited – the flagship company of the Oberoi Group – on his death in 2002. He remained in the position until 2013, at which point he was succeeded by his son, Vikram. P.R.S Oberoi remained as chairman and director of EIH Ltd. until 2022, when he stepped down due to ill health. His nephew, Arjun Oberoi, is now executive chairman of EIH. 
'A luminary in the hospitality industry'
In a statement released on Tuesday, Vikram and Arjun said: 'A luminary in the hospitality industry, Mr. Oberoi's legacy transcends borders, leaving an indelible mark on the global landscape.
'A visionary leader, Mr. P.R.S. Oberoi's unwavering dedication and pursuit of excellence elevated The Oberoi Group to international acclaim. His influence extended beyond corporate success, touching the lives of countless hoteliers through mentorship and a commitment to unparalleled standards.'
Educated St. Paul's School, Darjeeling, (dubbed 'the Eton of the East'), Oberoi graduated from EHL Hospitality Business School, formerly known as École hôtelière de Lausanne, in Switzerland. He spent years working at hotels across Europe before returning to India, where he took on a number of leadership positions within The Oberoi Group. He had an estimated net worth of $480 million, according to the latest figures from Forbes.
In 2008, Trident Nariman Point, an Oberoi Hotel, was one of the locations targeted in a  spate of terrorist attacks across Mumbai. Over 143 people were taken hostage and 32 people were killed during the three-day siege. 
Over the course of his career, Oberoi received a number of awards and accolades, including the Padma Vibhushan, India's second highest civilian honour, in recognition of his exceptional contribution to the country in tourism and hospitality. Additionally, he was honoured with the Lifetime Achievement Award at ILTM ( International Luxury Travel Market), recognising his exceptional leadership and vision.