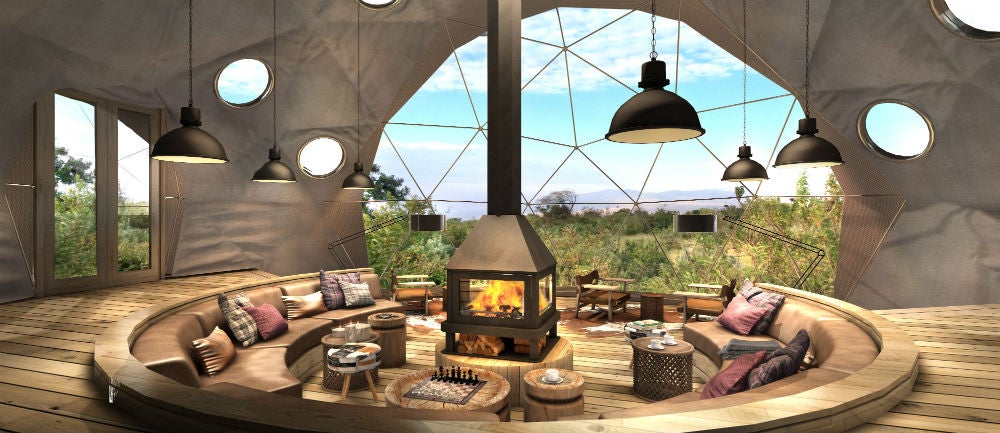 Around two million years ago a cataclysmic explosion tore the heart out of a giant 20,000 foot volcano in what is now Northern Tanzania. What remained is now the Ngorongoro Crater – a ten mile wide caldera 1,500 feet deep. As you stand on the rim at sunrise you can see the entire crater, one of our world's most awe inspiring sights. Far, far below you on the crater floor 20,000 wild animals thrive on the fertile grassy plains and forests.
In March 2016 a unique new safari camp will open which will be the perfect base to explore not only the Ngorongoro Crater, also the surrounding forests, volcanos and wildlife regions to the northeast known as the Ngorongoro highlands. The Highlands, Ngorongoro will have eight huge tented suites each shaped like a giant igloo. Each will have a sumptuous king size bed, comfortable furnishings and smart en suite bathroom. The entire front of the suite will be a great screened window giving magnificent views of the highlands.
Morning and afternoon you will return from each enthralling safari to a warm welcome, delicious cuisine, and a stylish lounge where you can relax and exchange safari stories with your fellow adventurers. At 8,000 feet it can be cool and the lounge and each suite has a cosy wood burning stove. Ngorongoro Highlands Lodge will be set on the slopes of Ol Moti Volcano. It will be located to witness the sun's rise and its setting. As you look north east you will see Empakaai Volcano, while the mysterious blue Gol Mountains line the horizon to the north west.
Your safari would be in your own private four wheel drive vehicle with an expert guide who will take you after dawn down the steep sides to the floor of the Ngorongoro Crater. The setting is exquisite with acacias and sausage trees, rich grassland and sparkling Lake Magadi, pink with flocks of flamingos all set against the backdrop of the crater walls. Outrageously beautiful doe eyed impala bound with liquid grace across a clearing. A herd of elephant move slowly and remarkably silently, ears gently waving, sensitive trunk tips rhythmically searching for tasty morsels, babies trotting busily behind. An obstinate armour plated rhinoceros chomps away like a relic from pre-history.
Later in the morning when the crater gets busy, your guide might take you north for a walk on the slopes of Ol Moti, or Empakaai, a beautifully conical volcano. If you like a challenge, he'll take you on a longer hike ascending to the cliff-like rim of Empakai where you can see a four mile wide salt lake covering the sunken floor. It takes an hour to hike down to the lake, keeping a watchful eye for buffalo on the way as the twittering buzz of thousands of flamingos gets ever louder.
Africa Exclusive can arrange your stay at Highlands Lodge as part of a superb personally designed safari taking in the Serengeti, Kilimanjaro and perhaps a few days on exotic Zanzibar. If you prefer to stay on the actual rim of Ngorongoro they can include the five star Ngorongoro Crater Lodge as a more substantial, even more luxurious alternative.
Africa Exclusive www.safari.co.uk +44 (0)1604 628979 has been arranging superb personalised safaris since 1990.