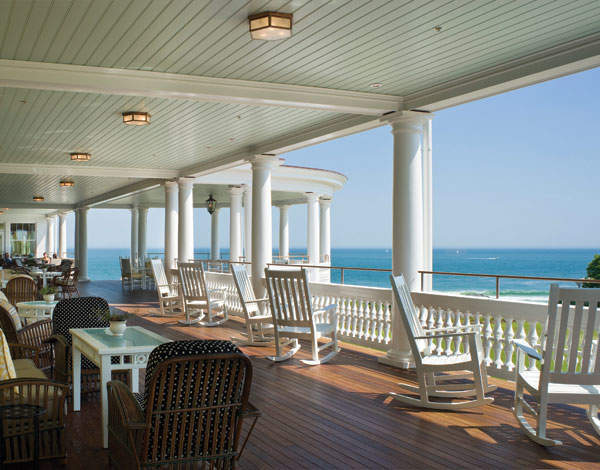 Saturday-night supper at The Point, originally the Rockefellers' great camp on the banks of Saranac Lake in the Adirondacks, upstate New York, is a grand affair. Guests don black tie and dine en famille in the Great Hall, surrounded by Charles Foster Kane fireplaces and walls dressed with hunting trophies.
The crowd is a mix of aged Upper West Side society — complete with Elnett-armoured wives called Bunny — thirtysomething TriBeCa hedge-funders and more random, moneyed elements. You might find yourself sitting next to a plastic surgeon, the arch modernist tailor Thom Browne or a transvestite property tycoon from Tokyo who excuses himself to change into a different self-designed couture gown between the entrée and the filet mignon. Over a long weekend everyone indulges myriad Mrs Astor 'First 400' fantasies and sleeps in on one of eleven Goldilocks-like Cuddledown feather beds that are so huge you have to literally climb into them.
For many regulars, The Point is the finest resort in the world. 'I can fly to the Caribbean by private jet, but I don't switch off as fast as I do here,' said one guest as we cruised around the lake on The Point's mahogany-decked Elco yacht for sunset cocktails. People book for the same weekends, year in, year out, with a lead-in rate north of $2,000 a night. Week-long anniversary celebration buy-outs are common. But last year, the all-inclusive resort hit a giant iceberg. With debts of $11.7 million, the champagne in each of The Point's numerous open bars nearly stopped flowing, permanently.
Pictured above: The Point in Upstate New York; Pictured top: The view of Newport from The Vanderbilt Grace
Back in 2007, a group of regulars decided that they loved The Point so much that they wanted to buy it. So they did, backed by a $12.5 million loan from Lehman Brothers Holdings and with a plan to turn it into, essentially, a UHNW timeshare property. The timing was flawed, as was the new club membership plan. The owners defaulted on their loan and for a period last year foreclosure — and thus closure — was imminent. The property was placed in receivership and new management was brought on board.
Today, if you visit, it's business as usual — largely because The Point is turning a profit and closing it would only increase an already substantial debt. As David B Storm of Providence Hospitality Partners, which is currently managing the property, says: 'The Point was never really a distressed asset, it was a distressed financial structure. That had nothing to do with the loyalty of the guests.'
Crash procedures
Depending on who you speak to, the financial apocalypse of 2008 either went unnoticed by ultra-high-end properties close to New York City or pushed everyone to the brink of closure. I visited several places in the space of a week and, speaking off the record, staff at every resort I visited painted a picture of tumbleweed blowing through empty corridors rather than round after round of stoic gimlets in bustling bars.
Cameron Karger, GM at The Point, admits that the crash had an impact: 'The property felt the effects of the economy very quickly, and it has taken a long time to recover. But we survived by refusing to discount. We didn't cheapen the rates because we weren't cheapening the experience.'
There is a string of landmark properties within six hours' drive of New York (a distance considered weekend-able by Americans) that suffered. Most of these — largely Relais & Châteaux affiliated, and often linked to the families who made Manhattan great, like the Rockefellers and Vanderbilts — rely on solid HNW New Yorker custom. That was a tough market after 2008. As Karger says: 'Americans were more nervous to spend than Europeans during the recession.'
Pictured above: Blantyre, Massachusetts
Right now, the likes of Twin Farms in Vermont, four and a half hours from Manhattan, are enjoying an upswing. Like The Point, Twin Farms is an extravagantly exclusive (but all-inclusive) property with accommodation spread across woodland cottages. Its patrons are drawn by the farm-to-table food, art (including original Cy Twomblys in the pub) and the interiors, created by Andy Warhol's ex-partner Jed Johnson.
Twin Farms celebrated its twentieth anniversary last year, and while designer Katie Ridder was drafted in to refurbish new suites, Johnson's exotic, vernacular, witty, chic, 'opulent restraint' that fills the other spaces is seen as something precious. Johnson created a home for himself and Warhol, but he was also the most fashionable Manhattan designer of the day, working on townhouses for Jerry Hall and Mick Jagger, Sandra and Peter Brant and Pierre Bergé. 'It's like having the responsibility of looking after a museum,' says Twin Farms' managing partner John Graham. Twin Farms is also one of the most vogueish spots for society weddings in Vermont.
Family business
One thing many of the luxury properties close to New York City have in common is that they conjure up Gotham high-society fantasies. The Vanderbilt Grace in Rhode Island is a modern hotel in Alfred Gwynne Vanderbilt's 1909 private home, with low-key but bright bedroom interiors and a notably innovative, thrillingly good contemporary restaurant, Muse.
But from the front it still looks like a group of Vanderbilts from several generations preceding current scion Anderson Cooper may be chauffeured up to their front door any second. Both it, and the row of iconic mansions a few blocks away, are emblematic of the kind of stupendous private wealth that defined a bygone period in American history. In times of financial uncertainty, the trappings of old money make for a very reassuring brand of luxury.
Pictured above: Ocean House in Rhode Island
These properties all hark back to the same precise era and lost lifestyle, but they come in varying shapes and styles. Along the coast, the impossibly perfect Ocean House is a flawless re-creation of the Victorian classic that stood on the same spot, with the same gleaming white and yellow wood look that the 19th century original had when it opened just after the Civil War, luring urbanites away from the city heat to something more genteel.
If Ocean House represents the ultimate New England seaside fantasy, then Blantyre, another Relais & Châteaux property three hours from the city, is the ultimate Victorian gothic experience. It's hard to believe you're not in the British Isles, from the lawns to the outlandish interior that is the English or Scottish country house turned up to eleven.
The restaurant is so hushed, dimly lit and strongly scented with fresh lilies that you half expect ectoplasm with your amuse-bouche. And it's all packed with New Yorkers who would normally be drawn to the most modern experience available back in the city. It's a nostalgic, cut-crystal mix of butlers, Gosford Park, Staffordshire pottery spaniels and the Amazing Mr Blunden. It's yet another house party in a house that could never exist any more. As Cameron Karger of The Point puts it: 'It's a taste of a different era. And people love it. Everyone's into Downton Abbey.'
Mark C O'Flaherty flew as a guest of British Airways (ba.com), which flies twice daily from London City to JFK, with on-board wifi and a short stop-over at Shannon. Passengers on the first flight of the day clear US immigration in Ireland and arrive at the domestic terminal in New York