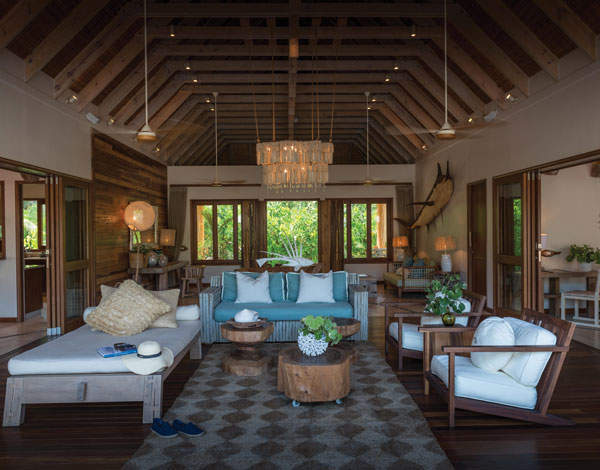 The Seychelles continues to reign in popularity for high-net-worth individuals. Attractive tax options and residency benefits attract wealthy investors and visitors to the Seychelles. Desroches Island is just a short 40-minute flight from the mainland of Mahe and offers appealing property investment opportunities for individuals and syndicates.
A haven of tranquillity and often described as 'paradise perfected' Desroches Island is a true sanctuary for those who wish to fully escape modern life. The island is completely private and one of very few in the world being developed and operated by a single developer (Collins International),thereby bringing new benchmarks for luxury and exclusivity to the Seychelles, to rival those anywhere in the world.
Desroches has been listed by Forbes as one of the 'Top 10 Remote Hotels in the World'. Set in a natural paradise, with friendly and helpful staff and boundless facilities to be enjoyed from your own doorstep, your purchase at Desroches is your family's dream of a lifetime come true. The villas create a unique experience with generosity in design and exquisite attention to detail, yet at the same time create a relaxed and inviting home-from-home atmosphere.
Each villa has been thoughtfully designed as a five-bedroom home which converts into self-contained private hotel suites when the owner is not in residence. This modular design optimises rental desirability for hotel guests, while maintaining an environmentally friendly, homely island hideaway for villa owners. By joining the rental pool, your private beach villa comes free of levies in the owners' hands, making this a unique investment opportunity.
The secluded villas are situated on 5,000m2 sites with 56 metres of beach frontage and ocean views. The building area including decking and pools is 941m2. Each Villa boasts a large pool overlooking the Indian Ocean, and two of the five bedrooms have their own private secluded plunge pools set in a lush garden. The private beach villas have been designed to optimise a return for owners.
Not only will owners benefit from second home ownership abroad, but there is also potential for excellent rental returns and the fully operational, on-site resort management will take full care of your investment whilst in residence or away.
Prices start from US $4.25 million and can be purchased by individuals or by a syndicate of six people or through a Seychelles registered company. For further information regarding the purchase of a villa, please contact Tim Hammond, retreat sales director:
M +27 82 320 9320 T +27 31 536 8004 or via email Tim@desroches-island.com or visit www.desroches-island.com