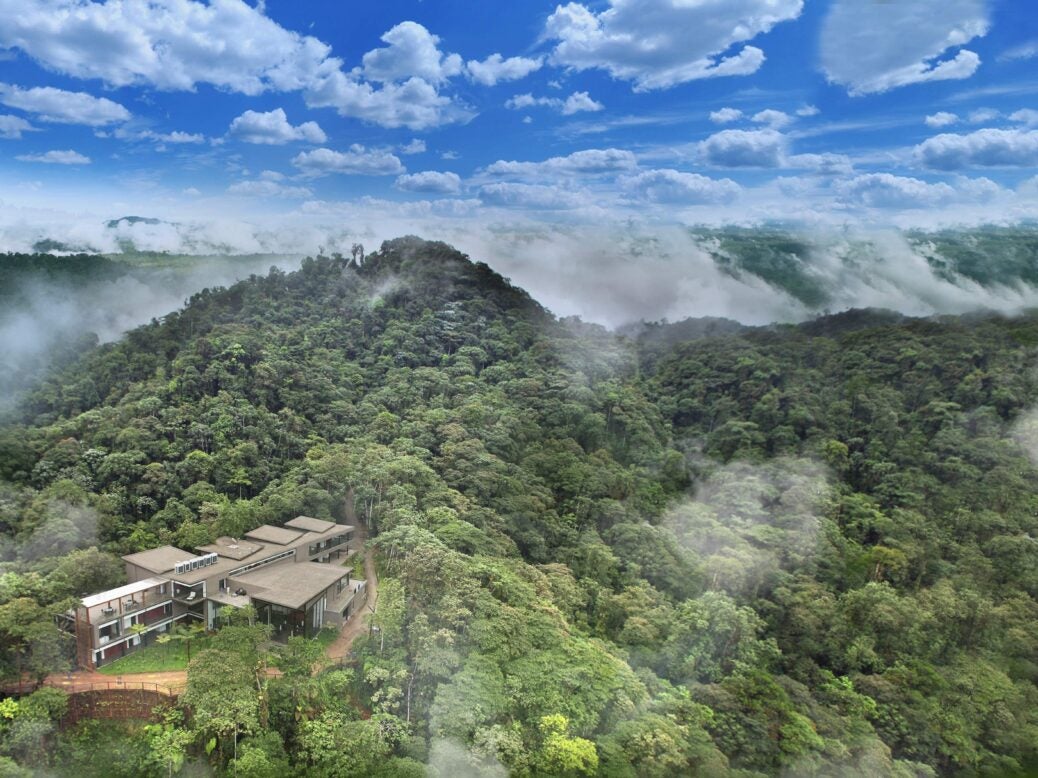 From active volcanoes to rainforest and unique species, Ecuador and the Galapagos offer endless delights quite unlike anywhere else on the planet, writes Alex Matchett
Ecuador is a confluence of climates, landscapes and experiences. We begin our trip in a neo-colonial mansion within a Unesco World Heritage Site, 3,000m above sea level and surrounded by volcanoes. Quito's palatial but intimate Casa Gangotena is a charming, spacial oasis in the hustle and bustle of close-knit streets. On our last night we're lucky enough to experience one of the top suites with a balcony overlooking the old town and the city's rolling suburbs.
The beds are enormous, the rooms quiet and the staff beyond helpful, arranging tours and making suggestions. We visit hot springs in Andean foothills and are taken out with a Metropolitan Touring guide, Marco, to experience the local artisan crafts that have earned the district such renown throughout Latin America. 'San Roque is the capital of Quito,' he says. 'Some trades have been here since the 1500s.'
We meet a religious icon maker and restorer, a botanic healer who provides us with a nettle bath, a chocolatier, a hat maker for presidents and a maker of Baby Jesus dolls for the devout. The past ten years have seen a contemporary slant: Baby Jesus now comes dressed as a traffic warden, a doctor, a pilot or a policeman.
Finally, we visit the cathedrals that mark the kernels of faith the Conquistadors branded on the New World: the monastery of San Francisco and Iglesia de la Compañía de Jesús, gold-encrusted wonders replete with Incan and Moorish influences.
We spend a morning in transfer to the Galapagos, touching down in a twin-prop on the seahorse-shaped Isabela Island. From there it's a short drive uphill to Scalesia Lodge with the irrepressible and irreplaceable Sandra. Six years a guide, she's been on the islands for more than 20, having originally come to study the immune systems of giant tortoises.
At Scalesia we're met by the equally brilliant Marco, who provides us with fresh juice and a quite stunning menu.
We are two of only four guests at the lodge, but despite this we are catered for by a full complement of staff, including talented chefs Maria and Enrique, who during our short stay serve us carpaccio, octopus, chicken cordon bleu, mero (fish), swordfish and a superb tiramisu.
We see flamingos, giant tortoises, marine iguanas and an array of finches. One day we journey by boat along the lava-reefed south coast, timing the waves to wash in among the fallen stone furniture of the lava field. With deft skill our captain glides us through this natural Atlantis, the now quiet battlefield of a violent conflict between land and sea.
Ashore we delicately tread the dried lava, the rock forming bridges and pontoons over the sea. Beneath us countless green Pacific turtles piston slowly among the labyrinth over lobsters and dancing parrot fish. On the lava, a blue-footed booby makes its nest, calls to its chick and takes to the sky. On leaving we pass a manta ray before entering another lagoon where we snorkel beside turtles and come face-to-face with numerous white-tip reef sharks. Deep in the mangrove, Sandra shows us a seahorse.
Leave your lava
The day is astounding in every sense. Even more astoundingly, the next day is equally memorable. Rising early, we drive to the end of the road and begin the trek up Sierra Negra, the world's largest active caldera. Emerging through the clouds, the crater reveals itself, carpeted by charred lava and pale, uncertain vegetation. Near the site of 2005's eruption, we step into a Martian landscape, tarred, rouge and crystalline. I ask Sandra if I can take one of the small pieces of lava that chink metallically beneath my feet: 'No. Do not take anything.' This is not our world.
It's obvious that you shouldn't visit the Galapagos to stay in luxury hotels. You should go to see the phenomenal nature. However, you can still stay in very special places. Santa Cruz's Finch Bay is a hotel facilitating the wonder of this place, as its purpose is protection as much as provision. This means you'll get a pool and piña coladas, attentive and caring staff. But you'll also eat from a sustainable herb garden and locally sourced produce, and your excursions will be well within the park guidelines.
Designed around sustainability, Finch Bay flies the flag of an 'eco-hotel'. Once that may have seemed a token label, but the interests of tourism and Ecuador's unique environments are interdependent, in the Galapagos and in the cloud-forest of the mainland.
Situated 80km north-west of Quito, Mashpi Lodge is a place like no other. Accessed via an old logging track, the lodge is a cloud-wreathed apparition. Resembling a cosmopolitan Contemporary art gallery in remote rainforest, the centre of the building is taken up with a two-storey glass gallery looking out into the forest. The bedrooms, too, have glass walls looking out across the forested valley, as an astronaut might see the galaxy through his helmet, so you watch the rainforest in all its animated glory around you at Mashpi.
We take guided hikes into the forest, see toucans, butterflies, spiders and
a legion of different hummingbirds, and hear the distant visceral roar of howler monkeys. We journey above the trees in a small 'dragonfly' cable car to experience the rainforest from above and pedal the 'sky-bike' between the vines and webs of the forest while the sun breaks through the rolling mists. The lodge houses an eco-lab and students studying the eco-systems. How many hotels can say they've discovered two new species? 'We receive guests and return naturalists,' says manager Marc Bery.
Whether your ecological epiphany is seen suddenly in a flurry of hummingbirds or more subtly through an osmosis of small wonders, you can't leave Mashpi, or Ecuador, without feeling you have been very, very privileged.
Exsus Travel offers a 14-night trip to Ecuador and the Galapagos Islands from £6,100 per person. This includes four nights at Casa Gangotena, three at Scalesia Lodge, three at Finch Bay and two at Mashpi Lodge. Excursions, private transfers, some meals and all flights in economy class are included.
Web exsus.com | Tel 020 7563 1303