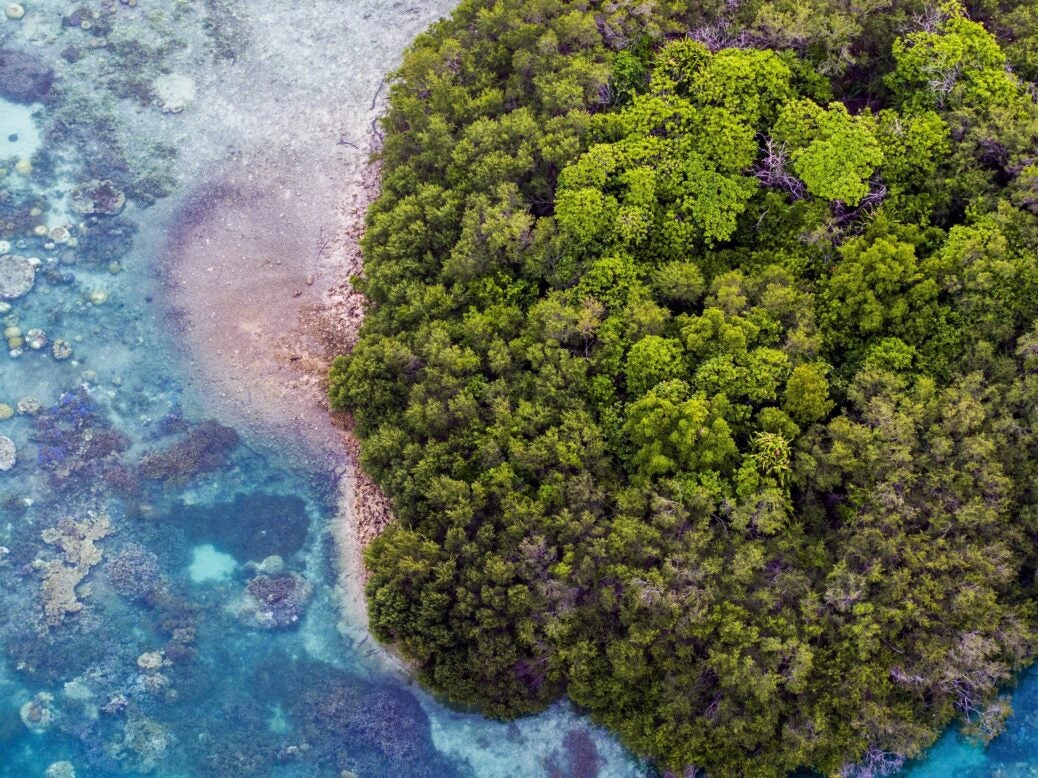 A remote island has been transformed into an eco-friendly paradise – and the owners hope their neighbours follow their lead, writes Andrew Harris
After an hour or so flying above the South China Sea, we're descending toward a few dots of vegetation scattered in the ocean below, circumnavigating what looks like a lost island paradise, before our amphibious plane crests onto the lagoon and taxis toward a long pier, jutting out into waters of improbable translucence. This is Bawah Reserve, in the Anambas Islands, and no, like most people, I'd never heard of them either.
Tim Hartnoll isn't most people. A shipping executive and lifelong resident of Singapore, he's also a keen sailor, and on a recent trip with friends to the undeveloped and seldom-visited Anambas, which lie between Borneo and the Malay peninsula, came across Bawah. Hartnoll purchased Bawah, as the lead of nine investors, shortly after that initial encounter. It is his first foray into hospitality. From day one, there has been a genuine environmentally- aware approach to the project, which made the creation of a luxurious tropical eco-paradise on a remote, uninhabited island, humongously challenging. General manager Raymond Saja – explains that the normal practice is to level the jungle before construction, re-planting afterwards.
At Bawah, however, they disturbed very little of the existing flora and fauna, working with and around it, and largely built by hand. Such reverence for the environment stands in marked contrast to the native population on neighbouring islands, who nonchalantly destroy coral reefs with dynamite fishing, and habitually drop plastic into the pristine waters underneath their stilt houses. Protecting the islands and educating the indigenous population has been integral to this project since its inception, however, and the recently formed Bawah Foundation is already forging links with the inhabited 10 per cent of the surrounding 250 islands.
A previously isolated community of 50,000 fishermen and farmers is now feeling its way around the brave new worlds of luxury travel and eco-awareness. Architect Sim Boon Yang, a founding partner of lauded Singapore practice, Eco-id, has clearly embraced the romance, the ethos, the immense challenges of it all. Articulating his vision of the guest as an explorer botanist on a lost tropical island, he talks effusively in terms of his designs awakening the inner child as castaway. His organic structures are fabulous: awe-inspiring cathedrals of bamboo and driftwood, merging into the jungle as if sprouting up out of discarded coconut husks.
The overall result – encompassing 36 beachfront and overwater suites – is spellbinding, with contemporary creature comforts like electronically operated blinds, air-con, and in-room satellite Wi-Fi discreetly woven into the suites. As the body clock winds down to what is referred to in the Caribbean as 'soon come time' – basically, one stop short of comatose – island life anchors around the twin pillars of impressively choreographed dining, and trips to the essential oils at the Aura spa and wellness centre.
There is an array of further outdoor activities, ranging from hiking through the rainforest, kayaking, snorkelling, sailing, diving, paddleboarding or picnicking on one of thirteen white powder beaches scattered across six islands. Bawah's resident perma-culturist, has lived in the Amazon, on Guadeloupe, Dominica, and taught the inhabitants of Sumba how to successfully make and market soap from palm oil.
On Bawah, he's like a mad environmentalist professor, surrounded by his water purification paraphernalia. Joe is at the forefront of ambitious plans for Bawah to become as self-sufficient in food production as possible, and a peek behind the scenes of his ecological empire of vertically grown potatoes, innovative filtration systems and hot composting is highly recommended. The Aura spa and wellness centre radiates the island's laid-back charm. Daily devotions at this temple of corporeal indulgence, where it partners with acclaimed French-Asian skincare company Ytsara, soon become pivotal to a languidly engraved routine.
Aside from alcoholic drinks and scuba diving, 'all-inclusive', at Bawah, really is that. Meal times on Bawah are a meticulously personalised affair. The highly accomplished Italian head chef crouches table-side and trawls the world's cuisines, from Thailand to Tuscany, until a mutually convened dinner destination is discovered, with locally caught, ultra-fresh, un-dynamited fish, always available. The elevated standard of cuisine, the charming service from the young Indonesian staff and an impressive wine list, all coalesce into a sublime dining experience that is as memorable as it is unique. Even those eschewing any exercise whatsoever will have to climb up the winding pathway that leads to the jaw-droppingly spectacular Treetops restaurant, and then a little further up from that for an aperitif in the equally enchanting Jules Verne cocktail bar.
But what a place to get lost – and why would you ever want to be found? Embraced by the lush foliage of the rainforest canopy, one gazes down at the fading light dancing in the lagoon and up through an unpolluted atmosphere into a panoply of stars so absurdly luminescent it's as if they've been plugged in. A warm wind brushes idly by a cold beer, as I am slowly swallowed and amazoned up into the adult tree house at the end of the universe. No, I'm not a celebrity, and even if I was, don't get me out of here… at least, not just yet.
Andrew Harris is a freelance writer for the Spear's Travel Guide 2019
Read more: