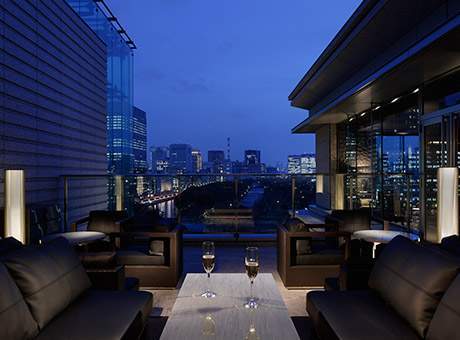 Somewhere in the megacity, Monisha Rajesh is drawn into a haven, where she tucks into Wagyu beef that makes her happy to be alive
I wasn't thrilled to be staying in the business district. Being surrounded by skyscraping Tokyo concrete – minus the fun of flashing neon – was not my idea of a relaxing weekend. But once inside, I remembered that the Japanese possess a spectacular ability to curate and carve out spaces that will make even the most grumbling of hotel guests feel like they're in the countryside rather than the equivalent of the Square Mile.
And it starts with the aroma in the lobby. A citrusy blend of lavender, eucalyptus and lime swirls around the check-in desk, so much so that I asked the concierge what it was and he produced a bottle that is available for purchase: £14 for around 10ml. Perched on lizard-green silk sofas, gazing at the soft peach blossoms in the garden, I felt the oppression of the downtown business district draw back and disintegrate. Even more so after a two-hour massage in the Evian Spa, a white and sterile space with expensive-looking products on the shelves, but housing a series of cosy, low-lit rooms filled with furry loungers, fat copies of Vogue and tiny cups of tea.
My room overlooked the Wadakura fountain park with the Imperial Palace just visible within the circle of protective treetops, blooming like giant broccoli florets. At night Tokyo's lights winked and shimmied up and down the sides of buildings like a private laser show and the city fell into soft, Sofia-Coppola focus. Owing to safety issues, few buildings here have open balconies, but Palace Hotel is one of the only properties in the area to gift guests with the opportunity to sit out and enjoy fresh air, open views and a chilled dirty martini. Rooms are vast, cream-coloured and clean-lined with few fussy frills.
Fresh flowers, Anne Semonin bath products, DVD players and complimentary mineral water give Palace Hotel an edge over other well-known groups: I don't want to pay five pounds for drinking water if you call yourself five star, or have to stock up at 7/Eleven. Nor do I want your own-brand shampoo that doubles up as bubble bath. What I do want, however, is to find a teppanyaki restaurant in London that can match the food of GO: the most spectacular teppanyaki grill I have ever come across. Hidden within the larger Wadakura restaurant, the sealed-off, eight-seater area feels like a private theatre.
The evening began with a warm-up act of a pink scallop so large I thought it was a chicken breast. Squirted with lemon and barely browned by a kiss from the grill, it was served with a mound of grated radish, cold and soft like fresh snow. A finger-sized sardine was laid across two halves of gleaming tomato with four pine nuts placed on guard. So light, so soft, it could be eaten in one – sulky face and all.
Now I've waited my whole life to have Wagyu beef in Japan and I'm glad I did, for this marbled cut was the superlative of sirloins: cerise and shining on the inside, grazed and striped on the outside, the meat was placed on nothing more than a square of salmon-coloured rock salt to draw up the flavour, and served with individual portions of sesame sauce, black pepper, vinegar soy, seaweed salt and wasabi – grated fresh onto a board made from sharp shark's skin. It could be pulled apart with my tongue, releasing slivers of salty fat and in that moment it made me so happy to be alive. Sadly, the almond and peach pudding with mochi dumpling tasted much like a ball of plasticine in shower gel, but hey, you can't win every time.
Palace Hotel is a haven in a megacity, a space that draws you in, wraps you up and keeps you well-fed and watered. And that, for me, is reason enough to stay.