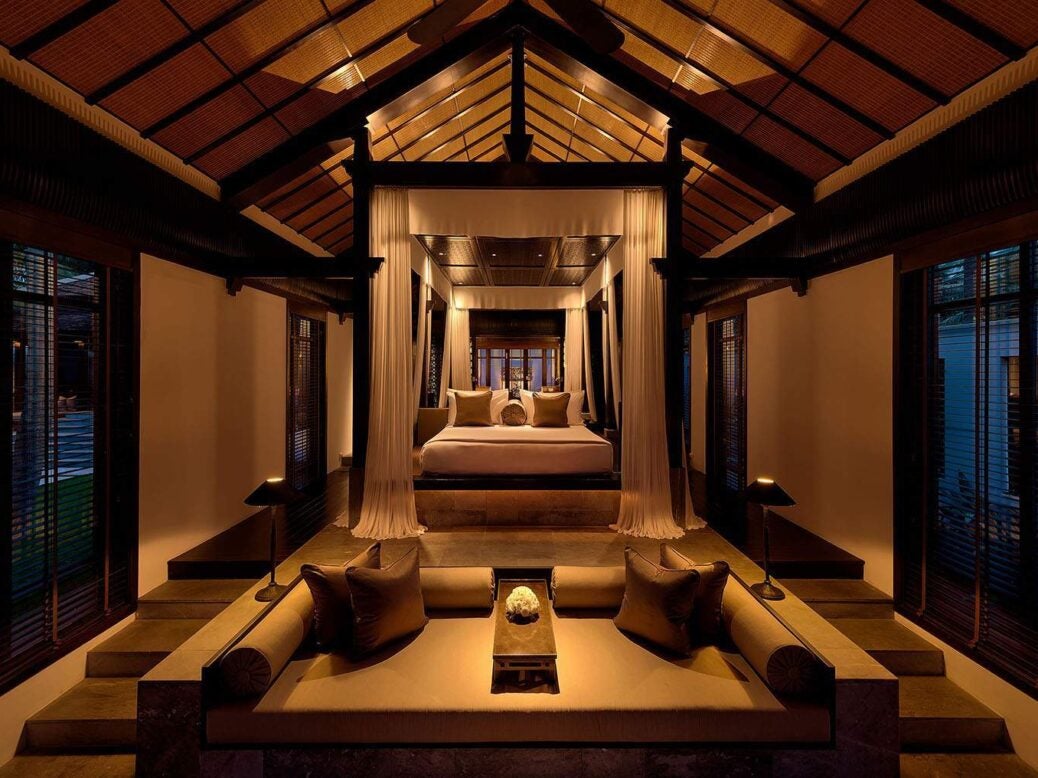 Far from the Vietnam of madness and mopeds, Monisha Rajesh finds true luxury (and the most striking rooms she's ever seen)
To call the Nam Hai a hotel would be an understatement. At the entrance on the long highway from Danang, a hen with a tumble of yellow chicks pecks around the grass, eyeing guests as they draw up to a pair of secure wooden gates and begin a winding drive into the heart of what is really a village of villas. At the centre is the mothership of a main building where one swimming pool after another, descends to the private creaminess of Ha My beach dotted with palm trees criss-crossing at the waist and women in white chiffon snoozing under straw hats. Elsewhere there is little but the sound of hoses on the grass, the hum of electric buggies ferrying guests to and from the spa, gym and three different restaurants, and the song of cicadas thronging in the trees.
At night, flickering golden orbs light the way along dark wooden decking to The Beach restaurant. It is built around an open kitchen where steam bursts off fresh shrimp and pork dumplings and the sizzle of lemongrass and chilli seeps into an atmosphere of clinking G&Ts. It's a menu rich with delicious meat and marinades from caramelised pork belly with crunchy quail egg and winter melon, to grilled bamboo chicken, dark and rich with charcoaled skin and a sharp spritz of lime, but the vegetarian dishes are also sublime. Simple morning glory sautéed in chilli paste and flecked with chips of chewy, sweet fried garlic, render big bowls of rice unnecessary.
What else does this beautiful hotel have to offer?
There's a beautiful library, and a spa is housed on a lagoon filled with koi fish, which, in the evening is the best spot at the resort from which to watch a sunset: an explosion of orange and pink that erupts across the horizon silhouetted with black spiky palms. Here there are eight pavilions with decking for guests to relax both before and after treatments with cups of ginger tea before making their way back to the villas.
I'd rather die than come across as a cliché, but having stayed in more than 40 hotels around the world, these villas possess the most striking and unique design of any room I have seen. Much like the set of a Bonnie Tyler video, the rooms have polished dark wooden floors – which with wet feet, are prone to induce a skid or two – with a low bed mounted on a step in the middle, concealed by sheer white drapes that skirt the ground. A small desk and writing area sits just behind the top of the bed, and to the right is a sunken bathtub from where a huge, pivoting TV – with free movie channels – can be angled towards lazy bathers.
It's so compact, angled, and laid out like a Japanese bento box. At the foot of the bed are two bed-sized sofas that face the beach and outside is an open-air shower that allows soapy suds to run away through warm pebbles underfoot. Large stone pots filled with shampoo and shower gels add a nice touch for guests who don't want small crappy plastic bottles of products, which all adds to the feeling of genuine luxury, and if it's too cold outside, or raining, there is the option of showering indoors too.
If guests want to buy custom-made silk jackets and nose around the twee little town of Hoi An, a Disneyfied preservation of old Vietnamese charm, there is a shuttle service that goes in the morning, but the service is irregular and stops early evening. With the exception of poor transport, the Nam Hai is close to faultless and is as far away as possible from the typical Vietnam of madness and mopeds.