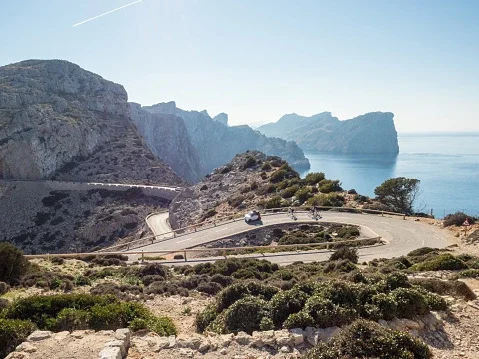 Mountainous northwestern Mallorca may not boast pristine white sand beaches, but is has a special charm of its own, as Edwin Smith discovers 
Pedalling, pedalling, pedalling. More pedalling. And yet still more pedalling. I have never gone uphill on a bike for this long. I've been going for half an hour and I'm barely halfway up the first climb of the day – the Puig Major, which tops out at 850 metres above sea level.
It's not all bad. As I make it further along the road that snakes through the wooded mountainside, the trees occasionally part and reveal better and better views of the landscape, which stretches out to the glittering sea. 
When I finally make it to the top I pause for a moment, then cruise down the winding, looping, spaghetti-strand of a descent to an old fishing village. After a bite of coca Mallorquina (crumbly, disappointing) and slice of syrupy flan (delicious), I turn around and go back the way I've just come – up the same road, which has achieved almost mythic status among cyclists.
By the time I'm on the climb – named after the village at its foot, Sa Calobra – the relative cool of the morning has given way to midday sun and temperatures of 33 degrees. I squint as salty sweat streams into my eyes.
Mallorca: a good place to relax 
Fortunately, my destination is a good place to relax. The Jumeirah Port Soller Hotel & Spa sits on a cliff top overlooking the bijoux Port Sóller and its marina below.
The hotel was completed in 2012, just after the surrounding Serra de Tramuntana was declared a Unesco World Heritage site in 2011, meaning that it was one of the last new structures of any kind to be built around here.
Although the rocky, mountainous northwestern coast of Mallorca doesn't have the white-sand beaches of other parts of the island, when the views are as good as this, it doesn't matter.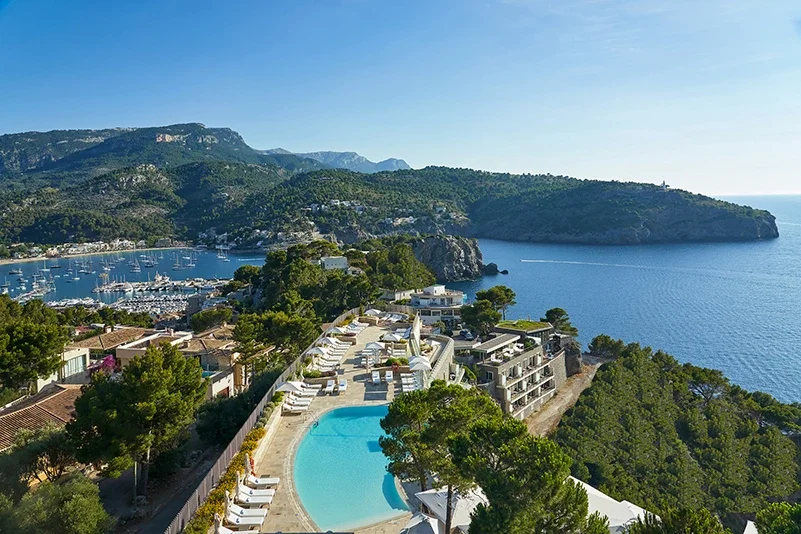 Sitting on the terrace of the hotel's Cap Roig restaurant and tucking into a restorative squid ink paella is a wonderful way to recuperate. In fact, tables with a view are in plentiful supply here.
There are several more at the hotel's fine dining restaurant Es Fanals, which has a highly inventive seasonal tasting menu with dishes such as slow-cooked eggs with black truffle and smoky foie gras. When we visit we spot television presenter Andi Peters at the next table.
A trip into port
The Jumeirah offers a free shuttle bus into Port Sóller, which doesn't seem like it should be worth mentioning here, but is important. As well as restricting construction, Mallorca also restricts taxi licences, to a farcical degree. Believe me when I say that it is next to impossible to get one, which means that unless you have a private car, it is essential to have arrangements in place.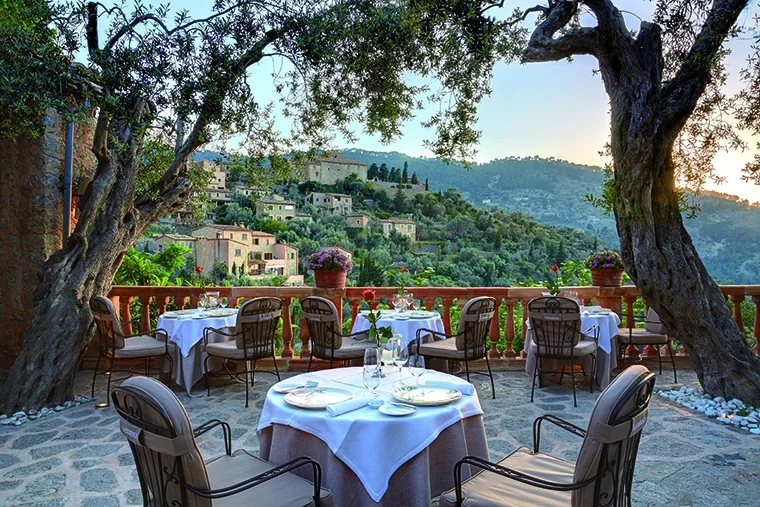 One morning we take the shuttle down to the port and take the coastal path to a headland with a lighthouse, but we later discover a better way to tour the coastline.
La Residencia, a Belmond hotel that is the site of the other major luxury lodgings on this part of the island, offers a boat excursion to guests. Seeing the hillsides turn pink in the evening light before enjoying a sunset dip is a good way to spend an evening.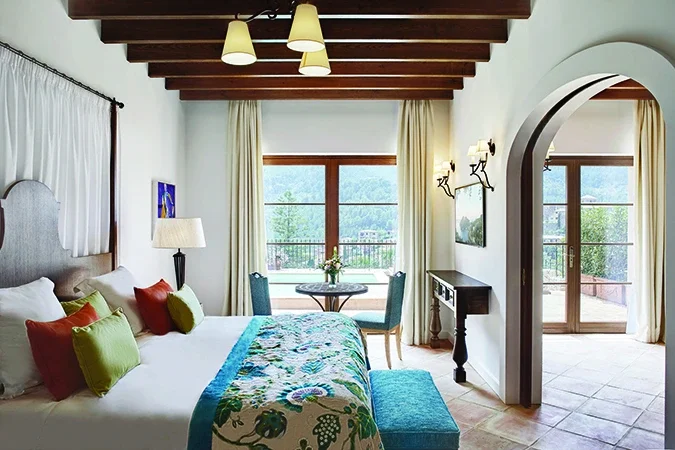 La Residencia is in Deià, a village nine miles from Port Sóller with a historical reputation as a hub for artists. Robert Graves, the author of I, Claudius lived here from 1929 until his death in 1985. The hotel does its part by having two artists in residence and a cafe devoted to Miró where it displays an impressive array of original works.
Soaking up the sun in Mallorca
On our last full day, after walking around the village and its 14th-century churchyard, we continue down to the beach of Cala Deià. It is one of those beaches that only seem to exist in southern Europe – a stony cove that is filled with beautiful people draping themselves over rocks and soaking up the rays.
It's such a lovely spot that after freshening up back at the hotel we return, having managed to snag a table at Ca's Patró March.
 

View this post on Instagram

 
The restaurant played a starring role in an episode of the BBC's adaptation of John Le Carré's The Night Manager, when Hugh Laurie's arms dealer held court at the head of a long table overhanging the water.
We order fresh Galician octopus and savour another ideal vantage point to watch the sun set into the Balearic Sea, one last time.
Cover image: Getty
Order your copy of The Spear's 500 2023 here.
More from Spear's: