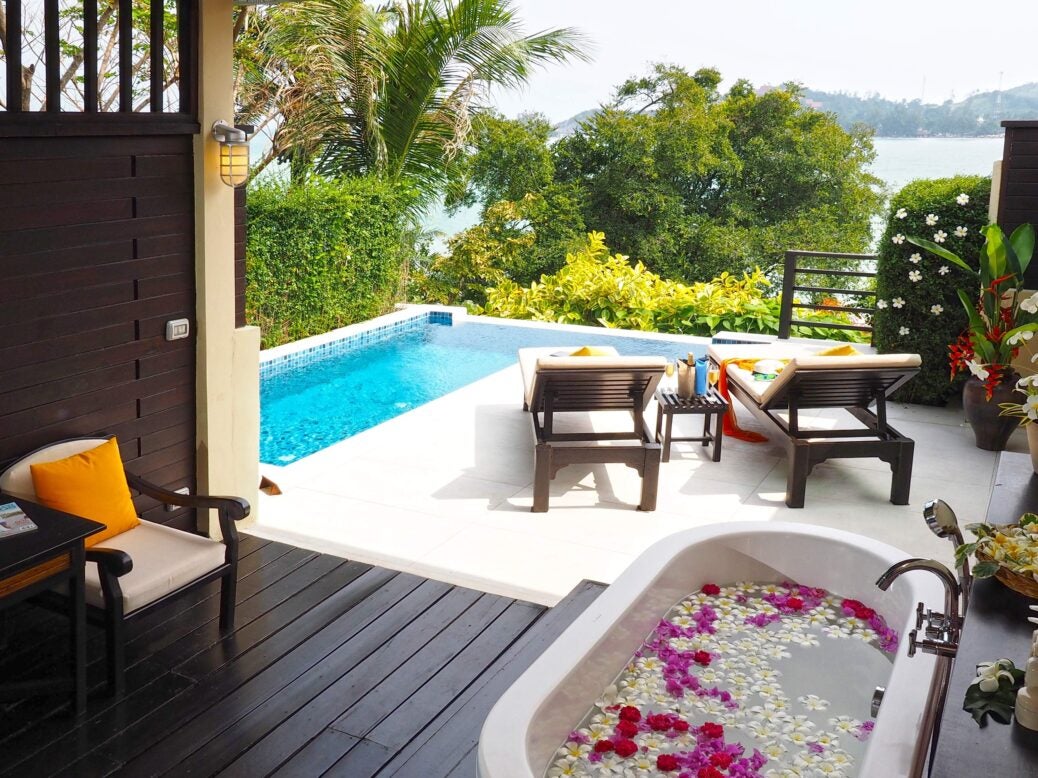 The Tongsai Bay, Koh Samui, Thailand, has upgraded five of its Hillside Cottage Suites to include private pools, providing an extra dimension of luxury to an already-enchanting experience.  The renamed Pool Cottages are all split level and range in size from 68 to 78 square metres, with each new plunge pool being 20 square metres in size.  All Pool Cottages offer sea views, over-looking the bay and the sparkling ocean. The Pool Cottages complement The Tongsai Bay's existing comfortable rooms, spacious suites and luxurious villas.
All five Pool Cottages are nestled in the lush tropical gardens and provide a private sanctuary for guests. Elegant, traditional Thai design is present throughout each Pool Cottage and rich, dark teak wood contrasts with the crisp, white linen and soft furnishings.  The spacious outside terraces feature al-fresco bath tubs and day loungers fringe the edge of the new infinity pools.  By night, guests are welcome to immerse themselves in the pool, or bathe under the twinkling stars in the al-fresco bath tub.
The Tongsai Bay is thoroughly committed to protecting the environment and careful consideration to this was given to the surrounding eco-system.  Materials used in construction of the new pools were based on their environmental impact and those with minimal effect, were chosen.  This is in-line with the ethos of The Tongsai Bay which is to incorporate redesign, reuse items, recycle, reduce waste and replace where possible, throughout the whole resort.
"The Tongsai Bay celebrates its 30th anniversary this year.  When my father opened the resort in 1987, not only was The Tongsai Bay the first luxury, five-star hotel on the island of Koh Samui, it also stood out as a unique and new concept in luxury travel.  We are a traditional Thai resort, focusing on providing all our guests with exceptional hospitality and an outstanding level of service that Thailand is renowned for.  The Tongsai Bay has an enviable reputation of innovating and never imitating and our new Pool Cottages reflect our ethos and strong commitment to the environment to redesign, reduce, reuse and replace.  We did not build new cottages, we redesigned five of our existing cottages to create an enhanced experience for our guests." Explains Khun Gob – Thanakorn Hoontrakul, owner of The Tongsai Bay.
The Tongsai Bay is set on one of the most picturesque bays.  Featuring 83 rooms, suites and villas, all nestled amongst 28 and a half acres of breathtaking natural beauty.  The Tongsai Bay is renowned for its privacy and tranquility, its passionate love for the environment and the friendliness of its staff.
For more information and bookings, please visit www.tongsaibay.co.th