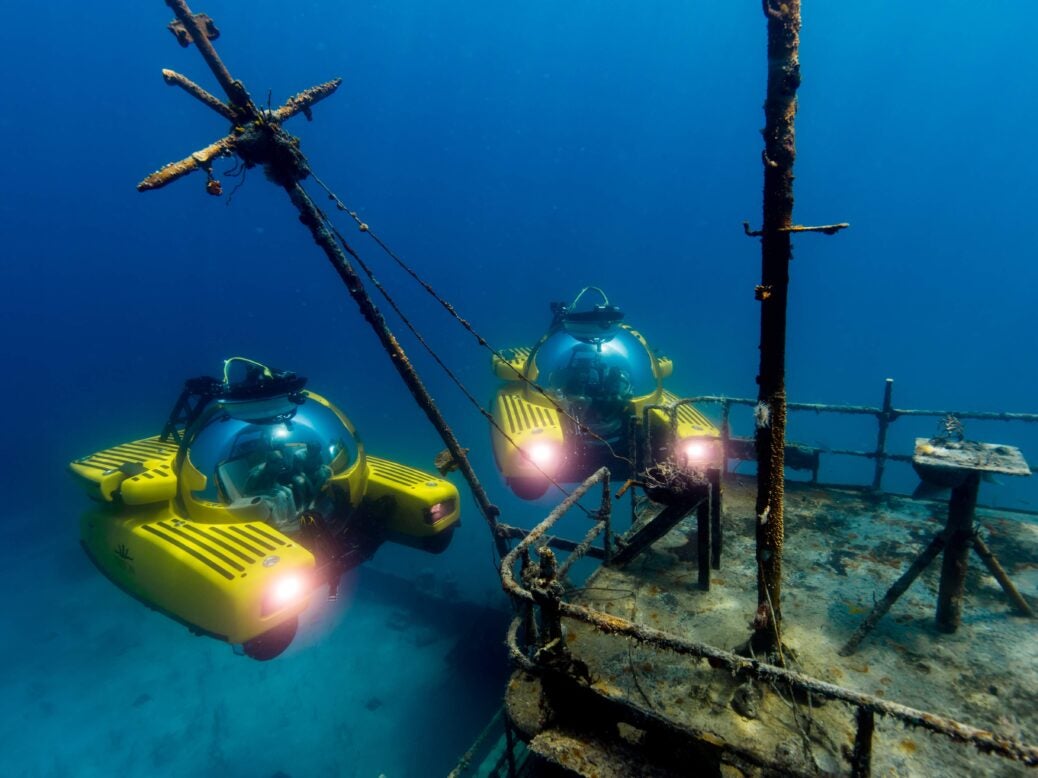 From deep submersibles used for scientific expeditions to ultra-luxe personal submersibles designed by Aston Martin to futuristic creations, the CEO of Triton is spearheading some of the most exciting projects in the deep blue sea, and sits among the innovators featured in the Spear's Luxury Index 2020
Submarine-maker Bruce Jones has more than 33 years' experience in the underwater transport world, where he first started as a consultant in the tourism industry. Back then submarines could take up to 48 passengers and dive to around 50 metres. He co-founded his own submarine firm in 1993 before going into business with Patrick Lahey, professional deep-sea explorer, setting up Florida-based Triton in 2007. 'We really went from one model to where we are now – 12 models of deep submersibles and six models of tourist submarines,' recalls Jones, Triton's CEO. 
One model stands out. The company describes Triton 36,000/2, which can dive more than a kilometre, as 'possibly the most impressive tool for human exploration and scientific endeavours since Apollo 11'. It was aboard one of these that Prince Albert II of Monaco became 'the deepest diving head of state' when he took a dive in the Mediterranean in 2019. 
Triton entered the luxury market in 2007, says Jones, when mining billionaire Chris Colne became a customer. 'He was a terrific fellow,' recalls Jones. 'He was buying a new yacht from Trinity and thought, "Well, if I'm going to spend $30 million on a yacht, I probably will have a submarine to have some fun with."' Another customer is Bridgewater founder Ray Dalio, who owns two Tritons, one of which was used by Japanese broadcaster NHK to film the first ever recorded encounter with the giant squid, the largest invertebrate on earth, which is about the length of a bus. 
A Triton buyer, says Jones, is a superyacht owner who can come from anywhere in the world, from the US to the Middle East and Russia. 'I'd say to [a new client] that we are so confident you're going to love your Triton that I'll give you the name of every single Triton buyer in our history,' he says. 
The 'epigenome' of the luxury submersible, for Jones, is the Project Neptune models which Triton created with Aston Martin through a 'creative collaboration'. 'There were some pretty significant limitations on the exterior look of the sub, but they really managed to make it sort of sexy,' he says of the $4.4 million limited-edition vehicles with shiny metal-oxide veneers and hand-stitched seats. Buyers can access the British carmaker's 'Q division', which offers 'the ultimate level of personalisation'. 
Jones is looking forward to launching a 'deso-electric' submersible-yacht hybrid capable of diving to 300m. 'If you build a big one of those, you can even carry a deep-diving submarine on board. Even if you're underwater, you can crawl into your 10,000-foot capable acrylic submarine, leave the mother sub and dive. It's the stuff of science fiction.'
Photo: Nick Verola
More from the Spear's Luxury index:
How superyachts can boost the global luxury property market
The Spear's Luxury Index 2020: John Romain