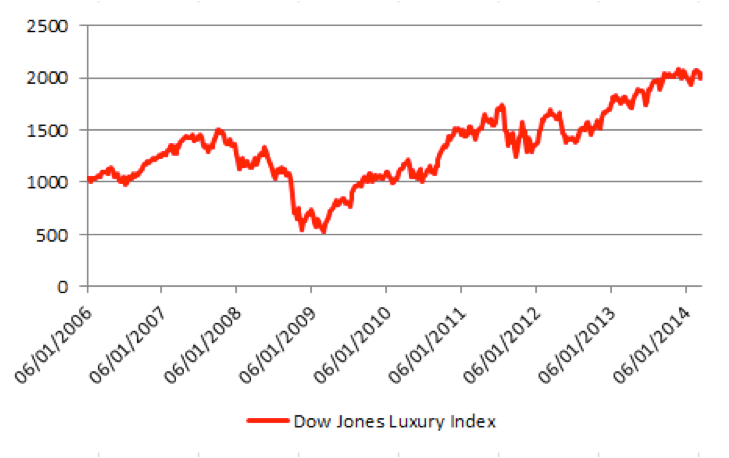 The luxury sector is predicted to register significant growth over the next ten years with a recent study from the Boston Consulting Group predicting that overall spending will rise from €730 billion today to €880 billion by 2020. It is an exciting one to watch, with takeovers aplenty and new market entrants competing for market share in an increasingly crowded space.
Looking over an extended period of time, it is certainly an area that has generated superior growth and profit levels, largely thanks to higher than average margins than broader consumer goods companies. Inspirational luxury brands stand particularly well placed to win over the hearts of such an increasingly prosperous middle class, and in turn compete for some of their discretionary income.
However, despite this generally rosy picture, there are potential obstacles to growth. Fears last year of a wobbling Chinese economy certainly dented the confidence of many consumers and investors alike, and many of the leading brands were punished by a disappointing market.
A notable deceleration in luxury-goods sales in China has also impacted some of the biggest names in luxury including LVMH and Kering (formerly PPR), forcing many to question whether the fast growth of previous years can be maintained.
The Dow Jones Luxury Index has seen a 16 per cent increase over the past year and has managed to maintain a strong uptrend from 2006 to date. Top components of this index include LMVH, BMW, Swatch and Burberry (see chart below).
In the face of changing economic conditions many luxury brands have repositioned themselves to appeal to wider target audiences and in turn open up new revenue streams. Louis Vuitton for example learnt that many of its high-end customers were abandoning its familiar logo-emblazed handbags in preference for more subtle products. In response to this, group owner, LVMH has increased its investment in smaller brands like Fendi and Berluti.
The luxury market is an intricate one and the winners and losers are not always easy to recognise. Ralph Lauren, Estee Lauder and Tiffany and Co are listed on the New York Stock Exchange in US dollars while LVMH and Kering are listed in euros. Prada meanwhile trades on the volatile Hong Kong stock exchange in dollars, a market that has its own set of trading rules and regulations.
All of this is precisely what makes the luxury sector such a challenging one for brands, consumers and investors alike. There is no golden rule to success in this market and today some of the biggest brands are facing differing challenges in key markets.
For example, Hermès announced last month that fourth-quarter sales grew by 4.6 per cent to €1.09 billion thanks to strong demand in both China and Europe. Others however are reporting a notable decline in the Chinese market, claiming that customers are instead purchasing products when travelling into Europe, Hong Kong, the UAE or the US.
It can be of no surprise then that the luxury market remains fiercely competitive, with new market juggernauts fighting for market share. Michael Kors also continues to flex its muscles, having recently announced a rise in comparable store sales of 28 per cent for its fiscal third quarter. That translates to total revenue growth of 57 per cent year on year.
The luxury sector remains a key area of investment. As competition grows, luxury brands are being forced to box clever. New niche markets are forming, previously stable markets slowing and of course fashion trends are evolving.
Like fashion, trends are subject to change but as part of a diversified portfolio, a smattering branded stocks could aid the savvy investor in profiting from the success of the luxury goods sector.
Brenda Kelly is chief market strategist at IG