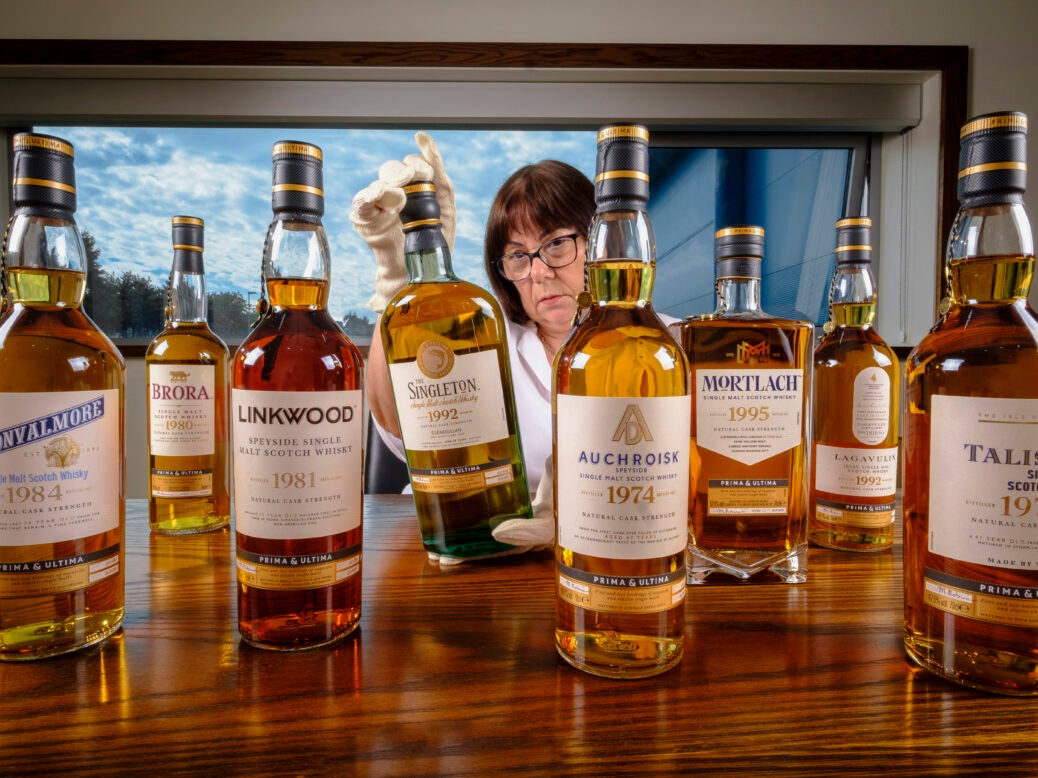 Provenance matters to discerning collectors of single-malt whisky and, as Johanna Derry Hall discovers, every bottle in Diageo's Prima & Ultima collection has its own fascinating story to recount
Of all the spirits, Scotch is the most storied – its distilleries home to the mysteries of flavour and its bottles filled with tales of legendary characters. While some investments are made dispassionately, when it comes to collecting whisky, it's hard to disentangle oneself from the power of a good yarn.
'One of the most fascinating things about Scotch whisky is it offers a long, steady evolution of style and quality that matches the pace of a person's own life stages,' says James Mackay, Head of Rare and Exceptional Spirits at Diageo. 'In my case, my father grew up near the Brora distillery and took the family there every year on holidays, so it is very much part of my life story.'
Over and over again he finds this to be true of many of Diageo's private clients – a love for whisky begun at a certain moment continued evolving ever since.
'The provenance story is by far the most important thing to a collector,' he explains. 'For any single malt Scotch whisky this "story" will almost certainly include the factual elements of the distillery and age statement. But that's only a part of it. There's also the people and methods which crafted the spirit, and events happening in the wider world at the time.'
So, while the relationship between collector and cask is often deeply personal, there's a growing trend of people wanting to connect their stories and memories with the wider narrative of Scotch – how the spirit has evolved, the rise and fall of different distilleries and methods of making, and a curiosity about the people behind the liquids: the master blenders who have dedicated their careers to interrogating how distilleries produce the whiskies they do.
Diageo's Prima & Ultima, now in its second edition, is a prime example of bottles that link the whisky connoisseur to this broader arc.
For a long time the names behind the whisky remained uncelebrated, a signature on a label recognised by a knowing few. But as interest in the stories behind whisky has grown, so the industry has become more forthcoming about the expertise and talent of those who ensure its quality – people like Dr Jim Beveridge OBE and Maureen Robinson, master blenders with decades of experience, who curated the first and second editions of Prima & Ultima respectively.
'I remember the first time my signature appeared on a bottle of Singleton, and it was a point of great pride for me,' says Robinson. 'Now, it's a real privilege to be able to show some of the different facets of the whisky industry that happen behind the scenes, to share the story of the innovations and the creation of new whiskies that we as blenders get to make.'
As an example, Robinson's curation of Prima & Ultima includes an Auchroisk from 1974, the first cask filled there. Similarly, a Linkwood from 1981 captures the results of a pioneering trial she initiated, exploring maturation processes at the distillery.
Beveridge and Robinson aren't immune to the power of their own stories either, and in the first edition curation, Dr Beveridge mapped out his own story in Scotch in his selection.
'We used to fly across to Islay from Edinburgh Airport and take samples from the storehouse in Lagavulin,' he recalls. 'I remember one January it was incredibly frosty and clear, the mountains all topped with snow, and we flew back over my house. It's one of my earliest memories of those visits to Lagavulin, and even today when I taste it, I'm instantly taken back to those skies and the snow of that day. The link between that moment and the flavour is very evocative and powerful.'
The idea of wedding one's own story with that of the creators' is potent. What makes collections like Prima & Ultima – the first and last of their kind, and so by definition, rare and exceptional – particularly desirable is the fact that not only does each bottle have its own tale to tell, the collection itself is part of a grander narrative.
'People aren't just getting a wonderful, readily curated selection of whiskies,' says Ewan Gunn, Diageo's Senior Global Scotch Whisky Ambassador. 'They're actually getting an insight into a lifetime spent working with whisky. People can own a beautiful collection of whiskies, selected by someone with four decades of experience in the industry. That's a phenomenal opportunity – a brilliant selection of whiskies, with brilliant stories, that you can immediately share with friends.'
And after all, isn't that the enduring allure of Scotch – a share in a story, with friends and a dram. Registration ended on 23rd August 2021, but there is one more opportunity to own the elusive set #1 of the second release of Prima & Ultima, each signed by Maureen Robinson, when it goes under the hammer in an online auction at Sotheby's from today until the 24th September 2021 in Hong Kong, with all proceeds of the sale going to leading humanitarian charity CARE International.
Web: https://www.sothebys.com/en/buy/auction/2021/distilled-whisky-moutai-5/prima-ultima-collection-second-release-set-2
Main image: Maureen Robinson with Second Release of Prima & Ultima, copyright Mike Wilkinson