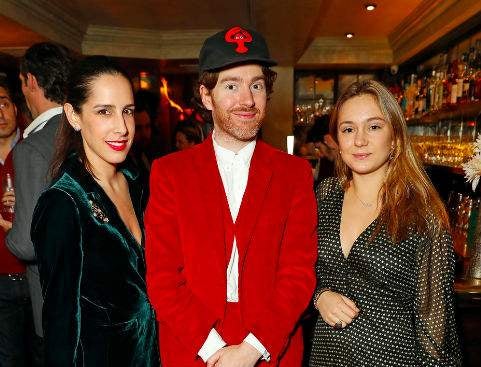 Spear's editor at large William Cash celebrates Diwali in style at Mayfair's Gymkhana.
It's that time of year when the editor-at-large of Spear's usually finds himself celebrating Thanksgiving with American friends but this year the social event of the week was a VIP 'Diwali Dinner' at Michelin-starred restaurant Gymkhana in Mayfair, hosted by leading Indian entrepreneur restaurant family Jyotin, Karam and Sunaina Sethi.
A number of guests who had been at the 'old' Annabel's preview sale hosted by Christie's (with every fixture of the iconic nightclub being sold off, including the club's famous gents latrines and contents of the 'Buddha Room') walked over to Gymkhana to enjoy a private dinner, titled "From India With Love" to celebrate Diwali and their partnership with Elephant Family. This year the chic and eclectic restaurant is celebrating their five-year anniversary.
Guests included VIPS, influencers, leading chefs, fashionistas, social faces, patrons and ambassadors who have supported the charity over the years, known for their pioneering work to save a forgotten species from extinction, the Asian elephant.
I was especially pleased to see my old friend actress Camilla Rutherford (star of Gosford Park) at the Gymkhana dinner as I nostalgically recalled the photo shoot I organised for the cover of the first Annabel's magazine back in November 2005 that I published for Robin Birley. It was this glossy magazine – sent to all 14,500 members of Mark Birley's group of private clubs – that included the very first pilot edition of Spear's, entitled Spear's Wealth Management Survey.
Gymkhana founders Jyotin and Sunaina Sethi are quickly turning themselves into leaders in the London restaurant scene with other venues including the acclaimed 'Trishna' and 'Brigadiers'. The Michelin quality food certainly didn't disappoint. We began with cassava lentil papads as potato chat, chana masala and sofiyani murgh tikka finished off with lobster pepper fry. The main course was a very spicy pork cheek vindaloo that needed washing down with cocktails including elephant negroni and 4th Rifles Pale Ale.
Guests included Beulah founder Lady Natasha Rufus-Isaacs, recently nominated for Entrepreneur of the Year at the Spear's awards, Lady Marina Windsor, and socialites including stylist Martha Ward,  Philip Colbert, Anjula Devi, Rosanna Falconer, Sarah Ann Macklin, Hardeep Kaur, Sabine Roemer, Ayesha Shand,  Lucia Ruck Keene, and society milliner Lady Laura Cathcart. Bollywood Actress Amy Jackson confirmed she has recently been appointed ambassador of Elephant Family. Indian Summers actress Olivia Grant flew in from the US to make the dinner in Mayfair.
Dinner was served in the cosy downstairs bar of celebrity-haunt, Gymkhana before an Indian gastro-dinner prepared by the restaurant's new executive chef, Jitin Joshi. Throughout the VIP dinner, invitees were encouraged to bid on five Indian-inspired works, being auctioned thorough Paddle 8, including a reimagined Hindustan Ambassador bespoke car with upholstery by top fashion designer Rohit Bal and three iconic Elephant Family statues designed by Ashiesh Shah, Amprapali and Vichian Pankam which for the month of November can be seen 'grazing' outside Brigadiers, Trishna and Gymkhana restaurants respectively.
Elephant Family is the charity which JKS Restaurant founders have chosen to support to mark 10 years in the business. "We are extremely proud to be supporting Elephant Family during our anniversary celebration. We hope that together we will be able to raise awareness about the Asian elephant, often overshadowed by its African counterpart. To this effect, we will be adding a discretionary £1 on each bill at Gymkhana, Trishna and Brigadiers for throughout November and December," said Jyotin, one of JKS' co-founders.
Furthermore, Gymkhana has launched a new vegetarian lunch menu, incorporating traditional dishes from Kerala, an area where Elephant Family are currently concentrating conservation efforts. The menu is available for Londoners to enjoy until the end of November, and is paired with an Elephant Negroni, designed by JKS Group Bar Manager, James Stevenson.
The "From India With Love" collection is currently listed and being auctioned by Paddle 8 HERE and will come to a close on November 30th, 2018 at 10pm GMT. The proceeds from these sales will go to UK based NGO, Elephant Family.
William Cash is the founder and editor-at-large of Spear's