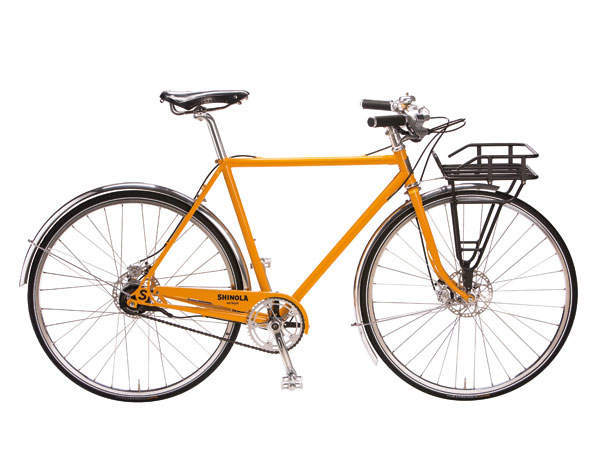 MOTOWN ARTISTS
Jacques Panis had a whizzy job working in tech in Dallas. Big money, big house, big car. But today, he drives to work through what looks like a war zone. Most of the buildings have been razed to the ground. The few that remain are empty, hollow-eyed monuments to better times.
'People in Texas think I'm crazy mad to be here,' he says. But Panis is undeterred by Detroit's savage decline. 'I refuse to dwell on the past, on the negative.' In fact, he's so upbeat, he has just bought a house. 'I'm here to work. This is home now.'
Everyone knows that last year Detroit became the biggest city in modern history to declare bankruptcy. What fewer know is that men like Panis are trying to revive it. He and a bunch of never-say-die entrepreneurs have set up a — don't laugh — upscale brand. And it's getting headlines every bit as good as its home city's are bad.
Read more on luxury from Spear's
Shinola is a big — and clever — idea. Buy an old American brand name everyone knows (Shinola was a shoe polish made famous by the insult: 'You don't know shit from Shinola'). Take it to a town synonymous with making stuff that has fallen on hard times. And then start making stuff, using the slogan: 'Where American is made.'
Shinola today manufactures hand-crafted watches, bicycles, leather journals, bags, pens, American footballs and baseballs, clothes — even cola, all in a classic-yet-modern American style. Watches are the centrepiece. Watchmaking in the United States is a lost art, save for a handful of high-end custom watch builders.
The last volume American watch company, Hamilton, was bought by a Swiss watchmaker in 1971 and moved from Pennsylvania to Switzerland in 2003. Most watches today come from Asia or Switzerland. But now, Shinola expects to produce up to 500,000 a year, with an average price of $600 apiece. 'It is affordable luxury, made in America,' says Panis.
Local heroes
Panis, president of Shinola, and his fellow execs, who include chief executive Steve Bock and creative director Daniel Caudill, are transforming a rusting hulk of a city into an artisanal hub — literally. Shinola's 3,000sq ft flagship store in midtown Detroit is in a former Willys Jeep parts distribution centre and its 30,000sq ft factory is in the Argonaut, a vast Art Deco building where General Motors invented the hydraulic automatic transmission and countless other innovations for its cars. They have created almost 200 jobs, with more to come.
Read more on Detroit from Spear's
'We're part of a movement that shows that anything is possible,' Panis says. 'We're proof that you can make products of the highest quality in America.'
Shinola is the brainchild of Tom Kartsotis. The 54-year-old is best known for founding Fossil, the popular watches and accessories brand. Recently, he has poured much of his $320 million fortune into his venture capital firm, Bedrock. It invests in US-based manufacturers, such as Seattle-based Filson, a 116-year-old outdoor-gear company.
He got the idea to set up Shinola after one of Bedrock's managers made the 'shit from Shinola' crack to an office colleague. The joke turned into a discussion about restoring the brand. Kartsotis bought the name from the defunct shoe-polish company with the idea of using it as a catch-all brand for domestic cottage industries. 'We want to create companies that have a "Made in the USA" story,' says Bedrock chief executive Heath Carr.
Shinola watches have gut components from Switzerland, but the design — the leather strap and retro face — and assembly happen in Detroit. The bicycles, with leather seats and handmade frames, are from Wisconsin's Waterford Precision Cycles, and hark back to an era before American bike production rode off to Taiwan. Leather comes from the Horween tannery in Chicago, one of the last in America. The paper for the journals is from renewable US forests.
So far, so sustainable. But nothing can change the fact that Detroit is bust. Surely doing business in a bankrupt city where not even the street lights work must be harder than doing it in, oh, let's say, Dallas? 'Not at all. Detroit has a cachet about it. The "Big Three" automakers live here. This is a city that has always known how to make things and make things well. There is skilled labour, incredible raw talent, there's raw space. For an entrepreneur, a creative person, there is no better place to be. There's not just history in this town, there's a future.'
Shinola has even turned the city's bankruptcy to its advantage, using it as an advertising opportunity. When the city went bust, it took out a full-page advertisement in the New York Times to promote the Birdy, Shinola's latest watch. It read: 'To those who've written off Detroit, we give you the Birdy' ('the bird' being American slang for 'the finger').
The ads garnered great headlines. Vanity Fair praised Shinola products as 'super cool'. It also prompted retailers to take an interest. Shinola watches are now sold at Barneys, Saks, Neiman Marcus, Bloomingdales and Nordstrom. Standalone stores have opened in Detroit and New York; London is next.
Sales are rising. But is Panis worried that consumers will buy a little piece of Detroit because Detroit is in the headlines and needs all the help it can get, only to revert to older, more established brands once they have salved their consciences? Buying Shinola is not a pity purchase, he retorts:
'Consumers today care about products with stories, something they can engage with, see how, where and why they are made. They also want products that last. The era of disposability is over. So many people of our generation have fathers or grandfathers who had jobs in manufacturing and those jobs were pulled from underneath them. Now manufacturing resonates again.'
Restored shine
As he walks and talks his way through Shinola's factory, Panis holds an iPhone, the most successful American product of recent times. It may be designed in California, but it is made in Taiwan and China. If Shinola can manufacture fancy watches in Detroit, should Apple do more to make its products in the US — outsourcing to America, as the latest saying goes?
'I believe so,' he says. 'It's a pity that it is not being looked at. They make very little in America. Ideally, we would see a lot of that stuff coming back. We can't push people into doing it. But we can set a standard, set a model up, so people can look at us and say, "If those goofballs can do it, we can, too."'