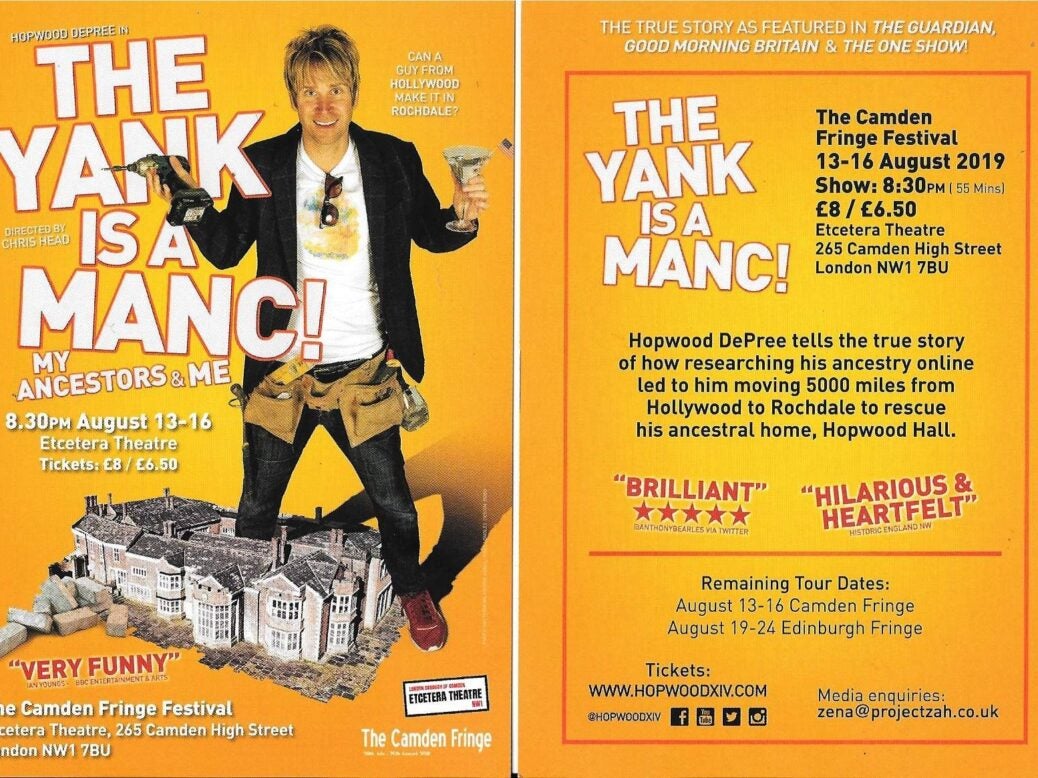 Spear's cover artist Adam Dant applauds a stand up act about a falling down mansion
It's a long way from Rochdale to LA but from LA to Rochdale it's a lot further.
'The Yank is a Manc' – this years' most unlikely standup comedy act – is the true life tale of how a hotshot Hollywood producer, the fantastically titled Hopwood DePree the fourteenth, yes that's his real name, traded tinsel town for textile town after a spot of late night internet trawling for family history led him to a crumbling ancestral wreck in Rochdale, Lancashire. The eponymous Hopwood Hall.
Hopwood Hall, the original family seat of our blonde haired, tanned, gleamingly CNN toothed narrator and incongruous interloper into the tupperware grey gloom of 'The North', was in a state of total dereliction when he first googled it, and had been for many years.
The spectacular grade II* listed manor house that had once hosted Lord Byron and all manner of exotic, pineapple augmented social gatherings, stripped of lead from it's roof and left vacant had swiftly became the kind of burden best left to the forces of nature, which fortunately in this story, told from a red leather club arm chair, are more familial than meteorological.
From the signing over of the cartoonishly massive keys of his 'stately home' (thank you magnanimous Rochdale council) to the pragmatic architectural  assessments of stalwart local custodian 'Bob', (the Hall's unofficial long standing patron saint and ultimate saviour), we are party during this evening's intimate performance to a charmingly candid narrative confessional from a natural performer in possession of material most particular.
The last of the Hopwoods, our host Mr DePree the fourteenth, is truly a 'fish out of water' in Rochdale. But how much better than being a 'fish in the fryer', with chips (not fries) paid for at the local chippy with a black American express card. WTF Hopwood! The marriage of American ambition and taciturn Northern British sang froid is not one made in heaven. Witness the souring of relations and acrimony between the locals at a certain West Coast Scottish luxury golfing resort and a twitter happy world leader. There's nothing six pints a night in the local 'Hopwood Arms' and the switching of a diet of mashed yeast and alfalfa sprouts for pies, pies and more pies can't solve in the smoothing over of cultural differences. Though adapting to local customs too enthusiastically soon sees DePree best friends with the local dentist and tanning salon.
DePree's natural charm, enthusiasm and willingness to be, maybe not the butt of the joke but the foil to the realisation of a common cause in what is in effect a massive project with implications across the entire town of Rochdale, places the whole restoration scheme within a much larger, human, context. How culture and history can be used to properly benefit a place and a community.
Along the way and augmented with catastrophe images of dodgy wiring and cracked plaster, a classic culture clash romance unfolds. The town of Rochdale has yet to tell it's own story of this 'special relationship'. When the dust has settled it no doubt will, and in true northern fashion assure us that everything in the manor is 'alright pet'.
'The Yank is a Manc!, My Ancestors and Me' is on at the Etcetera theatre, Camden Friday 16 August, and at Edinburgh Festival Fringe – The Space @Surgeons Hall, 19 – 24 August
Tickets from hopwoodxiv.com
Country houses are changing: meet entrepreneurs behind the new dawn at the big house