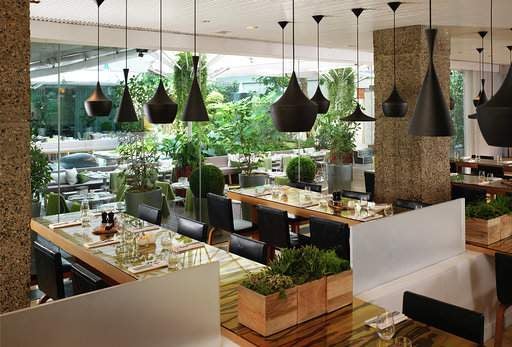 Christopher Jackson returns to the Sanderson, a scene of former glamour, and finds food of the very highest order.
The last time I was at the Sanderson, I was there to attend an event hosted by Rolls-Royce, in which – bizarrely – various rock stars had given their names and time to the creation of an individual car somehow meant to reflect their personality. I recall Roger Daltry looking distinctly immortal as he posed for photographs; and Ray Davies doddered out of his limo, looking like some exhausted Tiresias. 'Is this guy the future or what?' Daltry said, with huge bonhomie.
'It's a major thing, the Sanderson,' said my companion, as we met in the lobby beside the so-called Long Bar. 'Think Britpop. Think supermodels at the bar.' It was an exciting image – but at lunchtime in midsummer, this excitement was not necessarily in evidence. Even so, one had to admit that there was no particular reason why the heyday of the 1990s should have migrated here on an innocuous July day in 2018. The world is never as nostalgic for itself as we are.
Our early encounter with the place was a little patchy. We discovered to our brief dismay that we hadn't been seated in the attractive green courtyard where there was indeed somewhat of a fiesta atmosphere. Instead, we were exiled – the only clients to meet this fate – to a patio with a loud view of building-works occurring on the opposite side of the street. Then we were relocated inside into a near-empty room resembling a canteen, and deposited at a slightly infantilising table – a little like the kind one finds in children's libraries.
Champagne is the universal starter, and we opted for that before food was even a consideration.  This immediately cheered us, and we began to decapitalise the Seating Fiasco in our minds as the seating fiasco – and then almost ceased to think of it as a fiasco at all.
This tendency towards forgiveness was increased when we tasted the food. Octopus is notoriously difficult to source, price and cook. The Sanderson's came with seaweed salsa verde, roast lemon purée and sea herbs. The octopus was succulent; the purée had a delicious complementary pinch to it. My companion ordered the crab with spiced avocado, yuzu gel, black radish and lemon oil. I'm not entirely sure she didn't wink her approval of this dish over her lowered fork.
The mains now loomed as an exciting thing to consider, even if one had to ladle them to one's mouth from a hunched position, over raised and cramped knees. They presented me with a dilemma: I have of late begun to suspect – no doubt due to excessive consumption of it – that red meat is rather bland. This realisation coincides with the fact that several good friends have flagged concerns about its ecological implications, which has suddenly made my lunchtime lamb burgers taste just perceptibly of imminent global catastrophe.
But if I am indeed moving in the direction of a less cholesterol-raising diet than I have one enormous hurdle to overcome: namely the numerous memories I have of high-quality beef fillet. In particular, I fear the possible absence of what I had at the Sanderson: a magnificent braised oxtail marinated in red wine, with heritage carrots and mushroom ketchup. Beautifully tender, and its mushroom flavours subtle, if it ever forms the memories of a vegetarian, then they shall be angsty memories, which shall perhaps cause lapses.
My companion meanwhile opted for the lamb breast: this came with sautéed kale with anchovies, fennel seeds and kumquat marmalade. She pronounced herself happy about it at some profound level which, the red wine taking hold, she had difficulty explaining.
For pudding, I decided on the coconut parfait which came with burnt mango purée, pineapple and lime. Meanwhile, my companion – who now began to fear that she might be late for a date she had that evening with an unusually promising man – nevertheless accepted a final glass of champagne, and a delicious chocolate ganache tart, which came with candied walnuts and coriander.
It was one of those days, in other words, which turned out better than its beginnings: it was a reminder to look at the place itself, and not your associations of the place. The whole day had the character of a piece of excellent advice: don't try and taste inaccessible memories, but the food in front of you.
Christopher Jackson is deputy editor of Spear's