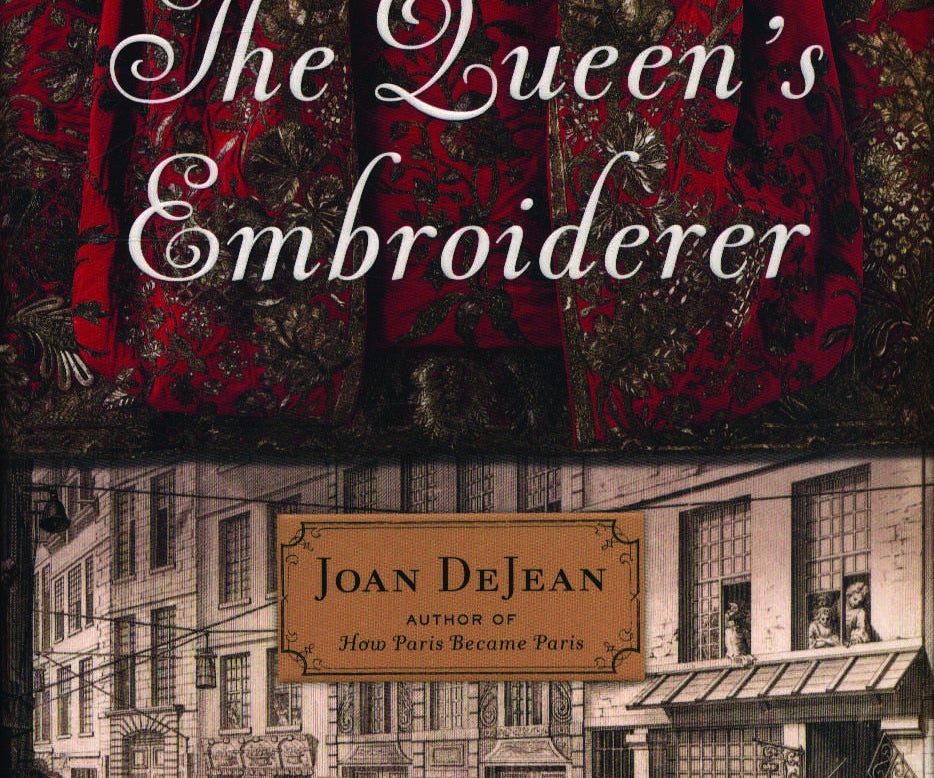 Christopher Silvester reviews a dazzling true story of greed and its pitfalls from the 17th to 18th century 
The queen's embroiderer: a true story Paris, Lovers, Swindlers, and the first stock market crisis by Joan Dejean 
Our story starts with the first Jean Magoulet, appointed as the Queen's Embroiderer in 1677, who became a prominent supplier to the courtiers at Louis IV's Versailles. Barely able to sign his name, Jean was nonetheless a dab hand at designing elaborate patterns for embroidery.
But he had to pay 6,000 livres for the privilege of obtaining his coveted status, which meant embarking on a career as a debtor as well as an embroiderer. Courtiers rushed to emulate the fashions of the king and queen, and embroidery with metallic threads of gold and silver was all the rage.
'A truly extravagant outfit of the time might require ten or more pounds of precious metal,' says Joan DeJean. Indeed, so laden with gold and silver were Magoulet's garments that when the country went through a bullion shortage, desperate courtiers would sell them for their metal content.
Jean's brother Jacques also rose to prominence during Louis IV's reign, working as an overseer of the country's tax farmers for the finance minister. He, too, had to buy and borrow his way to success.
Jean Magoulet became a busy lender as well as a borrower. He also became a womaniser and parent to four illegitimate children. Under constant financial pressure, he was prepared to do dastardly things to slake his lust for credit.
He even sold his legitimate first-born son, Jean II, aged six, into indentured servitude to a French baron on a Caribbean island for three years. Unsurprisingly, Jean II nursed a bitter desire to wreak vengeance on his own father for the remainder of his days.
While the Magoulets were making their mark, another family, the Chevrots, were also benefiting from the upward mobility of the day, first from collecting salt taxes, then from controlling annuities.
'For an entire century and through four generations, the line went forward from one Antoine Chevrot to the next, with each subsequent marriage moving the family up a notch in the two worlds that counted in its members' eyes: Paris and the French court.'
Meanwhile, John Law, an enterprising Scot, persuaded Louis XV's Regent to create a new Royal Bank that would issue paper money for the first time. He also launched his Indies Company, which sought investment in the exploitation of mineral wealth, principally silver, from Louisiana, a French colony in America.
Parisians embarked on a frenzied buying of Indies Company stock. To put this in perspective for modern readers, DeJean reminds us that 'during the dot-com bubble, the Nasdaq index rose from 500 to just over 5,000, but that spectacular climb took place over the nine-year period from April 1991 to March 2000', whereas 'in just five months, Law's stock rose from 500 to over 10,000'.
Several persons of humble station made quick and easy fortunes: a banker's servant made 50 million, a waiter 30 million, and even Law's coachman made 'many, many millions'. Indeed, the heady episode gave rise to the first use of the term 'millionaire'.
The stock bubble coincided with a heat wave, followed by a drought, and the inevitable surge in the price of bread, starvation, and epidemics of contagious diseases known as 'fevers'.
It was at this point, 31 years after Jean I had despatched him to to the Caribbean, that Jean II sought to have his own daughter, Louise, designated as 'fit for the islands' and despatched to Louisiana, which would have allowed him to plunder her inheritance from her late mother so as to finance his mania for annuities.
Daddy dearest
Because Louise Magoulet and Louis Chevrot had sneakily married in London without the consent of their fathers, Jean II denounced his own pregnant daughter as a prostitute and requested the Paris authorities to commit her to the Salpêtrière, part of the Hôpital Général de Paris, a workhouse and prison for women.
The idea was that she would be deported to Louisiana, where women were needed to start families with French colonists. Louise was able to desert the convoy of prisoners before it reached the port of departure, but she had to live in the Salpêtrière for the next few years while her father fought against her in the courts.
At the same time, the acutely status-conscious father of Louis Chevrot believed that Louise had tricked his son into marriage, thus derailing the Chevrot family's ascent through the ranks of Parisian society.
The Scarlet Spring of 1720, in which Parisians of all ranks murdered each other to get hold of banknotes just as their liquidity was becoming questionable, gave way to a scarlet summer.
Law's stock bubble collapsed and his paper money was gradually withdrawn, with the government reintroducing annuities as a means of stabilising the currency. 'No one has a coin left to their name,' wrote one chronicler of the bubble.
'Never before in modern memory or in history have Parisians been reduced to this state.' Lenders as well as borrowers, the Magoulets and Chevrots were left dangerously exposed.
Venal system
Reading like a plot from a Balzac novel, DeJean's tale is breathtaking in the venality and cruelty it reveals. An American academic specialising in French history and culture, DeJean has scoured the public records to piece together each shameful episode in this saga, many of them beggaring belief.
She is lucky that French society was so litigious, as litigation leaves a voluminous paper trail, as well as legalistic, since estates were inventoried down to the merest china cup and undershirt. The Magoulets and Chevrots led illusory lives, their status and appearance often belying their true net worths and rosters of possessions.
Occasionally the storyline becomes too convoluted and the characters become difficult to distinguish from one another, especially given their tendency to use the same names from one generation to the next, but also because the slippery Jean Magoulet II often adopted the persona of a non-existent family member called 'Clément' in order to falsify documents. Wives and children were chattels and assets to be shuffled around at the whims of unscrupulous males.
'In the course of their attempts both to get rich quickly and to save their skins when they got into bad straits, the Queen's Embroiderers [both Jean I and Jean II] became imposters, tricksters, con artists nonpareil,' writes DeJean. 'They lied about everything and to everyone, to the police, to notaries to their in-laws.'
DeJean has produced a giddying tale of astounding wickedness.
Christopher Silvester writes for Spear's