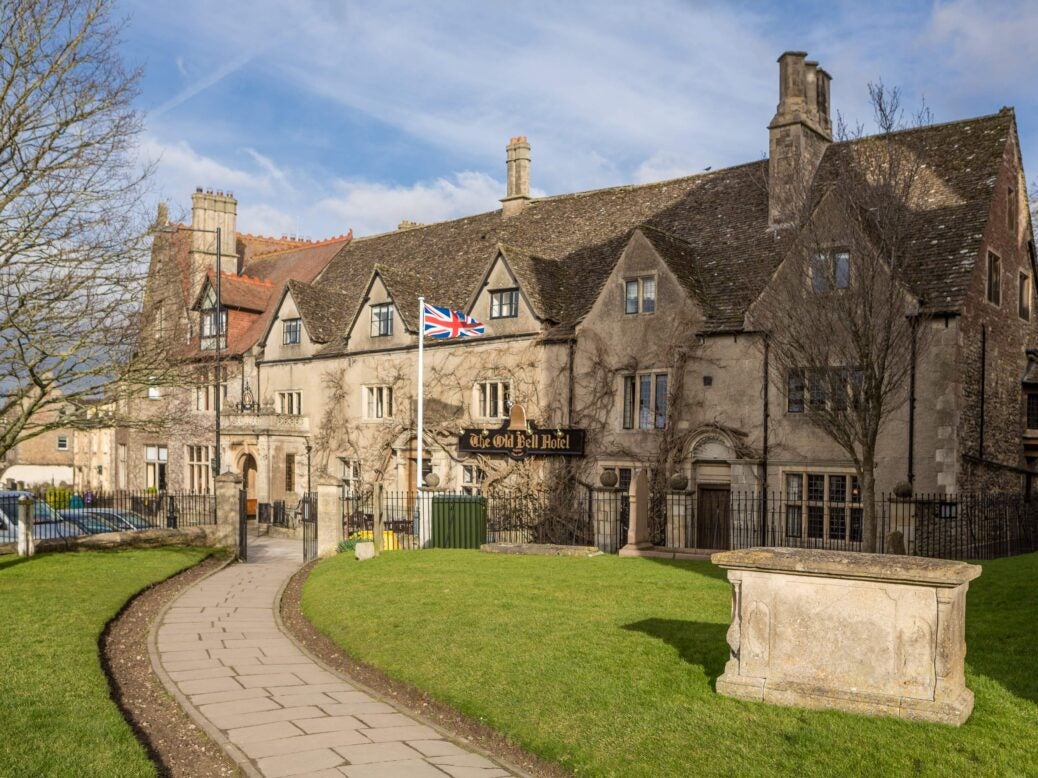 Quality food and drink mean a weekend in Wiltshire's ancient Old Bell Hotel is a delightful trip back in time, writes Emelia Hamilton-Russell
When the old Abbot of Malmesbury erected a small inn to accommodate visiting dignitaries in the early 13th century, he can't have predicted it would continue to welcome guests into the 21st. Yet, eight centuries and a recent £1 million refurbishment later, the soul of the place hasn't changed a jot.
Ducking through the low, heavy front door, we're welcomed into the candle-lit tavern, which bustles with locals hunched over large flagons. To anyone arriving from London on a rammed Friday night train, the wisteria-fronted inn, with its namesake iron-caste bell clanging over the door, feels like a living, breathing artefact.
Nowadays, the hotel is a charming medley of architecture, and there are traces of each century throughout, including a hooded stone fireplace in the brasserie that dates from 1220. Climbing the creaking stairs to our first-floor room feels like moving one level deeper into the past: our bed is a four-poster masterpiece, and the pale walls and cream, deep-pile carpets offset the original dormer windows and small portraits of Edwardian nobility.
Actually, for those of an especially nervous nature, the Old Bell might be one to avoid. The legend of the Grey Lady has it that the ghost of a Malmesbury woman stalks the halls late at night. The bar staff seem unperturbed, however, and have concocted a delicious variation on the White Lady cocktail – the Grey Lady – in her honour. The subtle addition of Earl Grey tea to the usual base of gin, triple sec, lemon and egg is a bold, yet effective move.
While the second – and third – round of cocktails must have made us more amenable to the meal, this shouldn't diminish the strength of the offering. The standout dishes, lamb wellington and potted shrimp, are both examples of how this hotel operates: no frills, just high-quality, local ingredients paired with exquisitely balanced flavours. We
then swerve the sumptuous-looking Zen pudding and opt for a Milady to share. Its delicate swirl of strawberry and cream is a deceptively calorific palate-cleanser after a heavy meal.
It's not just in the main dining room that the food excels itself. After an energetic tramp around a sleepy Malmesbury and the surrounding countryside, my partner orders a scotch egg from the bar snack menu. This was no simple scotch egg: halved in a sort of curried sauce and presented as if each half were yin and yang, it achieved the neat trick of a crispy crust and runny yolk. On Sunday night, we left the hotel feeling truly rested. It was like we'd spent the weekend in a much-loved country house, but without the family drama.
Emelia Hamilton-Russell is a writer at Spear's
Related stories
Review: Royal Crescent Hotel & Spa, Bath